With a surprise announcement on the official Gwent website, CD Projekt Red has announced a limited-time chance for players to get guaranteed Gwent Legendary cards. Players will need to act fast, however, because the chance will only last for 24 hours, ending at 12 PM CEST (noon) on the 14th of September.
How to Claim Guaranteed Gwent Legendary Cards
CD Projekt Red posted the unexpected update earlier today on the Gwent website; "For the next 24 hours," it reads; "all three cards presented in the "Choose 1 out of 3″ part of the keg opening will be Legendary! This means a guaranteed Legendary card in every keg you open till Friday, September 14th, 12 PM (noon) CEST". The event is certainly different from the normal events which CD Projekt Red runs for Gwent, which usually span a week or so. Moreover, events are usually announced at least a few days in advance. In this case, players have practically no warning whatsoever!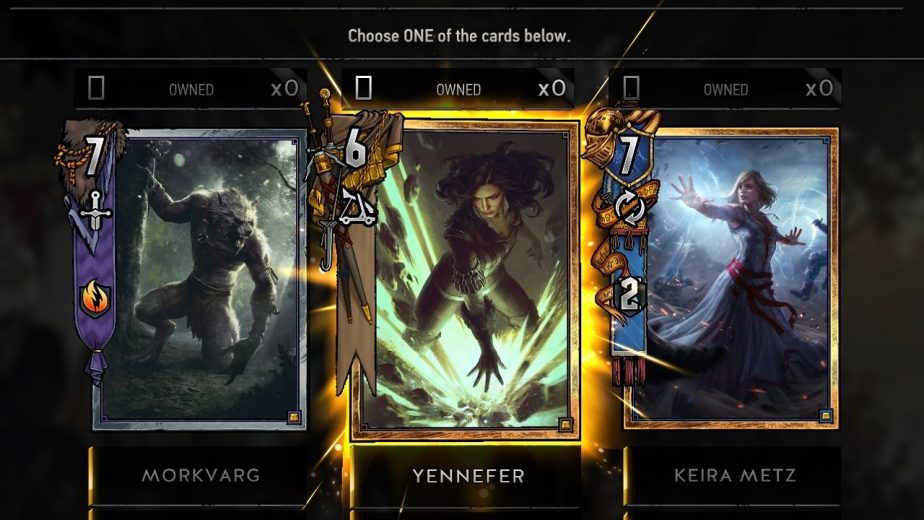 It's unknown if this event is a herald of more events like this to come from CD Projekt Red; it could be that the studio is trying out a new format and seeing how it goes with players. Note that the only way to get Legendary cards in this event is by opening kegs, so players will need to either already have unopened kegs, or acquire them during the event. Other than that, players can still gain Legendary cards through normal methods.
The event comes in the middle of Gwent's current Season of the Warrior; the September 2018 season. It follows the conclusion of the Entertainment at Court event, which ran from the 5th of September to the 12th. There is usually a gap between events in the middle of a season, and CD Projekt Red does sometimes hold smaller reward events like this, though this precise format is certainly new.