At last, Activision has unveiled the first official Call of Duty: Modern Warfare content roadmap, laying out what players can expect in the game's first post-launch season. As it turns out, what players can expect is rather a lot! In fact, Season One of Modern Warfare will be the largest free content drop in the entire history of the Call of Duty franchise.
The First Call of Duty: Modern Warfare Content Roadmap
Call of Duty: Modern Warfare Season One will begin on the 3rd of December, in one week's time. While some of the roadmap content may not arrive straight away, the majority of it will be available on that date. First up among the roadmap content is the addition of not one but seven new multiplayer maps; Crash, Shipment, and Vacant will be available for standard multiplayer modes, all of which are classic maps from Call of Duty 4: Modern Warfare. Two new Gunfight maps will also be available, entitled Atrium and Cargo, along with Port, a huge new Ground War map. Plus, Activision says that even more maps will be coming later in the season!
Players can also look forward to a new multiplayer game mode called Reinforce, with more modes coming later in Season One. These will include Gunfight OSP and Infected. There will also be four new Spec Ops experiences coming; Bomb Squad, Grounded, Just Reward, and Pitch Black. Once again, Activision states that this is just the start of Spec Ops content coming in Season One.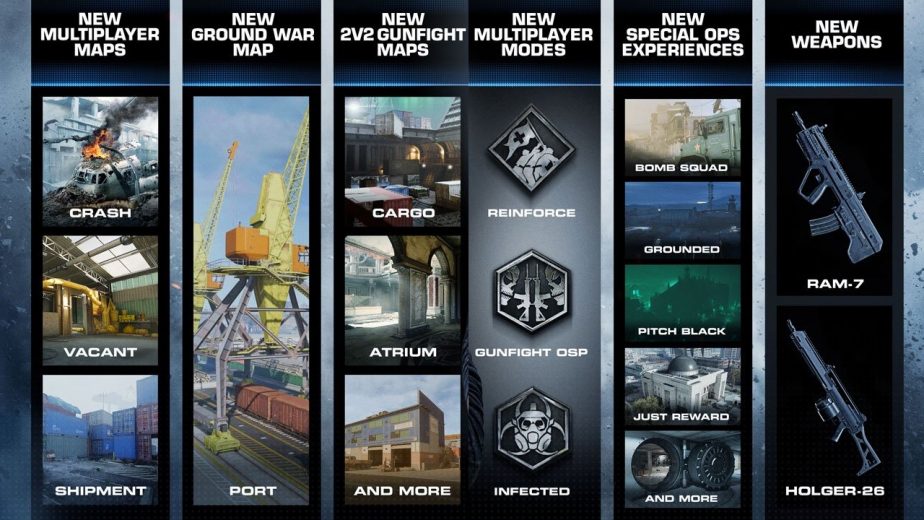 When it comes to weapons, Season One will be introducing two new firearms. The first of these is the RAM-7, a new bullpup assault rifle. Plus, players can look forward to the Holger-26; an LMG version of the Holger rifle with its own sight rail and drum magazine. Of course, there will also be new cosmetic items available too. In fact, both cosmetic items and the new weapons will be rewards in the Modern Warfare Battle Pass. Thus far, Activision has kept relatively quiet about the Battle Pass, although they have confirmed that it will have 100 tiers. However, today Activision confirmed that they will be revealing the Battle Pass details when Season One launches, on the 3rd of December.