I recently got the chance to try out a couple of gaming chairs by AndaSeat, one of which is the medium-sized Ant Man Chair. As a gamer and a Marvel fan, I was thrilled to get to test out this chair in person, and I am excited to report that it is every bit as phenomenal as I'd hoped. I'm going to tell you about assembly, construction, materials, ergonomics, and more in my Ant Man Chair review.
AndaSeat Ant Man Chair: A Gaming Seat Just the Right Size
It is perhaps somewhat ironic that the Ant Man Chair is not as adjustable as some other gaming chairs I've tried (considering Ant Man's abilities). But it doesn't need to be. While tall gaming chairs are in right now, I'll be honest—most of them are simply too big for me. But this medium size chair is just right, and should be a good fit for a lot of other gamers.
From the floor to seat cushion top, you can adjust the height between 16.5" and 20.5". The height of the backrest is 33.5".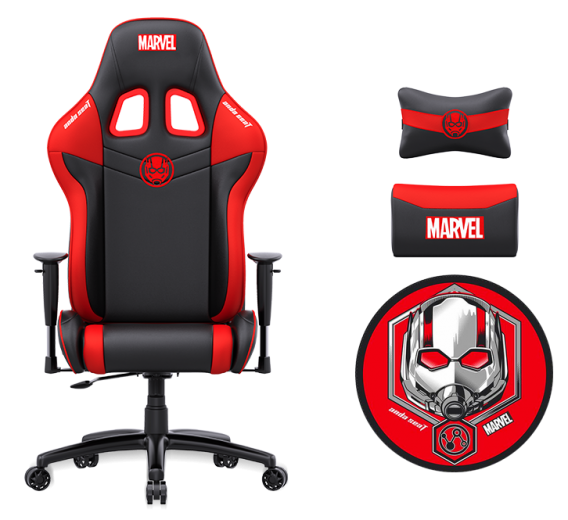 Assembly
You do need to assemble the AndaSeat Ant Man Chair. But I am pleased to report that it is fast and easy. AndaSeat does a great job packaging its products, providing you with everything you need for rapid assembly, even working by yourself.
Construction and Appearance
One of the best things about the Ant Man Chair is that you can tell right out of the box that this is a durable seat that is going to hold up to lots of use.
The upholstery of this chair is PVC (Polyvinyl) leather, while the interior contains high-density cold-cured foam. The stitches are sturdy, and the base and frame are aluminum and steel respectively.
A lot of other gaming chairs I have tested were made with polyurethane leather rather than PVC. I could immediately feel the difference with this material, and can tell that it will outlast polyurethane.
I love the look of this chair. It is mostly black, with red highlights and the Ant man logo. The overall look is clean and simple, but simultaneously bold. "MARVEL" is written across the top of the seat back, and on the lumbar cushion. It looks right at home in my gaming room (maybe not a surprise, considering how much Marvel paraphernalia is in here).
Comfort and Ergonomics
Of course, the real test of a gaming chair is not going to be how it looks, but how it performs. So, I sat down to play a few long sessions of Battlefield 2042 and Call of Duty: Vanguard.
First, I adjusted the chair to my liking. It comes with a lumbar cushion as well as a neck support, both of which I was able to place at the height I needed. You can adjust the incline of the backrest up to 160 degrees, and the armrests up or down.
Alas, the armrests are the biggest problem with this chair. They are 2D, which means that up and down are the only adjustment options. 3D or 4D armrests would be better at this price point.
When I did get the chair adjusted, I took a seat and started playing. Before long, I was completely immersed in the game, and realized only after a couple hours had passed that I didn't have an achy back or a headache starting up. I have no doubt that was thanks to the high-density foam support and the great neck pillow of the Ant Man Chair!
Pros of the AndaSeat Ant Man Chair:
The dimensions of this chair may be more comfortable than tall/large dimensions for many gamers.
You can adjust the tilt, armrests, and pillows.
High-quality materials mean this chair should last many years.
The chair is amazingly comfortable and provides the ergonomic support you need.
Cons of the AndaSeat Ant Man Chair:
This chair could use 3D or 4D armrests for more adjustability.
The price tag of close to $400 may be steep for some buyers, but it is an excellent value.
Final Verdict:
That wraps it up! I am in love with how comfortable and luxurious the AndaSeat Ant Man Chair is. Its stunning colors and design, sturdy materials, and sumptuous support let you game for long sessions without fatigue.