I am always thrilled to find out I'm going to get a chance to try out a new gaming chair. As a Marvel fan, my jaw just about hit the floor when I found out it was going to be the Captain America Chair by AndaSeat. In my AndaSeat Captain America Chair review, I'm going to tell you everything you're dying to know about this beautiful seat. I'll talk about assembly, construction, ergonomics, style, and more.
The AndaSeat Captain America Chair: An Avenger at Your Back
You're probably familiar with AndaSeat already. But in case you're not, it's a company that focuses on making ergonomic, comfy gaming chairs and office chairs.
The Captain America Chair will catch your eye in an instant with its striking color scheme and bold design. And I can tell you from experience that it looks even better fully assembled in your gaming room than it does in the enticing product photos.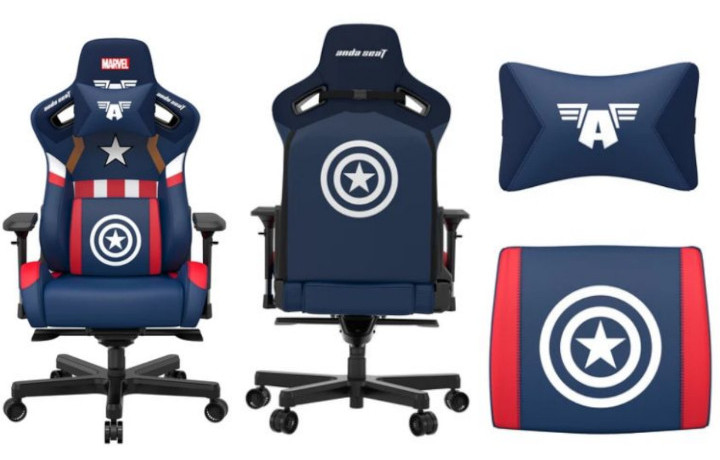 Assembly
This was not my first rodeo with assembling a gaming chair—so I had a pretty good idea what to expect when I went into it. Everything I needed came in the box, and a manual guided me through each step of the assembly process. I didn't even need any tools of my own; an Allen wrench came with the kit.
I absolutely love that I had a chance to customize the fit of the 10.3"L x 3.9"W armrests at this point!
Construction and Appearance
The AndaSeat Captain America Chair is made with PVC (Polyvinyl) leather upholstery and high-density foam. The upholstery material is significantly more durable than polyurethane leather, so this is a step up in materials compared to competing products. The stitching is high in quality as well, and I feel confident that this chair will stand the test of the time.
As to its appearance, this may be just about the most stylish gaming chair I've ever seen. With its dark blue seat and back and its stars and stripes patterned off of the design of Captain America's suit and shield, you'll feel like you literally will have an Avenger at your back as you play through intense matches or power through your workday.
Comfort and Ergonomics
As I mentioned earlier, you can adjust the armrests to your liking. There are also an adjustable neck pillow and lumbar pillow. Once you get these in place, you'll have the ergonomic support you need to game for hours without hurting your neck or back (which is exactly what I need right now for Battlefield 2042).
The foam in general in this seat is just the right density, offering the perfect balance of comfort and support. That said, yes, the neck pillow is hard. Is that a problem? That depends on the user. For me, personally, it's perfect. I have cervical instability and migraines, and extra support is exactly what I need to stay healthy while I'm gaming.
Pros of the AndaSeat Captain America Chair:
The adjustable tilt angle (up to 160 degrees) and 4D armrests mean you can customize this chair to offer you personalized comfort.
The materials and construction are solid; you can expect the metal frame and the PVC upholstery to stand up to plenty of wear and tear.
Assembly is fast and easy, and no extra tools are required.
You will love the stunning appearance of this chair. It grabs your attention, but the colors are still subtle enough that it can fit in nicely with any décor. The look is one of exquisite sophistication.
Cons of the AndaSeat Captain America Chair:
Some users might find the neck pillow too hard.
This chair isn't cheap. You'll shell out more than $500 for it. That isn't in every gamer's price range. But if it's in yours, it is worth every penny.
Final Verdict:
I am so glad I had the opportunity to try the AndaSeat Captain America Chair! Like Captain America's shield, this chair is beautiful and durable. While it probably won't be as indestructible as the legendary shield from the comics (it isn't made of Vibranium-metal alloy, alas) it sure feels like it will be. I am confident that it will provide me with many years of comfortable, ergonomic gaming while proudly proclaiming my Marvel fandom.