The Anthem release date and other major details were revealed during EA Play at E3 2018. This exciting game from BioWare, the developer famous for creating Star Wars: Knights of the Old Republic and the Mass Effect series, will be arriving on February 22nd, 2019. Story will have a big part in the game like you'd expect from a BioWare title. Despite being a primarily online-focused game, the story will still matter and be your tale.
Anthem is a "living shared world", meaning that everyone is playing in the same world at the same time and seeing the same stuff as someone else. However, when you return to the hub area, the singleplayer story starts for you. In the hub area, you turn in quests and progress the plot. Interestingly enough, the storyline won't end when the game launches.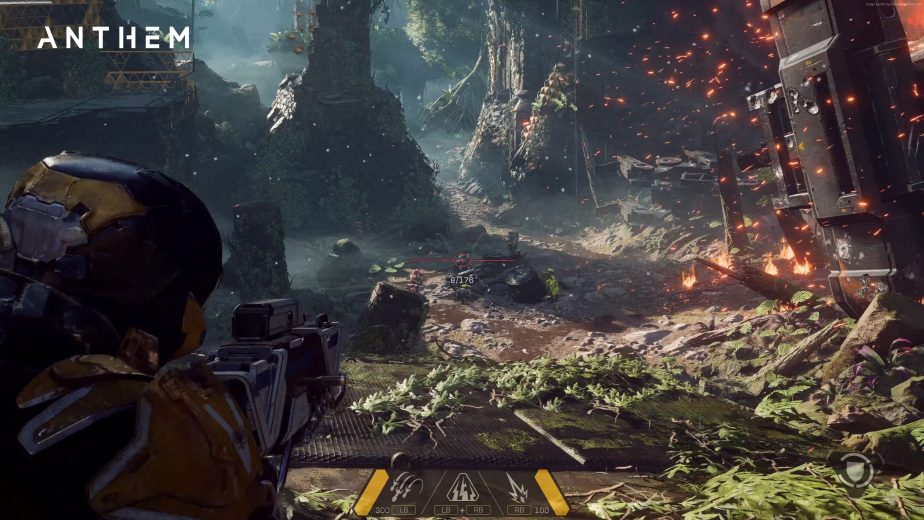 BioWare will be continuously releasing more and more story as time goes on for players to come back to and enjoy. The initial premise is that your player lives in a world that has been abandoned by the gods. However, the titular "Anthem of Creation" frequently changes the look and feel of the world. This will keep the game fresh and alive.
Your character is a freelancer with the unique ability to be able to use the Javelin exosuits. The four different exosuits basically represent the four classes: Ranger, Colossus, Interceptor, and Storm. For example, the Ranger is a generalized suit, able to do a lot of various things. They are built for one on one fights. The Colossus packs a lot of different weaponry and is like a huge walking tank.
The game is built for four-player cooperative gameplay with the four classes working together. You and three friends can join together to play in the world, or you can choose to play everything by yourself. However, playing by yourself will be a lot more challenging. Fans can be happy to know that no loot boxes or gameplay advantage items can be bought, but there will be cosmetic items available. The Anthem release date is February 22nd, 2019 for PC, PS4, and Xbox One.
For more on the EA Play 2018 conference, check out our details on the newest Star Wars game announced and Battlefield V Battle Royale.