Next week will mark the second anniversary since the launch of Apex Legends, and to celebrate, Respawn plans to hold a special two-week event. During this special Anniversary Celebration, players will be able to earn event rewards and play a variant game mode which will be taking over the normal Apex playlist.
The Apex Legends Anniversary Celebration Collection Event
"It's been two incredible years since we launched Apex Legends!" writes Respawn; "and this year, we're celebrating! Starting February 9th and until February 23rd, we're celebrating with a special Anniversary Celebration event."
Like previous in-game events, the Anniversary Celebration will last for two weeks, and will feature its own dedicated prize track. Players familiar with these tracks will know that you'll be able to earn points by completing daily challenges, with up to 5,000 points earnable during the event. While the track is littered with no less than 10 Apex Packs and other small rewards, the major rewards are four event cosmetics. These are unlocked at the 1250, 2000, 4000, and 5000 point milestones, starting with a Weapon Charm and ending with a particularly flashy weapon skin. Players will also receive five small rewards just for logging in during the event.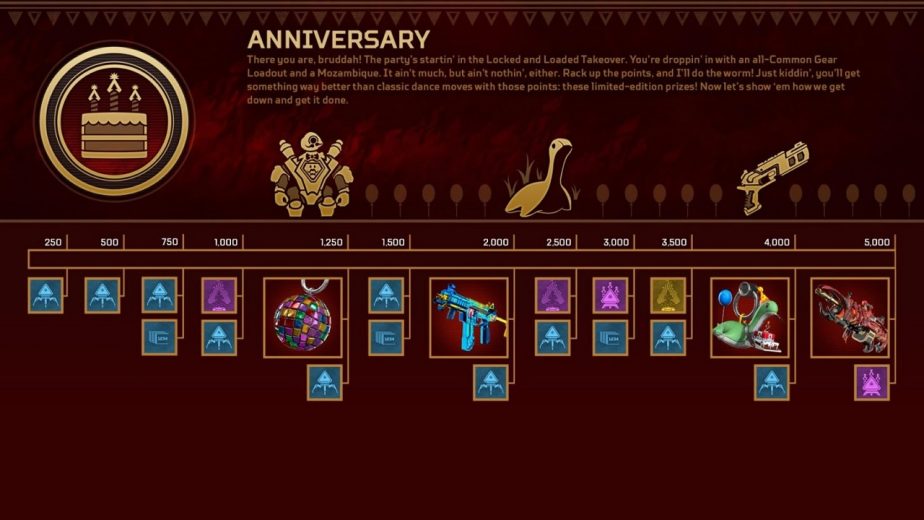 The other big feature of the Anniversary Celebration is the 'Locked and Loaded Takeover'. Like the last Apex Legends event, the variant game mode in next week's event won't be available in its own playlist. Instead, it will be 'taking over' the normal Play Apex playlist. In the Locked and Loaded mode, players will drop into each match already equipped with a full level 1 loadout. This will include a Mozambique, White Shotgun Bolt, HCOG Classic Scope, White Evo Shield, White Helmet, White Backpack, and White Knockdown Shield. Plus, you'll also start with a stack of shotgun ammo, 2 Shield Cells, and 2 Syringes. All of the White attachments and equipment will be removed from the game's loot pools. As such, you'll only ever find better gear than what you start with.
Of course, this event is a Collection Event, and that means 24 new cosmetics. However, these items aren't strictly speaking new. "We're bringing back 24 fan-favorite items and giving them a fresh look," explains Respawn; "with crimson red and gold touches". Rather than unlocking a new Heirloom, as normal, collecting all 24 will instead earn you 150 heirloom shards. This will allow you to unlock any of the game's heirlooms. In fact, the cost of crafting heirlooms during the event will be reduced by 50% too.