Apex Legends is currently in the midst of its third season, and it seems that Respawn is now starting to lay the groundwork for the game's continued growth in 2020. The studio has revealed that the current Apex Legends level cap will be dramatically increased from 100 all the way up to 500. These additional 400 levels will also feature Apex Pack rewards, although at variable rates.
Upcoming Changes to the Apex Legends Level Cap
At the moment, the Apex Legends level cap is at 100. At 45 of these levels, players gain an Apex Pack as a level-up reward. However, with more and more players reaching this cap, it seems that Respawn has decided that now is the time for expansion. On the 3rd of December, the studio will be rolling out an update to put these changes into place; principally, expanding the level cap from 100 to 500. Interestingly, the game will actually be awarding Apex Packs retroactively. So, if you've already reached 100, you will automatically get any Apex Packs you would have earned since, had the cap already been raised sooner.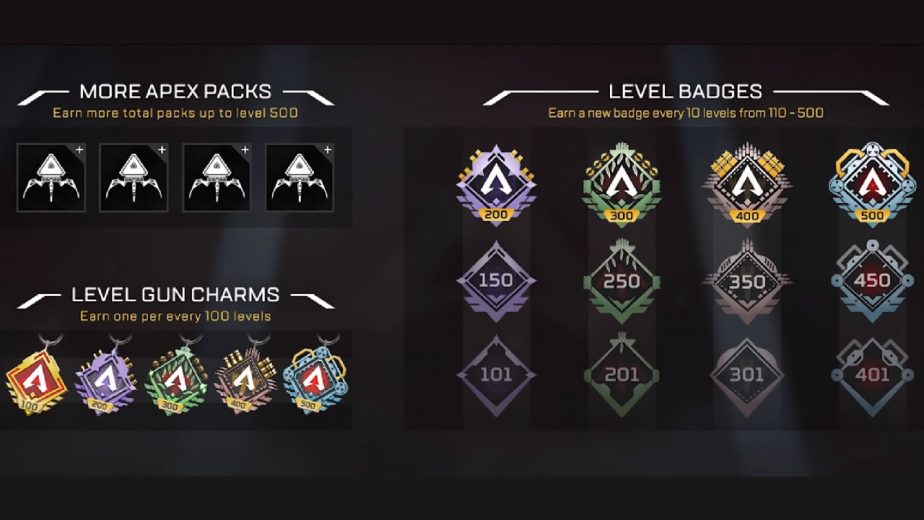 Additionally, the new levelling system will feature more rewards, as well as more frequent rewards. Initially, players will earn an Apex Pack every level, up to level 20. From level 22 to 300 players will earn a new Apex Pack every other level. Then, from level 305 to level 500, players will get an Apex Pack every five levels. All told, this means that players will be able to unlock 199 Apex Packs through levelling. Additionally, Respawn will be adding Player Level Gun Charms, a new cosmetic. You'll earn one of these every 100 levels.
Gun Charms are also being added to the game more generally. In addition to the Player Level ones, 36 more Charms will appear as Epic and Legendary drops in the game's Apex Packs. Various Charms will also be available to buy periodically in the Rotating Shop. Alongside Charms, players will earn a new badge every 10 levels once they reach level 110.