The annual Apex Legends Halloween event has arrived, and with it, a fan-favourite game mode and much more besides. Monsters Within is this year's Halloween event for Apex Legends, featuring Shadow Royale (though not quite yet), a new Arena map, and a whole host of horrifying new cosmetics.
The Apex Legends Monsters Within Halloween Event
Starting from today, the 12th of October, the Apex Legends Monsters Within event will be live for three weeks. At the start of the event, players can try out Encore, a new Arenas map (themed around Seer, rather than Halloween). They can also start completing challenges for the Monsters Within Prize Track. Each week during the event, a different Prize Track will be available, each going up to a 3,000 points cap. Each week has a different selection of rewards available, ending with a new Loba Skin in week #3.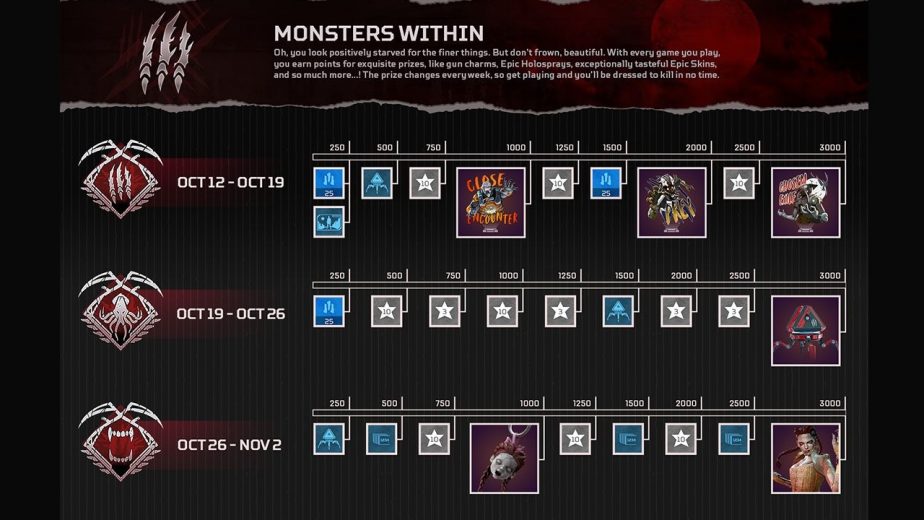 Monsters Within is also introducing a new kind of in-game Pack; Event Thematic Packs. Costing 400 Apex Coins each, the "Monsters Within Packs" are each themed around a different Legend; featuring a new skin and other event items. Many of these skins are themed on classic horror tropes, such as Revenant's "Full Moon Over Skull Town" skin, which turns him into a werewolf. Other skins, including event-exclusive skins from past Halloween events, are also available during Monsters Within from the in-game store.
Fans looking forward to playing Shadow Royale, the fan-favourite Halloween game mode, will have to wait until week #3. Only in the final week of Monsters Within will Shadow Royale actually become playable. In this mode, which has featured in previous Apex Halloween events, slain players arise as Shadow players with boosted speed, melee stats, and infinite lives. These Shadow-Form players must then hunt down all the other living players until none are left alive… or the last few players manage to escape.