Ubisoft has released the recommended PC specs for Assassin's Creed III Remastered. As previously reported the remaster will feature full HDR and 4k support, which are just a small portion of the upgrades that have been announced. The game as a whole is shaping up to be a more modernized experience, clearly demonstrated already by Ubisoft's previously released graphical comparison video.
An Old Dog With A Few New Tricks
In order to support the graphical overhaul Assassin's Creed III is receiving with its remaster, PC's are going to have to keep up. Those still running an i5 processor will have no trouble running the game on the lowest graphics settings, and can still play at 1080p- albeit at 30fps. For players looking to run at 60fps or in 4k a significant jump in hardware is of course required. Below is the full list of recommended specs for Assassin's Creed III Remastered.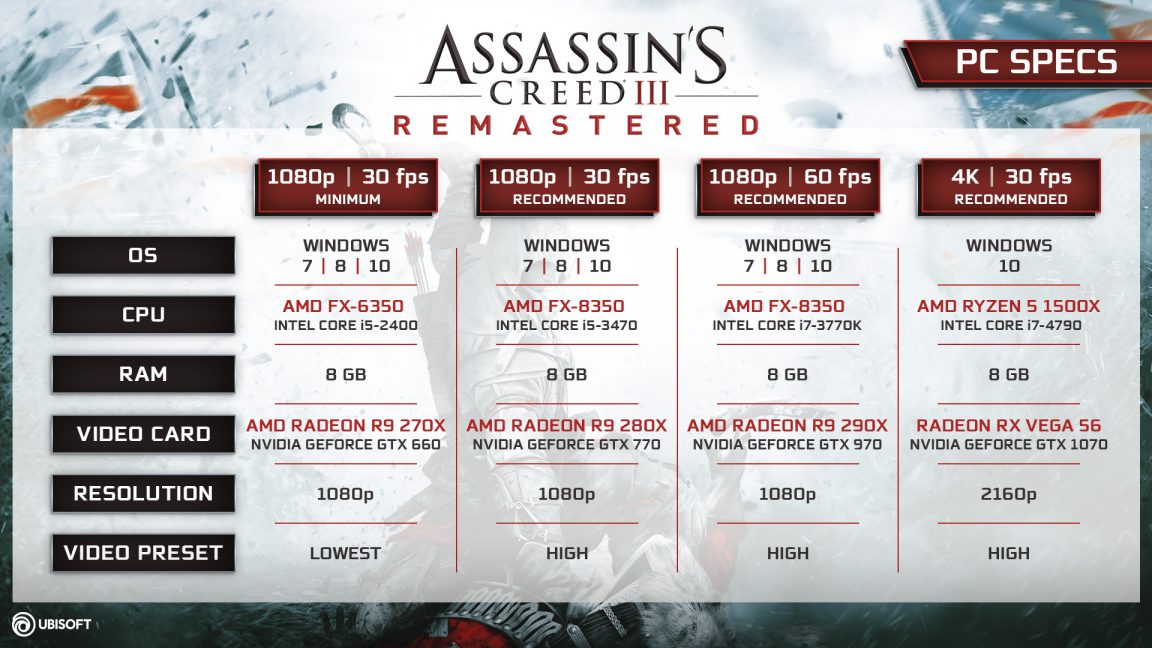 Those currently running high powered machines will evidently have no difficulty running ACIII Remastered, as even the furthest end of this spectrum doesn't challenge the status quo of high-end PC gaming. While nobody quite expected this to be a visually groundbreaking game, it is encouraging to see Ubisoft making a genuine effort to bring the title up to modern standards. Now it's officially coming to the current generation, Ubisoft needs to make it clear to fans that Assassin's Creed III is a game worth remastering.
All eyes are on Ubisoft now, as the way they execute this could very well be an indication as to how likely other games in the series are to be revitalized for modern standards. Surely Assassin's Creed II or Brotherhood would be the top requests by fans, but for now, players will just have to see what the upcoming release does right. Assassin's Creed III Remastered is available on March 29 for Xbox One, PS4, and PC, and on May 21 for Nintendo Switch.