Following last week's promise of upcoming news, DICE has released the first trailer for Battlefield 5 Into the Jungle; the sixth Chapter of Tides of War and the first to launch in 2020. Into the Jungle will continue the fight in the Pacific Theatre and will be taking players to the dense jungles of the Solomon Islands and beyond. The Chapter will be launching next week, on the 6th of February.
Battlefield 5 Chapter 6 – Into the Jungle
As expected, Battlefield 5 Chapter 6 isn't as large an expansion as War in the Pacific was. After all, War in the Pacific was the climax of the game's first year. However, Into the Jungle still offers plenty of new content, and also expands on the content from Chapter 5 with more in the Pacific Theatre. The first new map, for example, will be Solomon Islands, which sees the American and Japanese forces clash in a dense, close-quarters environment.
Battlefield 5 Into the Jungle will also be bringing new weaponry and gadgets to the game, which were highlighted in today's trailer. The Support class will be getting the Type 11 LMG and Model 37 Shotgun, while the Assault class will get the M2 Carbine. Additionally, the M1A1 Bazooka and the dramatic Lunge Mine will be available as new gadgets. The former will be available to the Assault class, while the latter will be usable by both Assaults and Supports.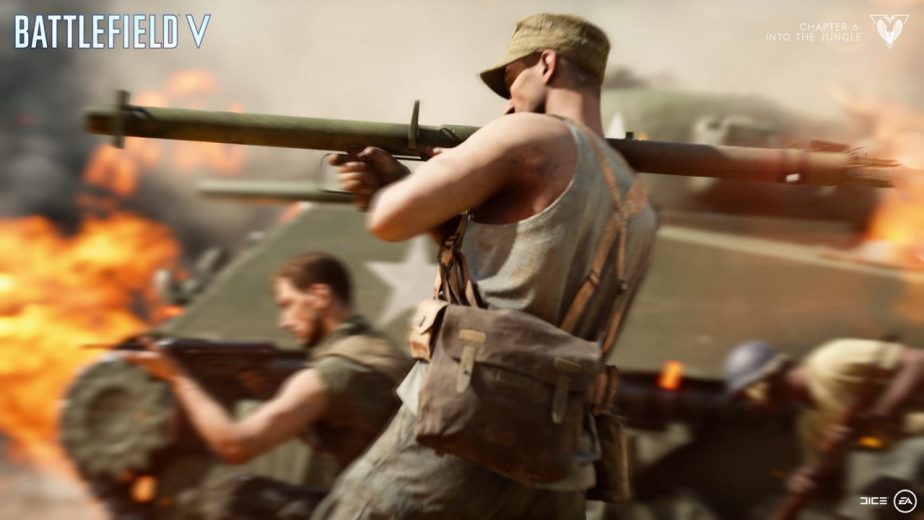 As for new Elites, Chapter 6 will be adding three new characters to the game; more than have ever been added in a single chapter before. Steve Fisher and Akira Sakamoto will be available in the normal way. However, Misaki Yamashiro will only be available as a Chapter Reward at Chapter Rank 40. She will be the first Elite who isn't available to purchase from the Armoury. As for their unique melee weapons; Steve Fisher will give players access to a Knuckle Duster, while Yamashiro carries a Commando Machete. Sakamoto, a Japanese pilot, uses the Command Stick from a crashed airplane as his melee weapon of choice.