Elder Scrolls: Legends first released on PC in March of 2017. Since then, the free-to-play collectible card game has received generally positive reviews and performed reasonably well in sales. However, Bethesda recently announced that they would be removing the game from the control of Dire Wolf Digital, the studio who originally developed the title. In their place, they plan to hand Elder Scrolls: Legends over to Sparkypants Studios, the studio who made Dropzone.
Bethesda made the announcement via a statement to IGN. Bethesda will continue to publish Elder Scrolls: Legends, of course. However, Sparkypants Studios will now be responsible for maintaining the title, and for creating future content. The transition will also come with a change over to a new version of Elder Scrolls: Legends. That new update to the game has reportedly been in development at Sparkypants Studios for months.
Pete Hines, the vice president of Bethesda, attempted to reassure players that the transition would be smooth; "I think the overall game design and mechanics are solid, and that's not changing." he stated, "When players get their hands on the new version it will still play like the game they know and love. Their collections will be intact, the in-game store will offer the same items, the keywords and mechanics will all still be there."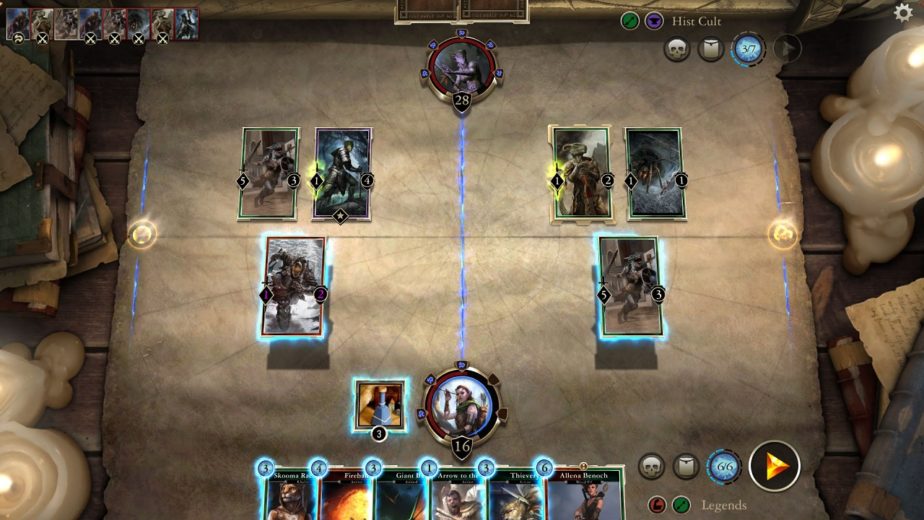 Why the Change for Elder Scrolls: Legends?
Actual figures for Elder Scrolls: Legends' sales performance are hard to come by. However, the data-gathering stats service Steam Spy lists Elder Scrolls: Legends as the #7 top-owned card game on Steam, and #4 when it comes to average time spent playing. As such, it doesn't seem that the game has been performing poorly by any means. This certainly reinforces Hines' statement that the move was not because Bethesda was unhappy. Instead, he described the decision as "an opportunity to alter the direction" of Elder Scrolls: Legends. He also described the card game as having a lot of "untapped potential."
The move could be influenced by the fact that Dire Wolf Digital is currently developing several other titles. That portfolio includes another digital card game, "Eternal", which released in 2016. Although Hines downplayed the role of that fact on the decision, it could be that Dire Wolf Digital wanted to put more of its studio's resources into a new project. Similarly, it could also be that Bethesda wanted the studio working on Elder Scrolls: Legends to not be working on other titles simultaneously.