The huge Beyond Skyrim mod project has released its sixth community newsletter. The release actually marks one year since the first newsletter was released. The update details the progress and status of the various mods under the umbrella of "Beyond Skyrim"; specifically, it includes a wide range of screenshots, concept art, and even new music.
The Beyond Skyrim October Newsletter
The October newsletter gives the mod's fans updates for the different Beyond Skyrim mod projects; Cyrodiil, Iliac Bay, Morrowind, Atmora, Elsweyr, and Roscrea. All of these mods are at various different stages of completion, with most still in the earlier phases. Cyrodiil is the first project in the newsletter; "Quest implementation for the city of Kvatch is very close to complete," says the newsletter; "… stay tuned for some teases of the upcoming performances from our fantastic voice cast."
The Iliac Bay project update mostly mentions interior work; "creating new Dwemer, Breton Crypts, caves, and other dungeons". The screenshots show off new furnishings for the city of Jehanna. Meanwhile, the Morrowind project highlights progress made to the island of Sheogorad. Screenshots are shown off from the town of Dagon Fel, in particular, as well as new Ashlander assets.
The Atmora project didn't feature in the last newsletter, so their update is larger this time around; "Level design has made a staggering amount of progress on the remaining areas," says the newsletter; "particularly with the Staglands and Northern Mountains section of the map. The difference between the current and previous build is huge as the world space continues to be polished". The Atmora project quest line was apparently finished last year, and it now sounds like the mod is heading for completion.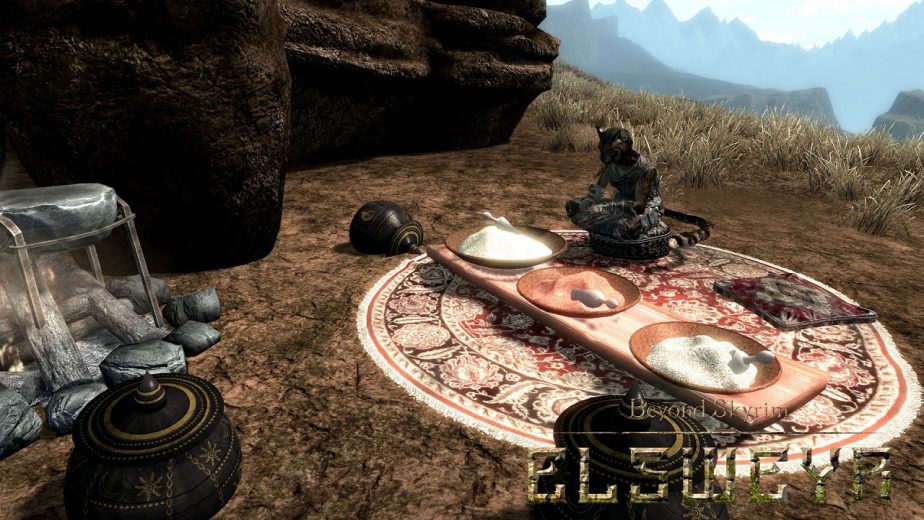 Elsweyr's update features new 3D models and assets for Rimmen, as well as new Sigil concept art. It also includes the first ever piece of music from the upcoming mod. Finally, Roscrea, which recently released its first trailer, talks more about NPC implementation in Crane Shore.