With just two weeks left now before the launch of Borderlands 3, gamers don't have much time left to make pre-orders. That means little time remaining to take advantage of pre-order bonuses and the game's various editions. (There are no fewer than four!) So, if you haven't yet placed a pre-order, this Borderlands 3 Pre-Order Guide should give you all the info you need to pick the edition you want.
Borderlands 3 Pre-Order Guide: Standard and Collector's Edition
First up is the game's Standard Edition. This is the cheapest and most basic version of Borderlands 3, and just comes with the game. However, if you pre-order, you'll also get the Gold Weapons Skins Pack as a pre-order bonus. This contains various gold weapon skins and a gold weapon trinket. At the other end of the spectrum is the Borderlands 3 Collector's Edition. This huge version contains a hoard of pre-order bonuses and extra content.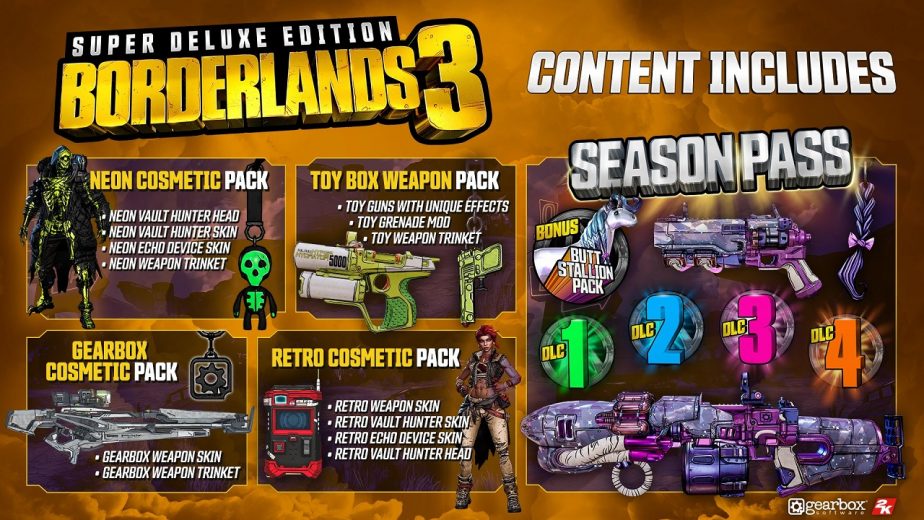 The Collector's Edition contains the game and six different pre-order bonuses; the Gold Weapons Skins Pack, Retro Cosmetic Pack, Neon Cosmetic Pack, Gearbox Cosmetic Pack, Toy Box Weapon Pack, and a cache of XP and loot drop boost mods. The edition also includes the Season Pass, which spans 4 campaign DLCs and also includes a Butt Stallion weapon skin, trinket, and grenade mod. Finally, it includes several physical items; a Diamond Loot Chest replica, 10 character figurines, 4 Vault Key keychains, 5 character art lithographs, a Sanctuary 3 snap model, and a cloth galactic map.
Borderlands 3 Pre-Order Guide: Deluxe, Super Deluxe and Season Pass
However, if you're not interested in the Collector's Edition, there are still two other editions available. The Deluxe Edition of Borderlands 3 features the game and the Gold Weapons Skins Pack. It also includes the same "Deluxe Bonus Content Pack" as the Collector's Edition, which includes the remaining five cosmetic packs and boost mods. However, this version does not include any of the physical items included with the Collector's Edition, or the Season Pass. Finally, the Super Deluxe Edition is identical to the Deluxe Edition. However, it also contains the Season Pass and Butt Stallion items. (Which can also be bought separately.)