Broken Hearts Day, the Valentine's Day-themed seasonal event which featured in Borderlands 3 last year, is back. Now available as an in-game event in Borderlands 3, this seasonal celebration offers much the same mechanics as last year. However, there are a few new things this time around, including a chance to get Halloween loot. The event will be live until 8:59 AM PT on the 25th of February.
The Borderlands 3 Broken Hearts Day Event 2021
"Broken Hearts Day is back!" writes Gearbox; "Mysterious floating hearts are swirling around lovesick enemies across the Borderlands, and aboard Sanctuary III your Saurian pal Maurice – sensing an opportunity to further his studioes of our species' courting rituals – needs assistance."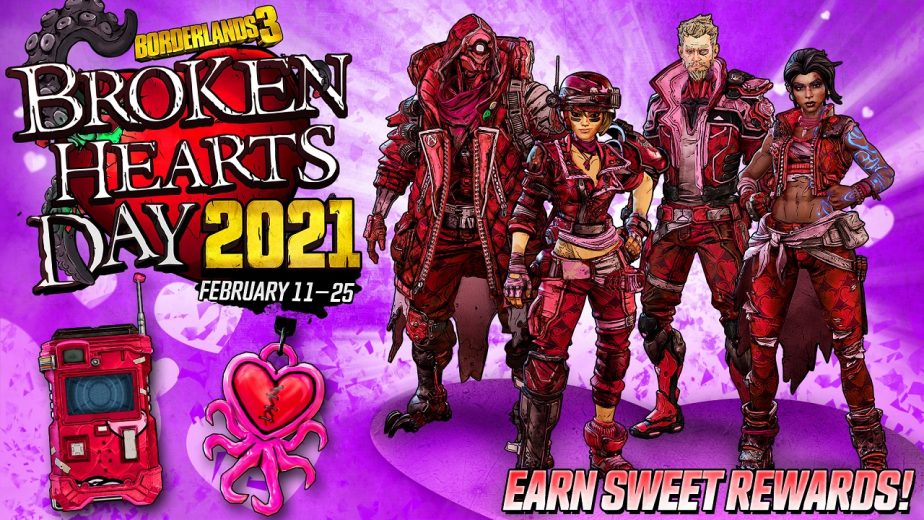 Just like last year, the Broken Hearts Day event in Borderlands 3 tasks players with slaying certain enemies throughout the game. These enemies are marked by floating hearts and slaying an enemy causes their heart to break. When this happens, one of six different things will happen. The heart might detonate in a damaging explosion or, conversely, regenerate your health. It might drop loot, or even turn nearby foes into temporary allies.
One new feature for the event this year is that a broken heart can spawn ghost enemies. These are the same ghostly foes who were part of the Bloody Harvest Halloween seasonal event, and their presence in Broken Hearts Day allows players a chance to gain Bloody Harvest loot. The more hearts you break in this event, the more rewards you'll unlock, as follows:
10 Hearts: 'ECHOcardiogram' ECHO Skin
25 Hearts: 'Cosmic Romance' Weapon Trinket
50 Hearts: 'Terminal Polyaimorous' Legendary Maliwan SMG
75 Hearts: 'Heartbreaker' Vault Hunter Skin
100 Hearts: 'Wedding Invitation' Legendary Jakobs Sniper Rifle
Players should note that these aren't exactly new rewards, but they aren't simply last year's rewards either. While they have the same names, the cosmetic rewards this year are re-coloured variants of the 2020 versions. Meanwhile, the weapons will be brought up to the current level cap; 65. As the level cap was lower a year ago, these weapons couldn't be acquired at level 65 previously.