The mid-season update for Call of Duty: Black Ops Cold War Season 2 is here – Season 2 Reloaded – and brings with it the largest new content release since the start of the season. The game has gained no less than three new maps, new Warzone content, a new Outbreak region, and much more!
Call of Duty: Black Ops Cold War Season 2 Reloaded
First up in the Season 2 Reloaded update for Black Ops Cold War are three new multiplayer maps. Miami Strike is a 6v6 variant of the existing Miami map, featuring a; "tighter map layout with entirely new ways to play". Mansion is even smaller, as a new Gunfight map designed for 2v2 and 3v3 gameplay. Finally, on the opposite end of the scale, is Golova. This multi-team map is designed for much larger game modes and takes place across a broad swathe of terrain. The area first featured as one of the regions within Outbreak when Season 2 first launched.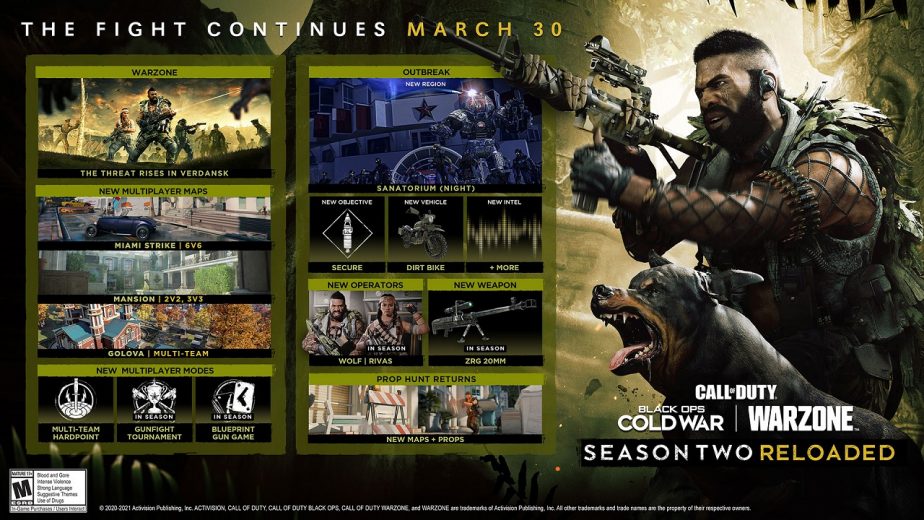 Multiplayer hasn't just gotten new maps, however; players can also try out a new game mode. Multi-Team Hardpoint, for example, is a new large-scale variant of Hardpoint which features 10 competing teams of 4 players each. New maps have also arrived for Prop Hunt – one of the modes which launched at the start of Season 2 – as well as new Props.
The other big new content expansion in Season 2 Reloaded is the Sanatorium (Night). This huge map region is now playable in Outbreak. "Infiltrating into Sanatorium will take place under the cover of nightfall in Outbreak," explains Activision; "making every encounter with the undead – from shambling soldiers to deadly Elite Zombies – that much more spine-tingling". Sanatorium isn't the only new thing in Outbreak, however. The game mode has also gotten a new vehicle – the Dirt Bike – as well as a new objective and intel.
There are still a few more things coming to Black Ops Cold War before Season 2 comes to an end. In the coming weeks, players can look forward to the final new weapon, for example; the ZRG 20mm Sniper Rifle.