On Sunday, NBA fans witnessed two exciting Game 7s in the Eastern and Western Conference semifinals. In one matchup, CJ McCollum helped propel the No. 3 seed Portland Trail Blazers past the Denver Nuggets on the road. In the other game, Kawhi Leonard took a corner shot for the Toronto Raptors that bounced in after the buzzer sounded. That means Portland and Toronto are moving on. It also means both of these star players earned brand new NBA 2K19 Playoffs Moments cards!
Kawhi Leonard & CJ McCollum help teams advance in Game 7 wins
In our Blazers vs. Nuggets 2K19 simulation, we had Denver claiming the Game 7 by a close margin. However, it was the other way around on Sunday as Portland claimed the 100-96 victory thanks to Mr. McCollum. He shot 17-for-29 from the field on a day when All-Star Damian Lillard was shooting poorly. CJ finished with 37 points, nine rebounds, and then one each for steals, blocks, and assists.
The second game was amongst the most thrilling of the NBA Playoffs. It came right down to the wire with the score deadlocked at 90-90 in Toronto. After a timeout, the ball went to the Raptors' Kawhi Leonard who shot it from the side corner near the bench. His shot would bounce on the rim four times before falling through the net to give his team a 92-90 win in Game 7. That capped off an impressive stat line of 41 points, eight rebounds, three assists, and three blocks.
Unsurprisingly, Kawhi and CJ each earned Galaxy Opal NBA 2K19 Playoff Moments cards for their efforts. On CJ's card he's got some great attributes including 98 for layups, 99 contested shot mid-range, and 98 for shot close. He's also got a total of 17 Hall of Fame badges for that card! Meanwhile, Kawhi's no slouch as he's got 18 Hall of Fame badges on his new Galaxy Opal.
These cards are available through the NBA 2K19 Pack Market in Playoffs Moments Packs until this Friday (May 17) at 5 a.m. Pacific Time. Packs start at 6,500 Virtual Currency or 9,500 MT for a pack of five cards. That only gives a chance at landing one of the cards, though. In addition to McCollum and Leonard, the Blazers' Rodney Hood has a Ruby card in packs with an 89 overall rating.
In addition, gamers can head to the Auction House to try to bid or "buy now" for these cards. However, prices are going to be up there. A recent McCollum ended at 269,500 MT, while the Kawhi card is fetching 800,000 or more!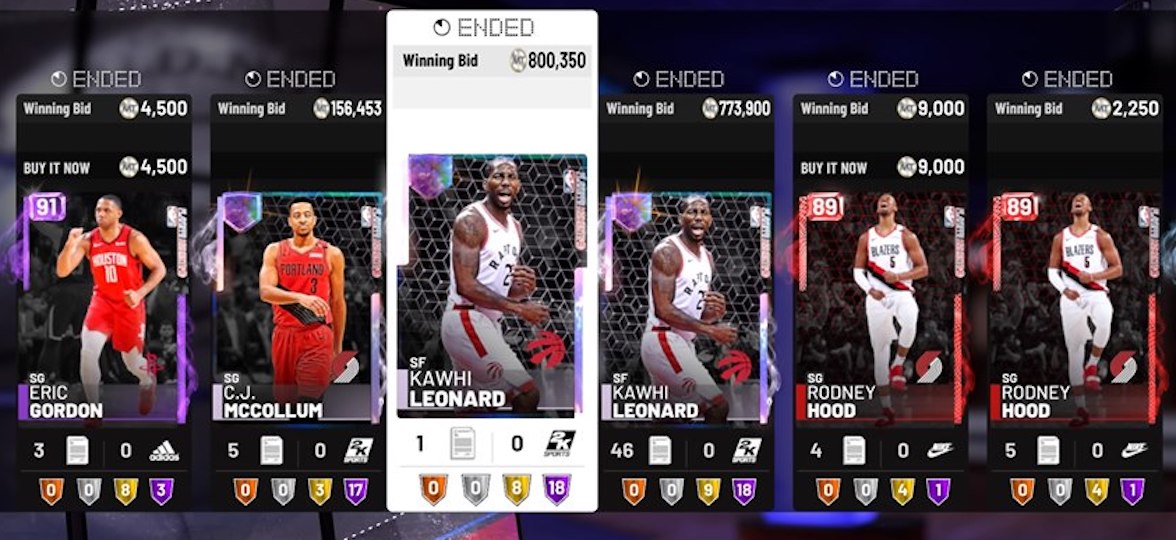 Which of these new player cards are you trying to add to your lineup, or are you selling if you land one? Get more of the latest news about the NBA 2K19 game to stay updated. Oh and don't forget to visit the NBA forum to discuss the latest NBA 2019 free agency news, rumors, and predictions