If you're anything like us, then you've probably been waiting patiently for any tidbit surrounding Darkest Dungeon's third and final DLC expansion, The Color Of Madness. Though it released a few months prior on PC, Switch and Xbox One, PlayStation fans have had to wait a little longer to get their mitts on RedHook's latest expansion.
Well, hold onto your longswords ye Sony faithful, as we've got some great news for all you Darkest Dungeon fans out there! The Color Of Madness is set to launch on the PS4 and PS Vita on November 15th (this Thursday!). It's time to dust off the cobwebs and brave the darkness of the Darkest Dungeon yet again!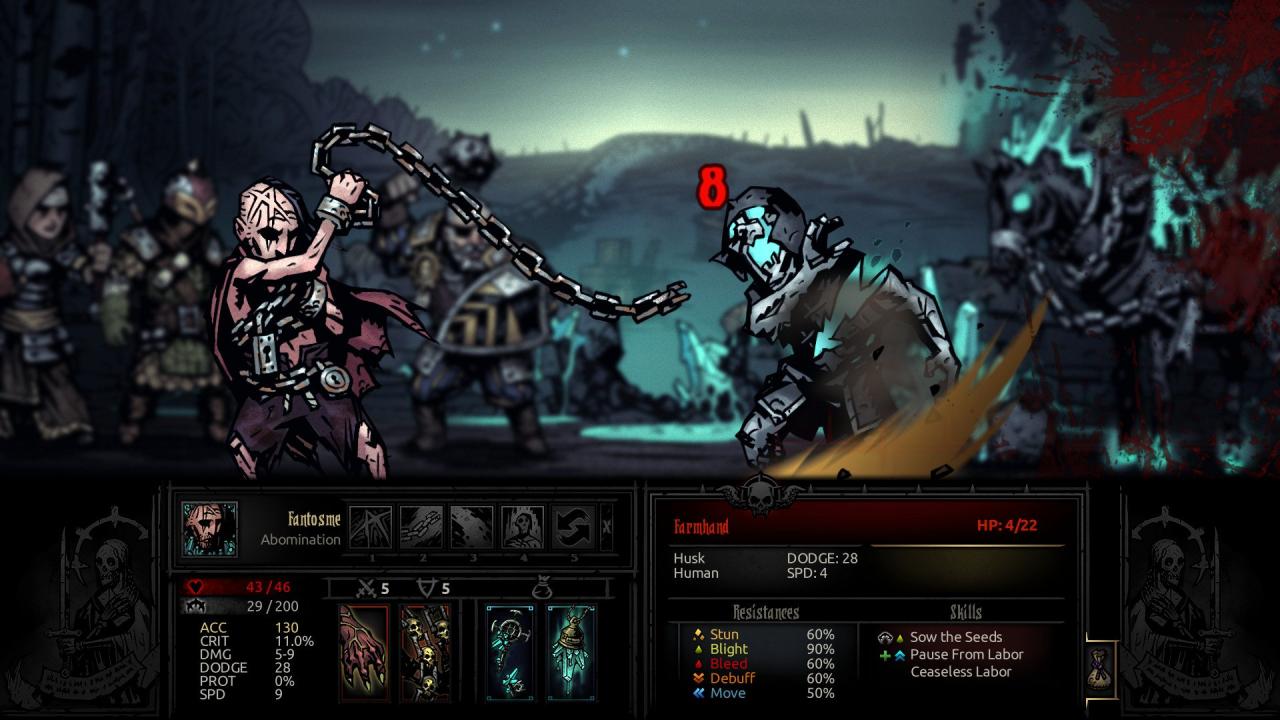 What new features will The Color Of Madness include?
The following is an overview of new features that will be included in the DLC expansion via the Official Darkest Dungeon wiki:
Wave-Based Survival in a New Environment: The Farmstead. A new survival mode will be added which includes endless waves of creatures "in an effort to reach the comet's crash site." Some waves will include other creatures from the base game(rarely the Darkest Dungeon). You will also be able to track your highest kill count and compare them with friends.
Three new repeatable quests: a novice introduction, a veteran boss-kill, and an endless darkest-level wave-based combat experience.
Resupply. In between waves, heroes will have a chance to use new and exotic curios to restore their vigor.
An All-New Enemy Faction. The influence of the corrupting comet has turned the miller and his farmhands into slavering monstrosities. Now they are merely lifeless shells intent only on spreading the comet's influence…
3 New Bosses.
Twisted New Trinkets. The Nomad Wagon will have a new section available known as the Jeweler. Your gold is no good here; only Comet Shards may purchase the twisted new treasure that await.
New Districts With the new resources found within the farmstead, the Hamlet is able to build new districts to help the heroes ward off this new crystalline menace.
New Quirks
New Tunes. The Color of Madness will have new music, which according to RedHook is "the longest, most involved combat score to date!"
Additionally, RedHook has also stated that more features will be present, but have not yet revealed them. Further still, a brand new class will be available to all game owners: The Musketeer.
Finally, the DLC expansion will cost $4.99 (or your regional equivalent). Also, cross-buy and cross-save will be enabled and a ton of rebalancing tweaks will be integrated into the overall Darkest Dungeon experience via a large update that's arriving on the same day. Are you as excited as us to delve back into RedHook's masochistic roguelike yet again? Let us know in the usual place!