Destiny 2's Season of Opulence doesn't arrive until June 4, but Bungie is already teasing the season's new features. Along with the new Menagerie six-player activity, the Season of Opulence brings plenty of new content to the table. There are new Exotic weapons, new cosmetic items, a returning seasonal event, and even a new Tribute Hall.
Destiny 2 Season of Opulence Feature Details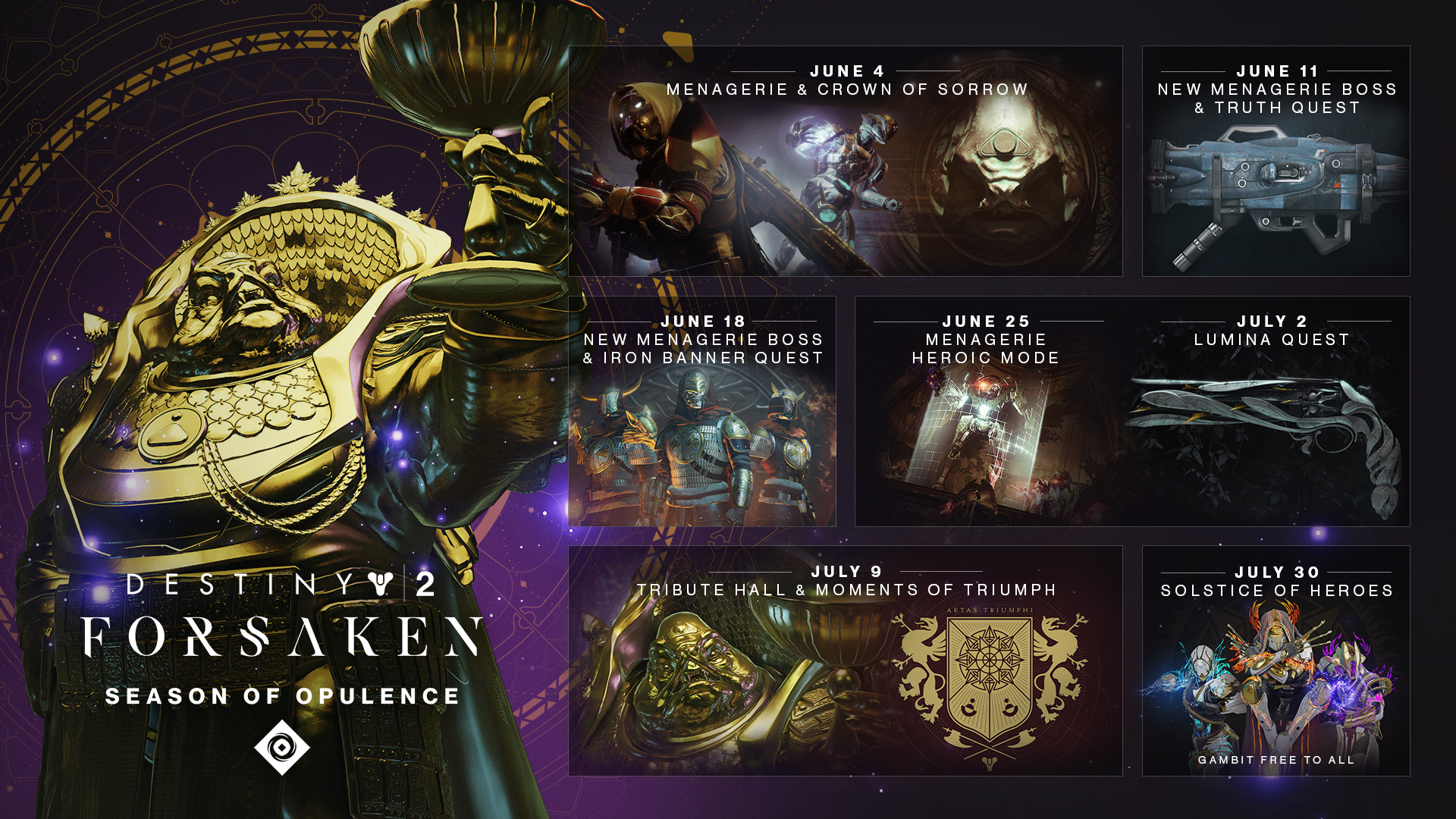 A full rundown of new Season of Opulence features came courtesy of this post on Bungie's website. In the post, Bungie provided one final update to the gameplay calendar it's been slowly refining over the past months. Some of the calendar's content is free for all Destiny 2 players, but the best parts are Annual Pass-exclusive. As an example, only Annual Pass owners get access to the Menagerie activity and Crown of Sorrow raid experience.
Two new Exotic weapons are also coming in the Season of Opulence, and one will require the Annual Pass. The first is a returning Exotic from the original Destiny: the Truth rocket launcher. Players can start their journey to unlock Truth beginning on June 11. The second Exotic, meanwhile, is a slick-looking new hand cannon called Lumina. The Lumina quest will kick off on July 2. Our guess is that Lumina will be the Exotic which requires the Annual Pass, but we can't confirm for sure.
All Destiny 2 players will also be able to participate in the Season of Opulence Iron Banner events. Bungie is even teasing a new 'Iron Banner Quest' via the above roadmap image. For PvE fans, the image also confirms a July 30 start date for the returning Solstice of Heroes event. During Solstice of Heroes, all players can play Gambit even if they don't own the Forsaken expansion.
Shortly before the Solstice of Heroes, a new Tribute Hall will arrive in Destiny 2 on July 9. The Tribute Hall will include new Moments of Triumph for players to complete and show off to their friends. The Season of Opulence is set to last into August, so there's likely more surprises to come.