Destiny 2's Black Armory expansion arrives in a little under a week. As you may have guessed from its name, the expansion has a strong theme of forging new weaponry. Players can once again wield heavy machine guns and even earn powerful new pinnacle weapons. Naturally there are new Exotic armaments to earn as well, and we've detailed four of them below.
Destiny 2 Black Armory Exotic Weapons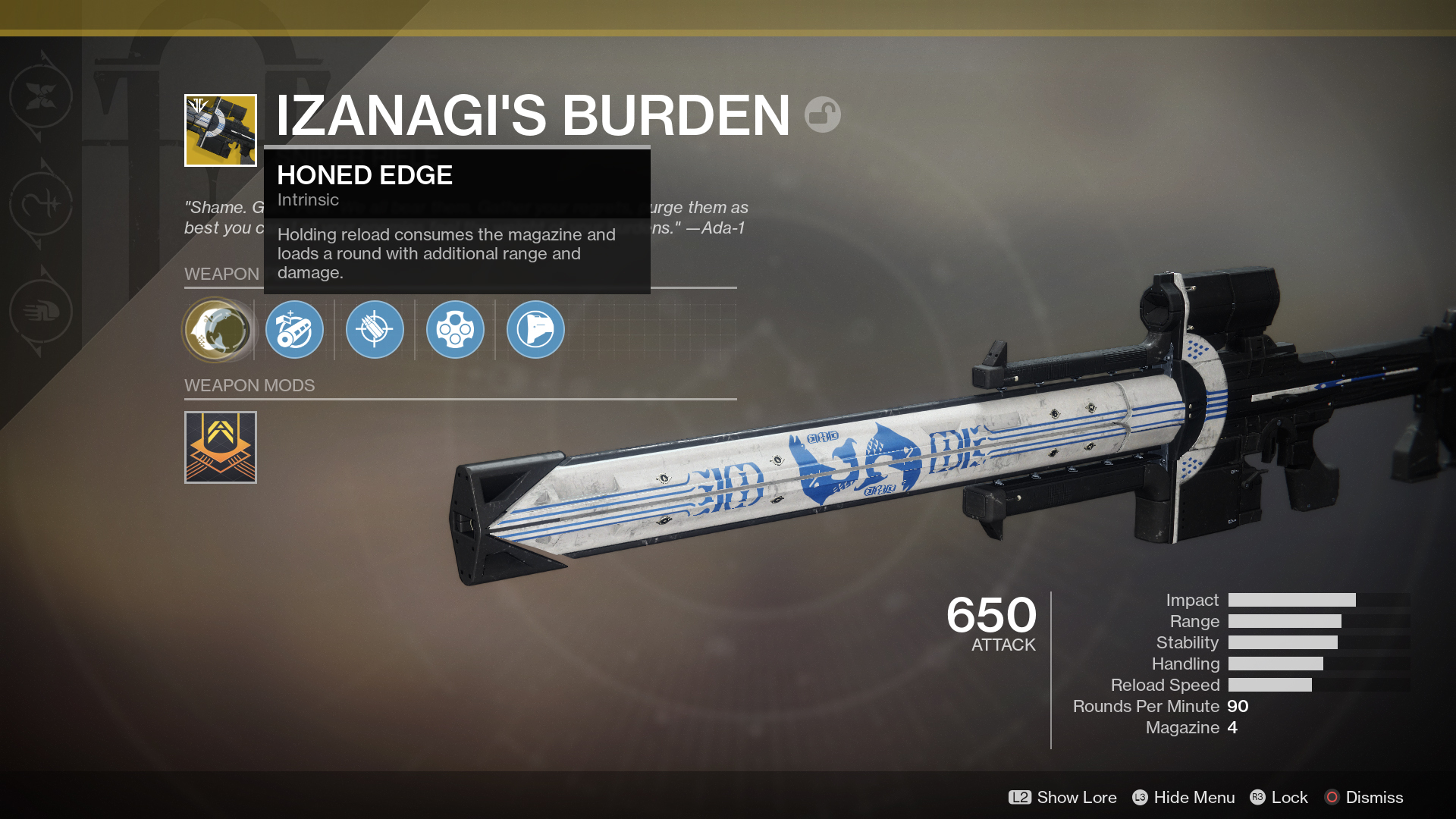 Three of the new Exotics are associated with three Golden Age families which were known for their superior weapon-crafting skills. Each family is associated with a different regional nationality (Norse, French, and Japanese respectively) and their weapon designs reflect that. The fourth Exotic, meanwhile, is an interesting new Fallen-themed weapon that's sure to cause some chaos.
Le Monarque
Le Monarque is a weapon from the French family that takes cues from the infamous Destiny weapon Thorn. The Exotic bow's unique 'Pestilence Arrows' perk causes fired arrows to create persistent damage clouds upon impact.
Izanagi's Burden
Izanagi's Burden is an Exotic sniper rifle which comes from the Japanese weapon crafting family. The weapon comes equipped with a four-round magazine and a unique perk of its own called 'Honed Edge.' With Honed Edge, a player can combine all four rounds into a single powerful shot by holding the reload button. That powered up shot deals enough damage to instantly kill an enemy player in the Crucible with a body hit.
Jotun
Jotun comes from the Norse family and its lovingly referred to by Bungie as the "arm blaster." The weapon is technically a fusion rifle, but its design more closely resembles a sort of cybernetic gauntlet. Along with its unique design Jotun also has unique functionality, firing flaming slugs that track enemies and explode on impact.
Anarchy
Anarchy is a grenade launcher with a Fallen aesthetic. Thanks to its unique 'Arc Traps' perk, the weapon fire Arc-based proximity mines instead of standard grenade rounds. This means that clever users can make some dastardly proximity traps in Crucible PvP matches.
A fifth Exotic is also coming in Black Armory, but Bungie is keeping its identity a secret for now. However, the studio did confirm it's a returning Exotic from the original Destiny. Fan speculation also heavily suggests the returning Exotic will be none other than the Last Word hand cannon. For now, however, we'll have to wait and see.