Like many other live service games, Destiny 2 utilizes a rotating "seasons" format for its content offerings. When a season ends, the cosmetic items associated with it cycle out, ensuring that their value is maintained. However, Bungie has now launched a "Temporal Surge" feature which offers players a chance of claiming previously retired emotes.
Destiny 2 Temporal Surge Update
The Temporal Surge functions as an offshoot of Destiny 2's Eververse store. For those who don't know, the Eververse is an in-universe microtransactions shop that offers items like emotes and Ghost shells. Eververse items are available mostly through loot Engrams (loot boxes), but there are methods for acquiring specific items as well. However, the Eververse stock has always stuck to the current season's offerings…until now that is.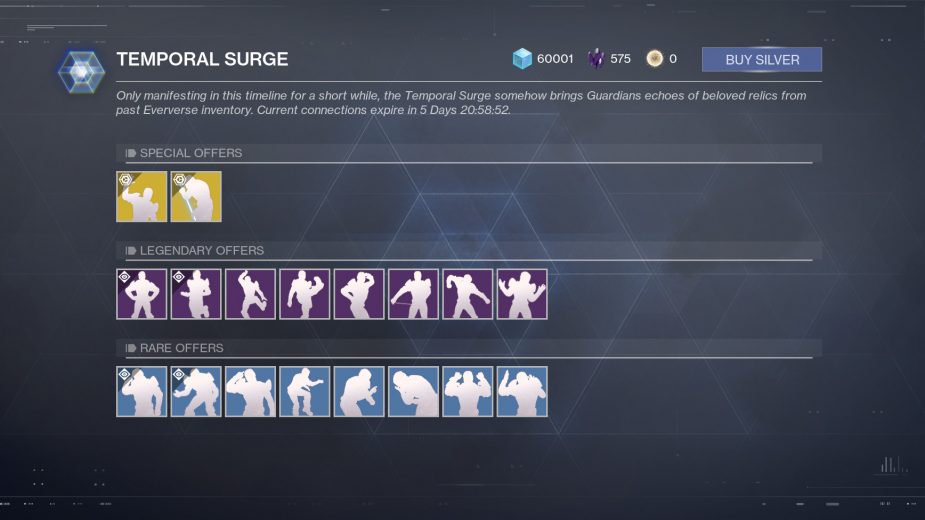 As Bungie outlined in this announcement post, the Temporal Surge is accessed by speaking to Eververse vendor Tess Everis. Only emotes are available during the first run, but Bungie says that could change in the future. Specifically, the first run of emotes are from Destiny 2's very first content season. Silver (Destiny 2's premium currency) is the only currency players can use for Temporal Surge items, no Bright Dust allowed.
As for specific Silver prices, they are as follows:
Rare Emotes: 200 Silver
Legendary Emotes: 500 Silver
Exotic Emotes: 1,000 Silver
The Rare and Legendary emotes are exactly the same as their season one counterparts. However, the Exotic emotes feature new "Temporal" color schemes and effects, ensuring the season one versions retain their uniqueness.
The inaugural Temporal Surge is only available until next Tuesday, November 13, so purchase your desired emotes while you can. It's not clear exactly when the next Temporal Surge will arrive but Bungie will likely announce its coming ahead of time.
If you're a PC gamer, there's still plenty of time to claim a free copy of Destiny 2's standard edition. A beloved Exotic weapon from the original Destiny may also soon be coming to the sequel.