With the release of Call of Duty: Black Ops Cold War now just one week away, Activision has released the first details about Black Ops Cold War Season 1; the game's first season of post-launch content. This season will be starting just under one month after the game's release, on the 10th of December.
The Black Ops Cold War Season 1 Roadmap
The first thing that the Black Ops Cold War Season 1 roadmap confirms is that Activision intends to continue joint content releases with Call of Duty: Warzone. Since its launch, Warzone has shared a great deal of content with Modern Warfare. With the launch of Black Ops Cold War, it seems that Warzone will be shifting from one to the other, remaining the dominant Call of Duty battle royale title while Black Ops Cold War focuses on smaller-scale multiplayer and Zombies.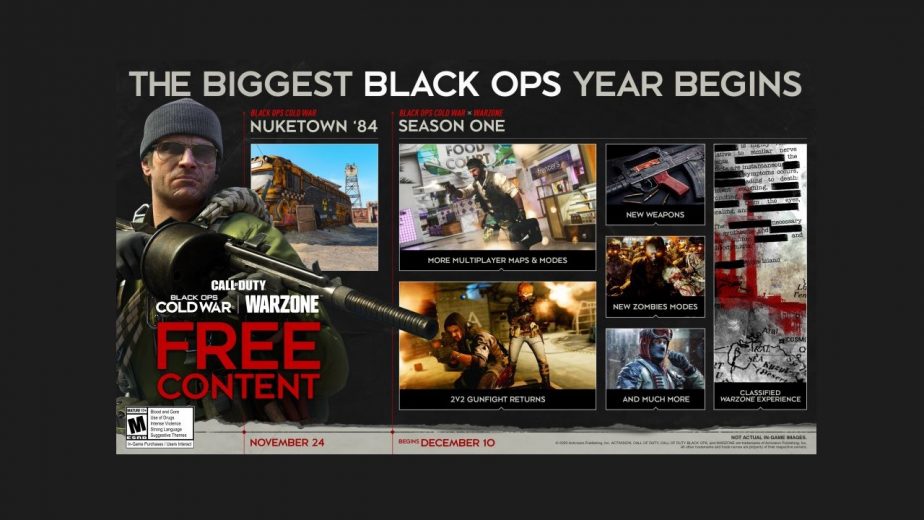 The first inclusion on the roadmap is actually a small, pre-season addition, due to launch on the 24th of November. That is the arrival of a "Nuketown '84" map in Black Ops Cold War; no doubt a new take on the classic Nuketown map. Two weeks later, on the 10th of December, Season 1 will begin proper. According to the roadmap, it will feature "more multiplayer maps & modes," as well as "new weapons," "new Zombies modes," and the return of 2v2 Gunfight. (Not to mention further content which isn't explicitly listed on the roadmap.)
Much of this new content – presumably in the region of cosmetics, weapons, and modes – will be coming to Warzone as well. In fact, it seems that Warzone could be getting a fairly major content expansion. Listed on the roadmap is a; "Classified Warzone Experience," details of which are currently unknown. This could very well be the arrival of a new Warzone map to go along with the new game. Indeed, having two maps would allow the developers to keep Modern Warfare and Black Ops Cold War weapons separate, since they're from totally different time periods. However, for now, fans will have to wait and see.