Prior to hitting the west hall of the Los Angeles Convention Center, I knew Nintendo would bring out some of my most anticipated games this year. I've been looking forward to Pokemon Sword/Shield, Luigi's Mansion 3, and Link's Awakening and they didn't disappoint. Here are my quick impressions of those games, Marvel Ultimate Alliance 3: The Black Order, and Mario and Sonic at the Olympic Games: Tokyo 2020.
The Legend of Zelda: Link's Awakening
From the get-go, Link's Awakening had my attention thanks to its adorable art style. As a big Nintendo fan, I love it when they release games such as Yoshi's Crafted World or Kirby's Epic Yarn that experiment with their visual aesthetics and bring something unique to the table. I couldn't help but admire every aspect of the game's map and character designs. Additionally, it was surprising to see cameos from Mario characters like the Chain Chomp and some Goombas along the way.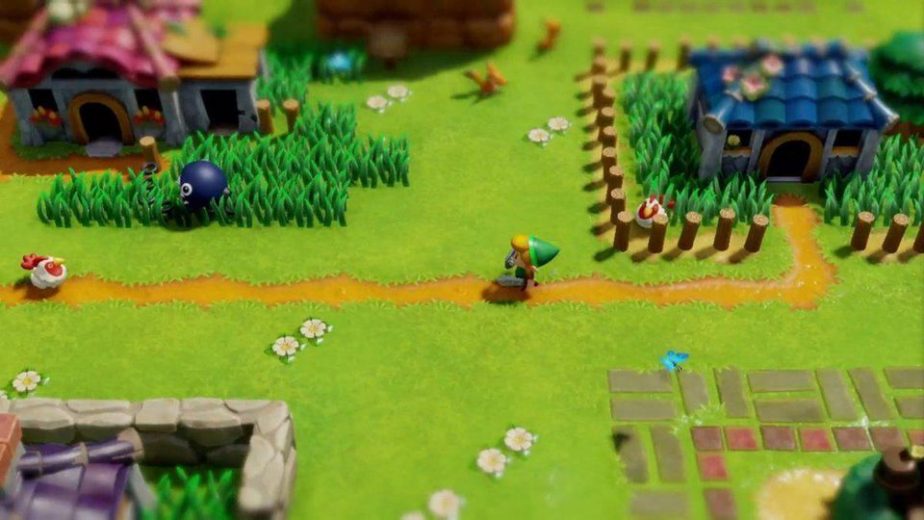 The demo starts off with Link waking up in bed and then proceeding to get his sword and shield. From a gameplay perspective, it feels great to play and the controls weren't complicated. The 15-20 minute demo gave a plethora of options on what to do. I could explore the world or go to one of the dungeons among other things. I did a little bit of both and it seems like the game will offer this type of freedom too once the final game comes out.
Overall, I'm excited to explore more of what Link's Awakening has to offer. Just from the slice I got, I can tell the game will offer a variety of different environments and keep me guessing on how to make my way out of dungeons. The Legend of Zelda: Link's Awakening launches on Nintendo Switch on September 20, 2019.
Luigi's Mansion 3
Of the titles shown off at Nintendo's booth, this might be my favorite one. The demo starts off at a hotel Luigi is staying at and he goes onto fight a ghost in knights armor. What makes this one of my favorites is its visuals and gameplay options.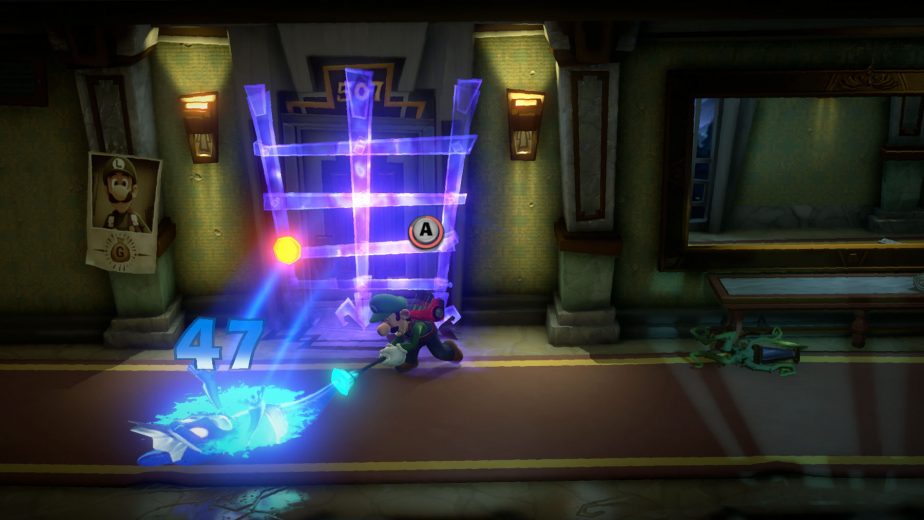 The game looks stunning and cartoony in the best way possible. From Luigi to the ghosts, each character has a sense of personality and humor in them. Additionally, Luigi looks terrified throughout the demo which also adds some personality to our fellow ghosthunter. As for gameplay, Luigi's Mansion 3 offers some new features. Luigi can now smack ghost around and use a plunger this time around. Throwing ghosts around never got old and using the plunger gave Luigi the ability to find hidden items and solve certain parts of puzzles.
Luigi's Mansion 3 is looking to be another fun entry in the Luigi's Mansion series. With a slightly different setting and new combat options, the game looks to offer enough that'll make this a fresh experience for those that have played the other two games in the series. Luigi's Mansion 3 is set to launch on Nintendo Switch sometime this fall.
Marvel Ultimate Alliance 3: The Black Order
With Marvel's Avengers at the show, Marvel comics was in full force at the show. The 15-20 minute demo for Ultimate Alliance 3 has players interacting with Jessica Jones as she gives you directions for the current mission. There are over 30 characters available to choose from in the final game and I went with Captain Marvel. Additionally, characters like Wolverine, Deadpool, Miles Morales, and the main Avengers will be among the playable characters. Of the games I got to play at Nintendo's booth, this ranks as one of my least favorites.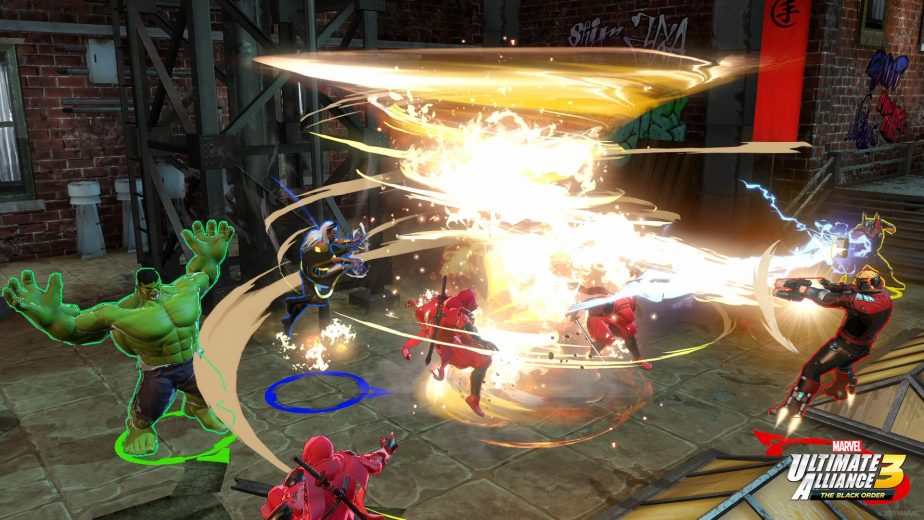 Throughout the demo, you fight wave after wave of enemies that aren't particularly challenging or interesting. Additionally, the demo ends in an anti-climatic way with you fighting a wave of ninjas that don't offer any variety to combat. As for the playable characters, they can do an optional team attack that's activated by pressing the left and right bumper buttons which is nothing but each character doing their individual final attacks. When doing this team attack, I could tell that the game slowed down and the frame rate was chugging along.
As a co-op game, Marvel Ultimate Alliance 3 could be fun. I got to play it with three other people and it was a little more exciting to play rather than by myself. Each character seems to have their own distinct fighting style which could make experimenting more fun. Between this and Marvel's Avengers, Marvel's gaming presence isn't particularly impressive. Marvel Ultimate Alliance 3: The Black Order launches on Nintendo Switch on July 19, 2019.
Mario and Sonic at the Olympic Games: Tokyo 2020
Starting back in 2007, the Mario and Sonic at the Olympic Games series is in full force leading up to the 2020 Olympic games. With new sports to choose from, the latest entry in this series offers something fresh for everyone.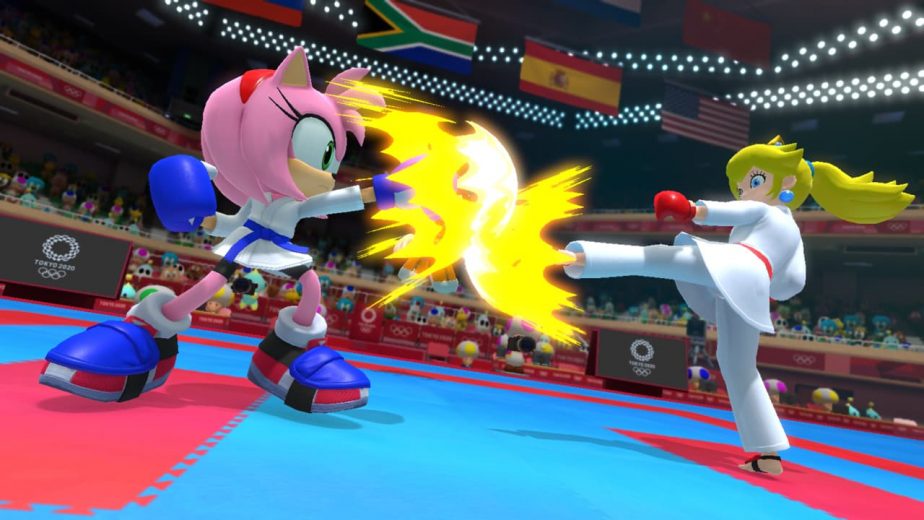 During the demo, I got to check out the karate, skateboarding, and surfing minigames. Each minigame played well and are all based around racking up as many points as possible. Additionally, it's funny to see Eggman do any of these minigames. Seeing him skateboard and rack up combos is something I never thought I'd see in my lifetime.
Overall, this entry in the Mario and Sonic series looks to be another fun entry. With new minigames among other things, it'll be a fun game to break out at a party. Mario and Sonic at the Olympic Games: Tokyo 2020 comes out later this year on Nintendo Switch.
Pokemon Sword/Shield
Last but not least, Pokemon Sword/Shield is one of my most anticipated games this year. From what Nintendo has shown off, this looks to be the biggest entry in the mainline Pokemon series.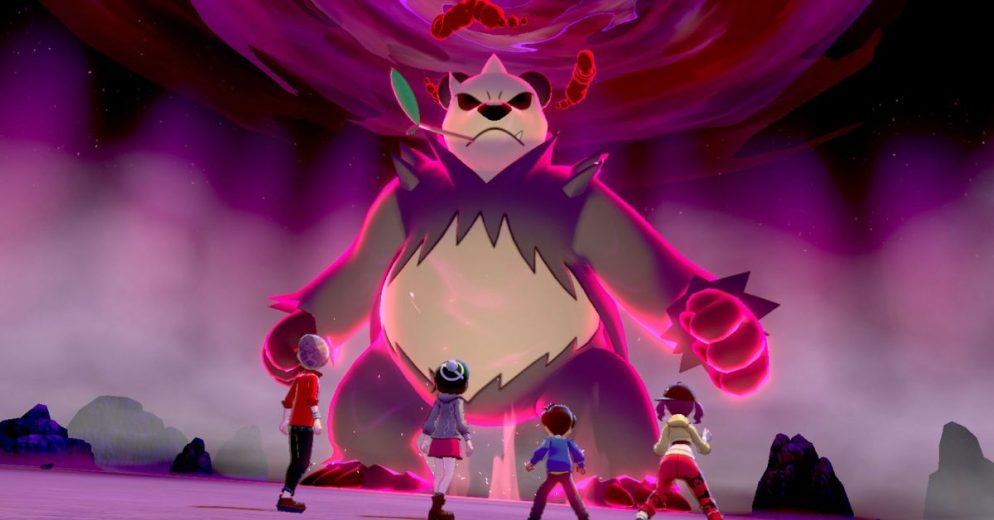 In the demo, I got to complete the water-type gym. From the beginning of the demo, I could tell that the scope of these games is bigger than ever before. The size of the gym, the encounter with the gym leader, and Dynamax battle all make this entry larger than life. Like other gyms in the series, you had to figure your way out by solving a puzzle or two and battling other trainers.
Besides the scale of the gym, it still feels like a traditional Pokemon RPG which isn't a bad thing. It would've been cool to explore the world instead of doing a gym battle but it was still a good taste of what's to come. Pokemon Sword/Shield launches on Nintendo Switch on November 15, 2019.
That does it for our Nintendo E3 roundup. For more E3 coverage, including our previews of Cyberpunk 2077 and Final Fantasy VII Remake, stay tuned to vgr.com.