A major new event for The Elder Scrolls Online is about to begin; Summerfall. Themed around the game's Summerset DLC, the event requires players to complete the Summerset Pathfinder achievement, and offers unique collectables for doing so. Most notably, players can earn a sprawling Altmeri villa as a new home. This event will begin tomorrow.
The Elder Scrolls Online Summerfall Event
Summerfall will begin on Thursday the 20th of September, at 4:00 PM BST. It will continue until Friday the 28th of September, at 3:00 PM BST. During that time, players will be able to participate in Summerfall on the island of Summerset. The primary objective for the event is to earn the Summerset Pathfinder achievement. To do this, players must visit all of Summerset's "Striking Locales," ten of which can be found around the island; "Every day," says the official event announcement on the game's website; "we'll update the Summerfall Event page to indicate the ESO community's progress with a special meter."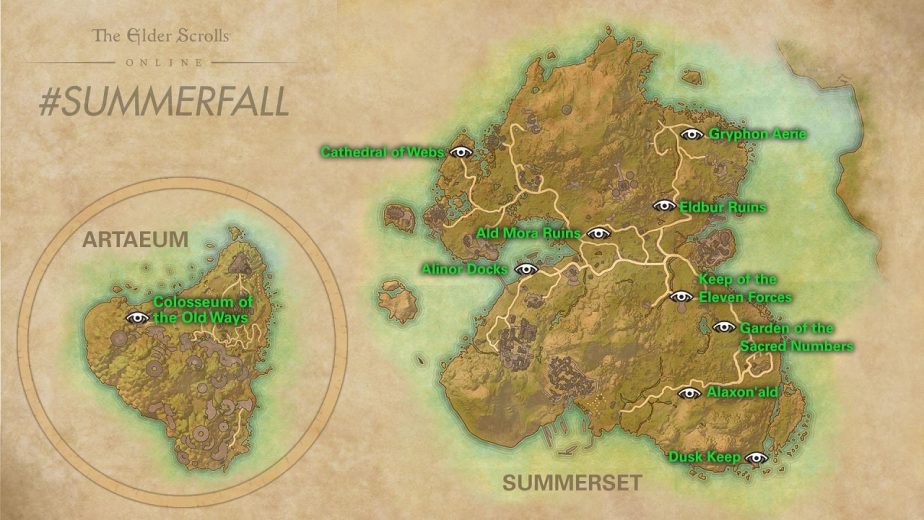 Once this meter reaches 33%, you will unlock the Psijic Mascot Pony pet. At 66%, you'll earn the Psijic Escort Charger mount. Finally, at 100%, you will earn the Grand Psijic Villa, a new and highly impressive house. If players have already unlocked the Summerset Pathfinder achievement, that will be pre-included in the event tally. Players will be eligible for the Summerfall rewards if they have logged into the game at least once by the 8th of October at 1:00 AM BST. The event rewards will be delivered two days later, on the 10th of October. Note that only players who own the Summerset DLC will be eligible for the rewards.
If you don't have the Summerset DLC, now is a good time to pick it up. From today onwards, the Summerset DLC will be on sale for 40% off. This spans its Standard Edition, Digital Collector's Edition, and Upgrades. In addition, a second sale will begin on the 25th of September; both The Elder Scrolls Online: Standard Edition (which doesn't include DLC) and The Elder Scrolls Online Collection will be 50% off. These two sales will come to an end on the 2nd of October.