With the new Greymoor expansion launching on PC today, Bethesda Softworks have released a dramatic new cinematic launch trailer for The Dark Heart of Skyrim. Serving as the second chapter of a year-long expansion for The Elder Scrolls: Online, "Greymoor" is available to play on PC from today, with two more chapters set to arrive later in the year.
Elder Scrolls Online: The Dark Heart of Skyrim
"Descend into the Dark Heart of Skyrim with The Elder Scrolls Online: Greymoor," writes Bethesda Softworks; "Explore the now-capped peaks of Western Skyrim and the subterranean underworld of Blackreach, uncover an ancient supernatural conspiracy, and seek out Tamriel's long-lost treasures and knowledge with the latest Chapter in the Elder Scrolls Online saga. Skyrim needs heroes!"
Just like the Season of the Dragon, The Dark Heart of Skyrim is a year-long event spanning several different vampire-themed expansions for The Elder Scrolls: Online. The first of these was Harrowstorm, which launched back in March and which served as the event's opening act. Greymoor, which launches today on PC, is the second chapter and a much larger expansion. Greymoor will be coming to Xbox One and PS4 on the 9th of June, followed by Stadia on the 16th. To access the new content, you simply need to travel by Wayshrine to the Solitude Docks in Western Skyrim. Alternately, you can start a new character and complete the new Chapter Tutorial, which will start you in the new area.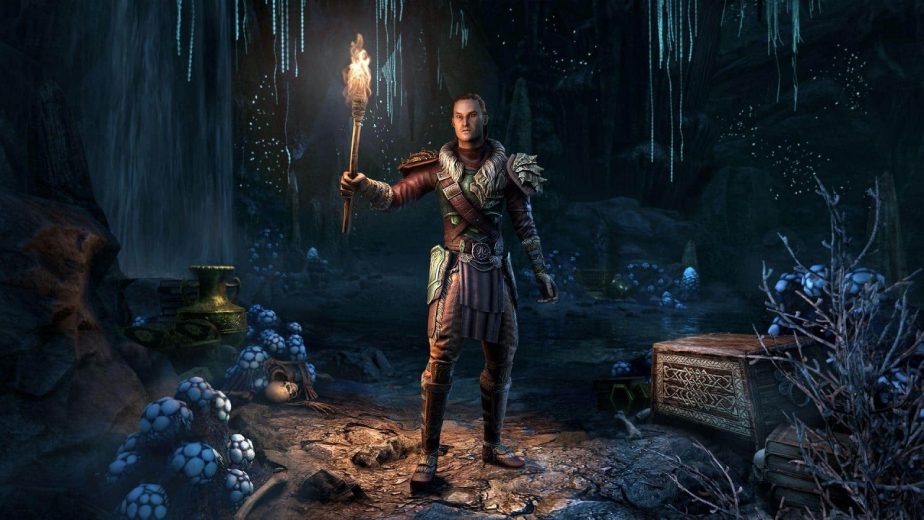 The Elder Scrolls: Online has featured portions of Skyrim for years. However, Greymoor greatly expands the region and its associated content. One area which receives particular attention is the colossal subterranean area of Blackreach; a key area in the Greymoor main quest and The Elder Scrolls V: Skyrim's largest dungeon. It can be accessed by one of three Dwarven Lifts which can be found in the Western Skyrim region. The expansion also introduces the Antiquarian's Circle; a new faction which allows players to undertake quests to dig up ancient relics and antiquities around Skyrim.