Far Cry New Dawn is just a few weeks away from release. The game is due to launch on the 15th of February, which gives gamers a little time left to preorder. If you are hoping to preorder the next instalment in the Far Cry series, this is a complete guide to what options are available to you and what preorder bonuses you can take advantage of.
What Are the Far Cry New Dawn Preorder Options?
The first thing to note about the Far Cry New Dawn preorder options is the Unicorn Trike skin. This rainbow-patterned skin is for a small vehicle which has a seat for a driver and one for a backseat machine gunner; certainly, it looks well-suited for co-op play. Anybody who preorders the game will get the Unicorn Trike skin for free as a bonus. This incentive applies to all versions of the game, so long as you preorder.
There are two versions of Far Cry New Dawn available to preorder; the Standard Edition and the Deluxe Edition. The standard edition costs $39.99 and just includes the game, plus the Unicorn Trike skin. The Deluxe Edition, on the other hand, comes with a collection of extras. It's available for $10 more, at $49.99. The first extra is the 'Knight Pack,' which includes the SVD Claymore sniper rifle, and a Sidecar Motorbike. You'll also get the Hurk Legacy Pack, which comes with the Wrath M249 machine gun and the Legacy Offroader, a large SUV with a mounted machine gun. This pack also includes "Hurkling Outfits," though these haven't been revealed yet. Finally, the Deluxe Edition comes with two more bonus weapons; the M133M shotgun and the RAT4 rocket launcher.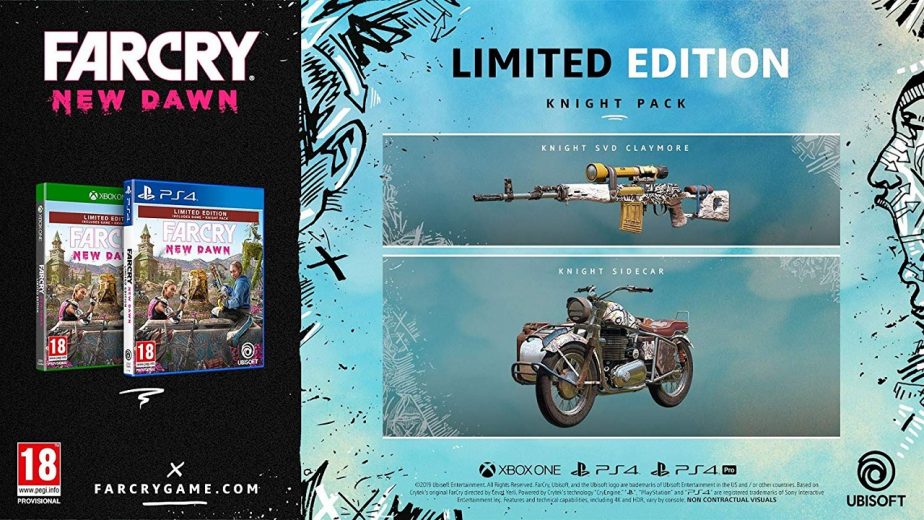 Note that Amazon is also offering an exclusive "Limited Edition." This version of the game falls between the other two editions in price and comes with the Unicorn Trike preorder skin and the Knight Pack. It does not include the Hurk Legacy Pack or the two additional bonus weapons.
As to be expected, Far Cry New Dawn is available in most major online and offline retailers. It will be launching for Xbox One, PlayStation 4, and PC in a little over two weeks' time, so fans hoping to get a preorder should probably do so soon.