EA dropped a pair of FIFA 20 Flashback SBC players as Ultimate Team options on Tuesday, April 7. Now gamers can decide on whether they want to obtain an upgraded Alexander Esswein or Gervinho item for their FUT roster. We've got the details on the necessary requirements and a review for what the cards bring to FUT.
FIFA 20 Flashback SBC players: Alexander Esswein, Gervinho
It's a pair of 87 overall footballers for the latest FIFA 20 Flashback SBC players. First up, we've got RM Alexander Esswein with 94 Pace, 92 Physical, 91 Dribbling, and 87 Shooting. Based on FUTHEAD's page for the item, other key ratings include 99 Shot Power, 95 Sprint Speed, 92 Acceleration, 94 Strength, 94 Aggression, and 93 Ball Control.

For the other FIFA 20 Flashback SBC player, we've got Gervinho with three-star Skill Moves and three-star Weak Foot. His upgraded card includes a blazing fast 97 Pace based on 98 Acceleration and 97 Sprint Speed. There's also 93 Dribbling and 87 Shooting to go with that. Some of his other high-rated attributes include 99 Agility, 91 Ball Control, 96 Shot Positioning, and 90 Stamina.

SBC Player requirements and review
To access the new Squad Building Challenge, go into Ultimate Team and then to "Squads" on the top menu. Choose "Squad Building Challenges" and then choose the "Oldie But Goldie" option there. This will give you the screen to put together a squad to get a Player Pick Pack.
The FIFA 20 Flashback SBC players pick requirements are for an 11-man squad. It needs to have at least two Serie A Tim or Bundesliga players. It also needs at least one Team of the Week or TOTW Moments player. In addition, the squad must be a minimum overall Team Rating of 84 and minimum Team Chemistry of 80.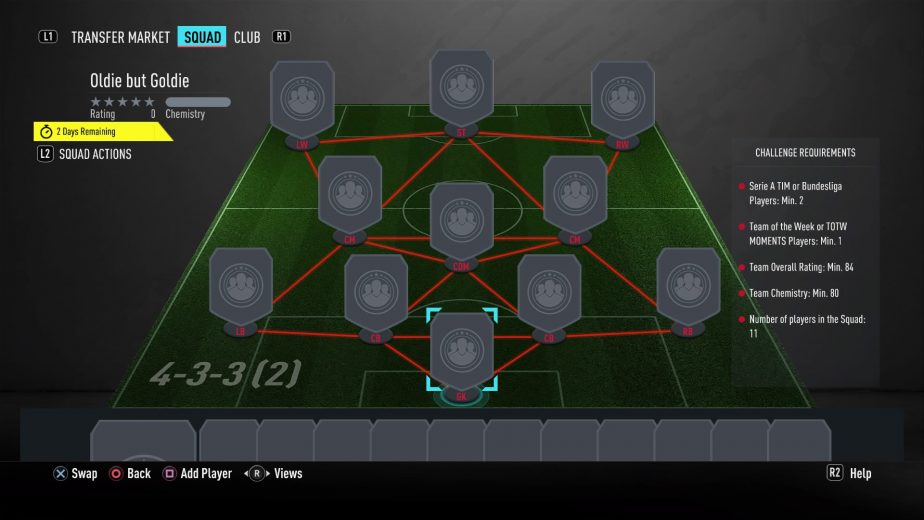 Based on the video review below, the Alexander Esswein SBC is going to be the favorite of the two. That's due to the unique aspect of Esswein's attributes on the card. Not many other items in Ultimate Team have similar ratings.
However, both players have those awful three-star Skill Moves and Wak Foot ratings. Gervinho has great in-game stats including his Agility, Balance, and Stamina with better work rates, so some may want him on their roster. That said, the cards are going to cost about 60,000 to build squads for, so keep that in mind.
As far as what to use with these specific players, FUTBIN community polls reveal that Deadeye (39%) and Marksman (20%) are top picks for Gervinho, while Sniper (57%) and Deadeye (23%) are current top picks for Esswein.
Check out the recent Adel Taarabt SBC requirements for a look at another recent card to try for.
Visit our FIFA news page for more of the latest game updates.