The new FIFA 20 Team of the Week 19 is here! Wednesday brought the reveal of the latest installment which features players who performed exceptionally on the pitch. Leading the way are two players with 92 overall ratings. That goes to French superstar Kylian Mbappe and FIFA 20 cover athlete Virgil Van Dijk. Here are more details on who else made the new TOTW lineup along with these star footballers.
Mbappe, Van Dijk headline FIFA 20 Team of the Week 19 Starting XI
This week's Starting XI brings players rated as low as 81 overall but up to 92 OVR thanks to Kylian Mbappe and Virgil Van Dijk. Mbappe previously appeared in Team of the Week 7. His new upgraded FIFA 20 Team of the Week 19 card includes a stellar 99 Pace, 93 Dribbling, and 90 Shooting for the Paris Saint-Germain star.
FIFA cover star Virgil Van Dijk gets a new TOTW upgrade item that doesn't even come close to his 99 OVR Team of the Year item. Still, it gives another option for gamers who want a less expensive Van Dijk item with top skills ratings such as 93 Defense, 88 Physical, 79 Pace, and 74 Passing.
Also on the Starting XI this week are 88 overall Thiago and Casemiro. Here's a look at the full lineup including substitutes and reserves with more about them below.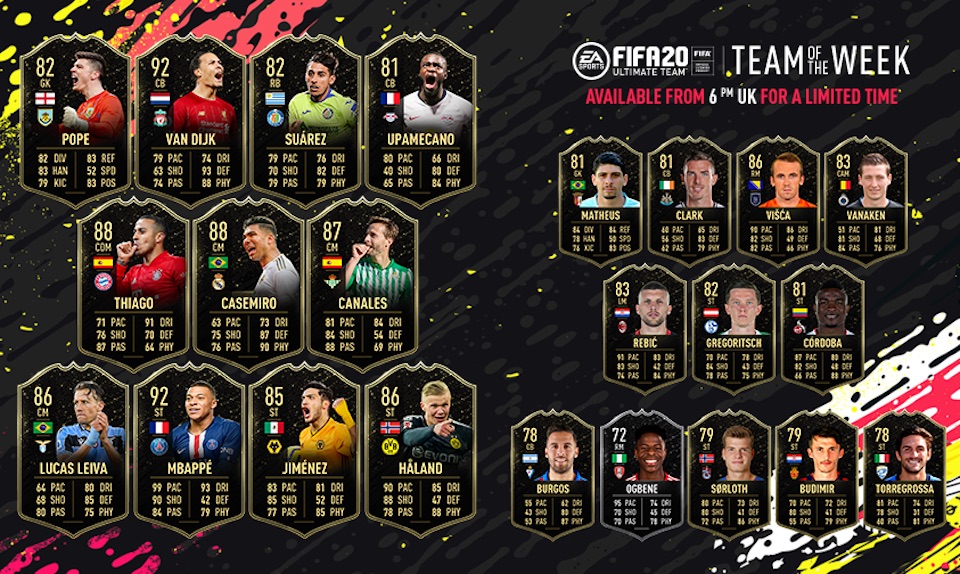 FIFA TOTW 19 Substitutes and Reserves
The combined 12 substitute and reserve players make up the rest of the FIFA 20 Team of the Week 19 roster. Amongst them, is RM Edin Visca of Medipol Basaksehir. He comes in with an 86 overall card which is the highest of any player of the group. A number of members of the FUTHEAD community are praising the card for its "supersub" value on a FIFA Ultimate Team.
FIFA 20 TOTW 19 Substitutes:
GK Matheus (Braga) 81 OVR
CB Ciaran Clark (Newcastle United) 81 OVR
RM Edin Visca (Medipol Basaksehir) 86 OVR
CAM Hans Vanaken (Club Brugge) 83 OVR
LM Ante Rebic (Milan) 83 OVR
ST1 Michael Gregoritsch (FC Schalke 04) 82 OVR
ST2 Jhon Cordoba (1. FC Koln) 81 OVR
FIFA 20 TOTW 19 Reserves:
CB Esteban Burgos (SD Eibar) 78 OVR
RM Chiedozie Obgene (Rotherham United) 72 OVR
ST1 Alexander Srloth (Trabzonspor) 79 OVR
ST2 Ante Budimir (RCD Mallorca) 79 OVR
ST3 Ernesto Torregrossa (Brescia) 78
The new FIFA 20 Team of the Week 19 player items become available in the game's Ultimate Team packs as of 6 p.m. UK time. Specific player cards are also available on the Transfer Market for bidding.
In addition, gamers can use their own Ultimate Team to challenge the new TOTW 19 and see how they do. By going up against TOTW 19 and winning, gamers can earn in-game currency based on the difficulty level.
Check out more of the latest FIFA 20 news here including other Ultimate Team updates.