Time has been flying when it comes to FIFA Ultimate Team, as we're now up to the 26th installment of Team of the Week. Each week throughout the season, EA's FIFA brings their team of star footballers based on real-life performances from the pitch. For FIFA 20 Team of the Week 26, gamers will find upgraded items for stars such as Sadio Mane, Kai Havertz, and Parejo amongst the selections.
FIFA 20 Team of the Week 26 Starting XI players
Wednesday's FIFA 20 Team of the Week 26 arrived after a bit of a delay, coming to social media via Twitter. On the latest starting XI, Sadio Mane gets a new 91 overall card to lead the way for the squad. It's not his best card, as gamers have seen him get that 97 OVR Team of the Year, but still quite nice. Mane's TOTW 26 item features 97 Pace, 91 Dribbling, 88 Shooting, and 83 Passing amongst top skill ratings.
He's joined by Valencia's Parejo with an 89 OVR item that features 93 Passing, 85 Shooting, and 84 Dribbling. There's also Kai Havertz from Bayer Leverkusen who gets an 88 OVR item. Havertz's new card includes 88s for Pace and Dribbling, 86 Passing, and an 85 Shooting for skill ratings.
Below is a look at the full Team of the Week including starters, subs, and reserves: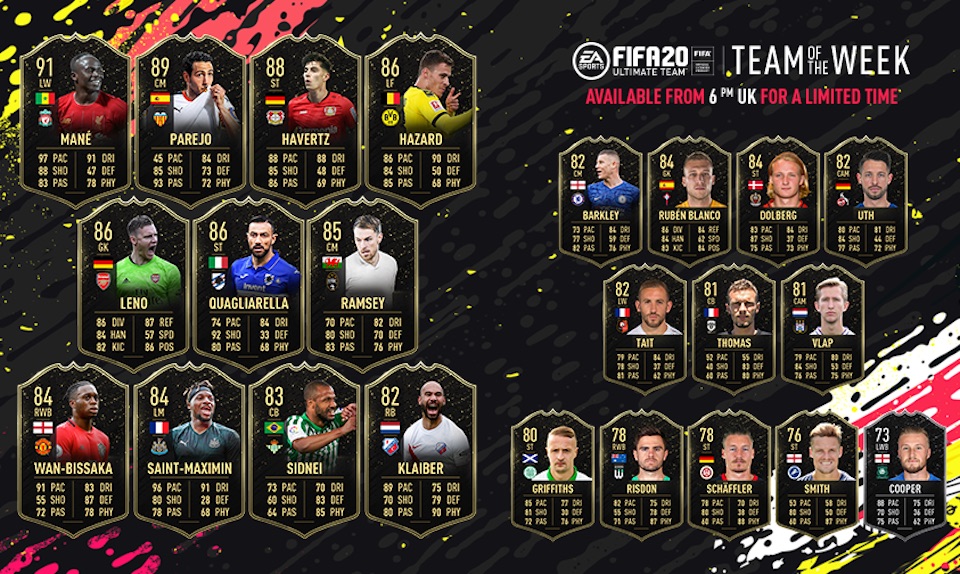 In terms of snubs or community concerns, many gamers are wondering about the lack of MLS players, as well as the fact there wasn't an Inform for Teun Koopmeiners or Barnes.
TOTW 26 Substitute and Reserve Players
FIFA's Team of the Week also includes a dozen more players who had impressive performances this past week. The substitutes and reserves aren't rated nearly as high as the Starting XI but still get nice upgraded items. There is an 86 OVR this week for Borussia Dortmund's Thorgan Hazard amongst the selections.
FIFA TOTW 26 Substitutes:
GK Ruben Blanco (RC Celta De Vigo) 84 OVR
CB Romain Thomas (Angers SCO) 81 OVR
CAM1 Uth (Anderlecht) 82 OVR
CAM2 Michel Vlap (Anderlecht) 81 OVR
LF Thorgan Hazard (Borussia Dortmund) 86 OVR
ST Kasper Dolberg (OGC Nice) 84 OVR
LWB George Cooper (Plymouth Argyle) 73 OVR
FIFA TOTW 26 Reserves:
LW Flavien Tait (Stade Rennais) 82 OVR
RWB Josh Risdon (Western United FC) 78 OVR
ST1 Leigh Griffiths (Celtic) 80 OVR
ST2 Manuel Schaffler (SV Wehen Wiesbaden) 78 OVR
ST3 Matt Smith (Millwall) 76 OVR
These new FIFA 20 Team of the Week 26 players are live in Ultimate Team mode as of 6 p.m. UK time. They'll be available in the FUT packs as well as on the Transfer Market for varying prices. In addition, gamers can challenge this new TOTW with their own Ultimate Team to earn rewards including FIFA Coins.
Check out the FIFA 20 TOTW 25 players here.
Visit our FIFA news page for more of the latest game updates.