EA's newest soccer simulation is out everywhere as of this past Friday, after early access including EA Play or pre-order deals. While some commenters online have been enjoying Ultimate Team or other parts of the game, there are those left unimpressed. Based on the latest FIFA 21 review score and lower sales in the United Kingdom, it's raising question marks about the new EA game.
Metacritic has low PS4 FIFA 21 review score
According to SportBible, the FIFA 21 review score from PlayStation 4 users is currently just a 1.1 overall (now 1.0). The report indicates it's review bombing that is hitting the game with low scores based on gamers' frustrations. Most fans were basically echoing the same comments too, that it's just a copy-paste version of the last several years' FIFA games, and continues to look to get gamers to spend money for more upgrades.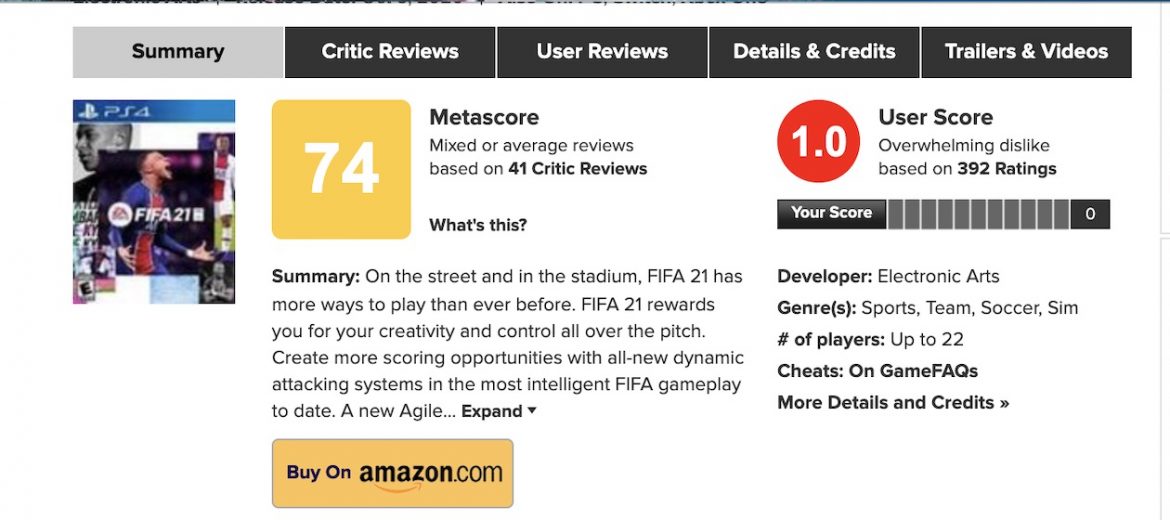 "Its actually a copy and paste of FIFA 20, except with squad updates! I am so disappointed I purchased it and should have just stuck with 20. There is also a team license issue where they have less teams than they used to. I think after this I will go back to buying PES again. DO NOT BUY!" one user commented in the reviews.
"Everything you've ever hated about Fifa is back plus more.. Scripting, Terrible defence, horrible passing, atrocious servers, gambling mechanisms are all as prevalent as ever but they added a new camera angle though…," another commenter said.
"Game is virtually an exact copy of FIFA 17-20. The very small number of changes could have been a free update to any of the other FIFAs. And with any other game company they would have been called a minor patch or update.," part of another commenter's review said.
The majority of the over 390 user reviews had very low scores ranging from a 0 to a 3 out of 10. When it comes to the game's overall score from critics' reviews, though, it holds a 74 for the PS4 based on 41 critics' reviews. It's slightly higher on the PC or Xbox One consoles.
UK physical sales of game down compared to FIFA 20
In another interesting indicator of the game's popularity, PushSquare reports that physical launch sales in the UK are down. When compared to physical launch sales for FIFA 20, the new game is down more than 42 percent overall. However, it was still the top-selling game for the UK sales charts in the week ending October 11.
So why the lower UK sales numbers? Part of it could be word of mouth for FIFA 21 review scores. However, it's believed the lower physical sales is due to the fact more gamers are consuming their media in digital format, as people look to have less physical clutter.
In addition, there may be less reason to purchase a physical copy of FIFA 21 with the game set to arrive for next-gen in November. The FIFA 21 next-gen game will feature upgraded graphics and gameplay for Sony PlayStation 5 and Microsoft Xbox Series X. Gamers also can upgrade FIFA 21 for free from the current-gen to the next-gen platform.
That means moving from FIFA 21 on PS4 to PS5, or from Xbox One to Xbox Series X. Based on the lower launch sales for physical copies, it's showing most UK gamers will make the upgrade in digital form, should they get a next-gen console.
Visit our FIFA news page for more of the latest updates.