It's time once again to choose the Team of the Year for EA's FIFA 22 video game. There are 80 players who gamers vote on to determine who makes the final cut. It'll come down to an Ultimate XI of star footballers. Here are more details about the FIFA 22 TOTY nominees and how to vote for the players you think deserve to be in the XI.
FIFA 22 TOTY Nominees revealed with trailer
On Monday, January 10, EA released a FIFA 22 TOTY trailer video on Twitter which presents the Team of the Year voting. The video explains there are 80 FIFA 22 TOTY nominees, as footage shows star footballers. Some of them include cover star Kylian Mbappe, Mo Salah, Kevin de Bruyne, and Son Heun-min.
Those 80 nominees are scattered amongst goalkeepers, defenders, midfielders, and attackers. Each of those positions requires a certain number of players selected. The video below presents each group of players.
They include a who's who of the stars of international football, with Mbappe, Ronaldo, Kane, Messi, Neymar, Alexander-Arnold, and Joao Cancelo among them. Of course, their categories feature plenty of options to choose from.
For Goalkeepers, there are just seven GKs to choose from. They include Courtois, Donnarumma, Emerson, Maignan, Martinez, Mendy, and Oblak. Check out the trailer video and nominees below.
For the FIFA 21 Team of the Year, superstar Cristian Ronaldo landed a spot representing Juventus. Other stars included in the lineup were PSG's Mbappe, Bayern Munich's Lewandowski, and Liverpool's Virgil Van Dijk, among others.
How to vote for EA's Team of the Year in 2022?
Voting for EA's FIFA 22 TOTY is quite simple. Gamers need to head to EA's FIFA website here and check off the box to agree to terms and conditions. From there, it's a matter of voting for players for each group.
Drag and drop the players from the bottom of the screen nominees up to the TOTY spots to make your selections. If you decide you don't want a certain player in the lineup, drag that player back down to the nominees are. An example below shows the screen you'll be using for TOTY voting.
Once you have all your votes in, you'll click on the "Submit Vote" button to lock in your votes for EA's FIFA 22 Team of the Year.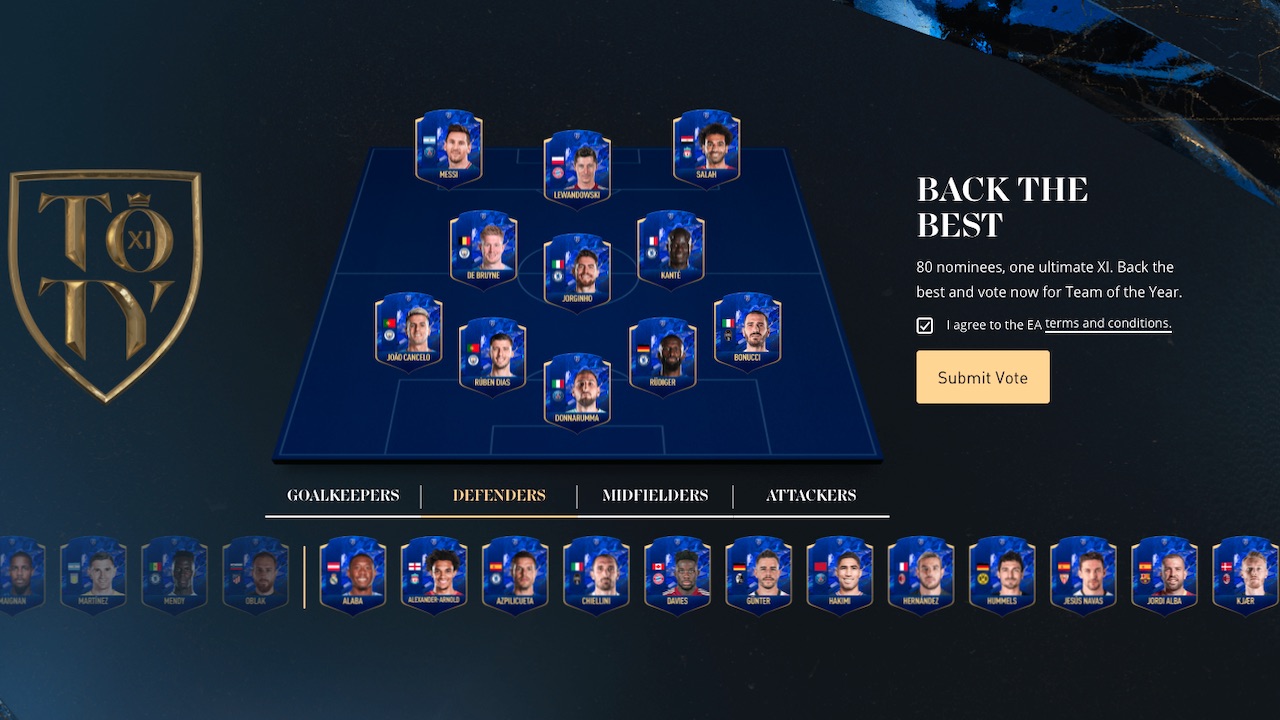 The final Team of the Year representatives are determined using a combination of EA and Community Votes together. Based on details from EA, the Ultimate XI for TOTY will be revealed at a "To Be Confirmed date."
The predicted release dates circulating online suggest before the end of the month, possibly January 27th.
Once they are, there will be special player items released for the TOTY footballers. These cards will feature their highest ratings of any items in the Ultimate Team mode. There will also be Objectives and Squad Building Challenges to go with TOTY.
Additionally, there should be the 12th man vote, so stay tuned for details on that!
Visit VGR's FIFA page for more of the latest game news and updates.