Though Square Enix has been extremely quiet about the Final Fantasy 7 Remake lately, a new screenshot has popped up, giving us our first new glimpse of the remake in quite a long time. Fans who have been hungry for more information and details regarding the remake will be glad to know that it does seem to be alive and well. Many gamers have taken Square Enix's silence to mean that there is a lot of trouble going on with the game.
However, it does seem that the Final Fantasy 7 Remake is still chugging along even if it has faced some development difficulties. The new screenshot for the game comes from not a leak or an official press release, but actually the job recruitment page on the Japanese Square Enix careers website. On that page, Square Enix is detailing what its Business Division 1 is for. The image next to the description showcases development leader Naoki Hamaguchi with the new screenshot on his computer that you can view below.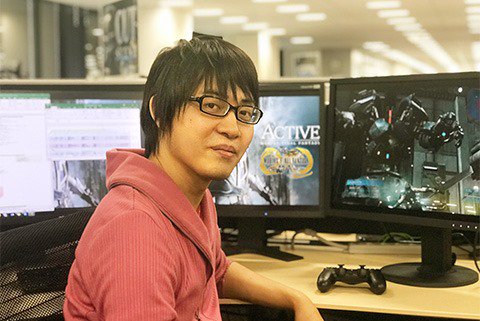 As you can see, the new Final Fantasy 7 Remake screenshot shows what seems to be a large mech enemy that Cloud and possibly Barrett are facing off against. This seems to be located in Midgar still so it is suspected to be pretty early in the game as has been seen in previous footage shown for the game. In fact, many fans believe that this has to be the revamped version of the Air Buster fight from early in the story.
Regardless of when the Final Fantasy 7 Remake screenshot is from, it gives hope that the project is still alive and kicking. With E3 2018 approaching rapidly and Square Enix hosting its own conference there, it is very possible we will get more information on the remake then. We translated part of the Business Division 1 careers page that accompanied the image, detailing some of the information we already knew about the Final Fantasy 7 Remake development cycle. You can read it below:
"'Final Fantasy 7 Remake' for home game machines is a complete remake work of 'Final Fantasy VII' released in 1997. By shifting to the in-house development system in order to stabilize the mass production system last year, the development workflow has also been greatly reviewed and the development efficiency has improved. Although the development system and foundation have already been set up and mass production development is proceeding smoothly, from the viewpoint of incorporating, we are continuously looking for new staff aiming for further creativity."