Have you dropped by the item shop in Fortnite since the reset last night? If you did, depending on when you visited, you might've spotted a few bundles for sale currently not listed in the shop. Most noteworthy among these was the Highland Warrior bundle. What happened to the Fortnite bundles, and why are they no longer available? It turns out it has to do with an error.
Here is Why the Fortnite Bundles Are Currently Not Available
u/swebster6 took to Reddit to ask the question, "Me and my friend have two different shops?!" The post included the following image: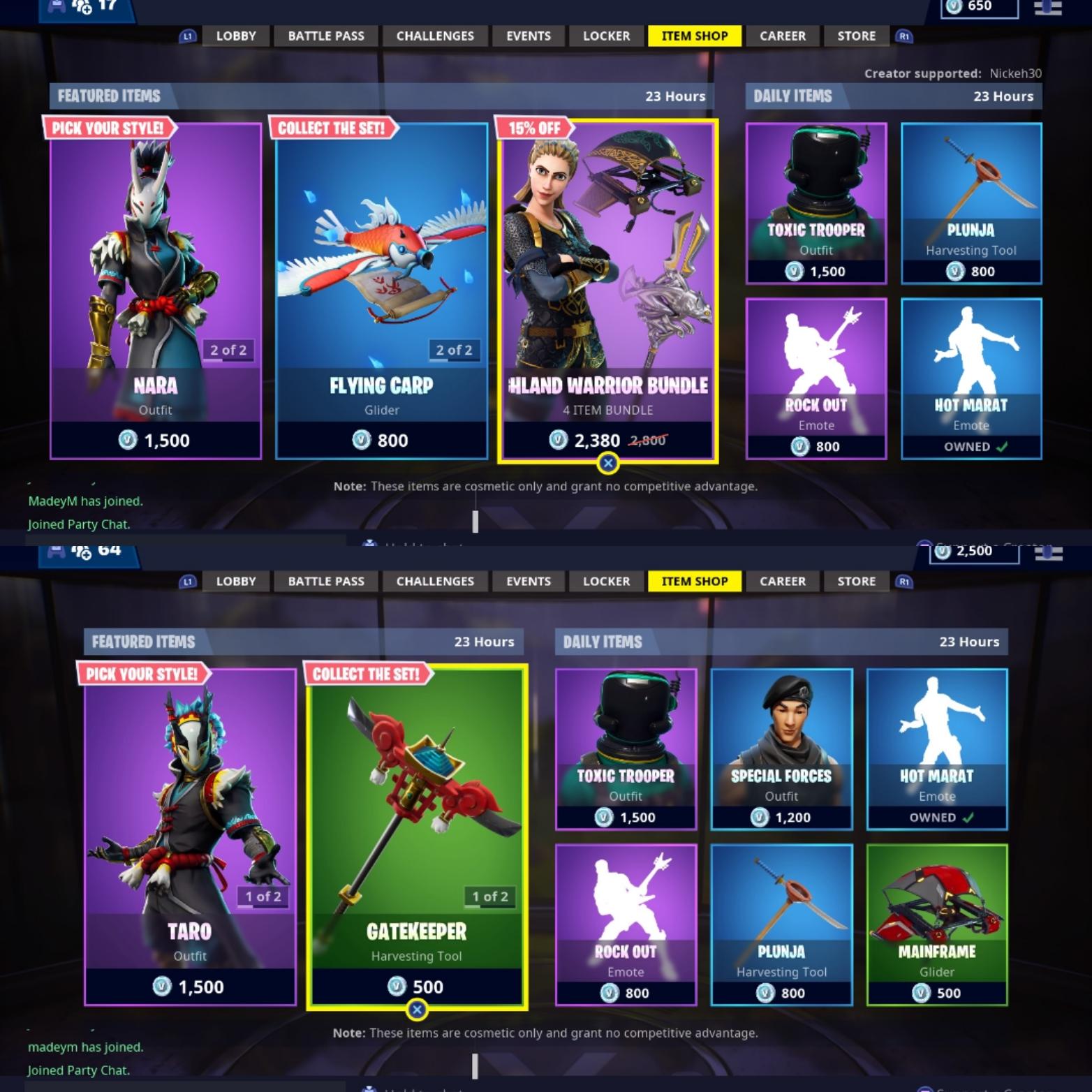 Epic employee MrPopoTFS responded, " We've removed bundles currently while we investigate an error associated with them. Hotfixes sometimes take a little longer for all servers to receive them, so some players may have seen the Bundle version of the Store for a short time."
What led to this problem in the first place? FNBR.news reports, "From what we have heard from our sources, one of the main bugs that caused the Bundles to have been temporarily removed from the Item Shop was apparently a bug that allowed refunded items to lower to cost of the bundle."
If you are late to the party and are not familiar with the bundles, they make it faster, easier and less expensive to buy a matching set which includes a skin together with a glider and pickaxe. For example, the previously mentioned Highland Warrior bundle includes the Highland Warrior Skin (Epic), Buckler Back Bling (Epic), Silver Fang Pickaxe (Rare) and Storm Sigil Glider (Uncommon).
Other sources have noted other pricing issues involving the bundles. Fortnite Insider mentioned that the Highland Warrior Bundle was apparently listed for sale for 2,380 V-Bucks. That actually exceeded the price for the individual items added together. This obviously would defeat the purpose of the bundles. Their purpose is to provide discounts to customers who buy all the items simultaneously.
On top of that, Fortnite Insider also mentioned that some players have criticized the bundles. While Epic created them upon request, some players who already own the bundle items and paid for them individually may feel like they still deserve a discount since the bundles did not exist at the time of their purchases.
We will keep you posted on new developments with regards to the pricing and availability of the bundles. Keep up with our Fortnite news.