The Fortnite Chapter 3 map may have been already leaked! While we still don't even know when Chapter 3 will come out, a map concept has recently surfaced on Reddit. Some players believe that this concept shows what the upcoming map will look like, but nothing has been confirmed yet.
There are many clues that hint at Chapter 3 starting right after Season 8 ends. While the first chapter had 10 seasons, the current one has lasted for more days despite having fewer than eight unfinished seasons. Furthermore, Epic Games has teased players with the start of the new chapter even outside of the game. Is Chapter 3 going to start in December? It's definitely not impossible!
Fortnite Chapter 3 map on Reddit
Reddit user Edmire2K has shared a Fortnite map concept on the popular website recently. While he presented it as a fan concept, the Reddit user admitted that the map is designed after an actual blueprint that he saw. The user claims that his friend works for Epic Games but is not able to reveal important information such as the map design. However, Edmire2K claims that the Fortnite Chapter 3 map is going to be a completely new one!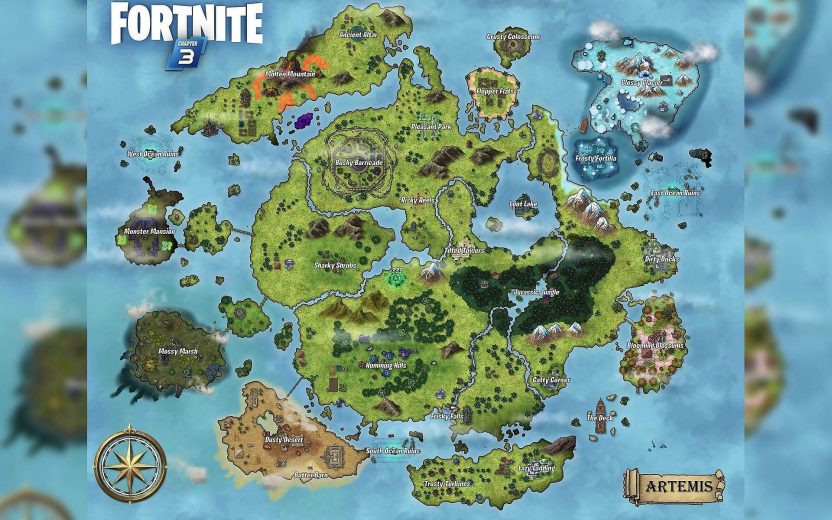 The map concept is named Artemis which is another character from Greek mythology. The names of the first two Fortnite maps come from mythological characters as they are called Athena (Chapter 1) and Apollo (Chapter 2).
According to the Reddit user, Epic Games created a blueprint for the Fortnite Chapter 3 map a few months ago. However, there is no confirmation that his words are true. On the other side, it wouldn't be the first time that a leak that comes out of nowhere turns out to be true. After all, this is what happened with the Chapter 2 map.
The Chapter 2 map turned out to be true
A few days before Fortnite Chapter 2 was released, a map leak appeared out of nowhere, showing what the new map would look like. While there are some players who believed it was true, it was mostly considered fake. Shortly after, it turned out that the leak was true and it came from someone close to Epic Games.
The leaked Fortnite Chapter 3 map might end up being a legitimate leak. We will have to wait and see!