Fortnite Battle Royale is well known for its spectacular live events that bring big changes to the game. These events are connected to the storyline and usually happen at the end of seasons. "The Collision" event took place on Saturday, June 4, and it introduced players to Fortnite Season 3.
Right after the event ended, there have been a lot of new leaks about the new season. The Fortnite Season 3 trailers were finally released at 3 AM Eastern Time and they revealed the new content. Furthermore, data miners have found a lot of interesting data in the game files, including the new sniper that is coming to the game.
Fortnite Season 3 is bringing a Mythic sniper
Chapter 3 of Fortnite Battle Royale has drastically changed the game. Epic Games removed all of the existing weapons at its start, completely changing the loot pool. Even the most popular weapon in Fortnite history, the SCAR, was not spared.
Besides the loot pool changes, the game developer has decided to completely remove the one-shot meta. Shotguns were nerfed so their maximum damage was under 200, as well as sniper rifles. On a positive note, a new sniper that is coming in Fortnite Season 3 will deal over 200 damage!
According to the leaks, Epic Games will release the Mythic Heavy Sniper Rifle in Fortnite Season 3. This weapon will be unique since it will be the only weapon capable of one-shotting players. However, what makes it even more powerful is the fact that it deals 138 damage to the body!
Hitting body shots with sniper rifles is very easy, yet this upcoming weapon will be able to deal massive damage with such shots. At the moment, it is unknown how players will obtain it. However, we can expect it to be a boss drop due to its Mythic rarity.
Complete stats
Besides damage, it's important to talk about the reload time of the new sniper rifle. After all, the Heavy Sniper Rifle is known for its long reload time. Fortunately, reloading it for 3.4 seconds will be worth it as its damage is insane!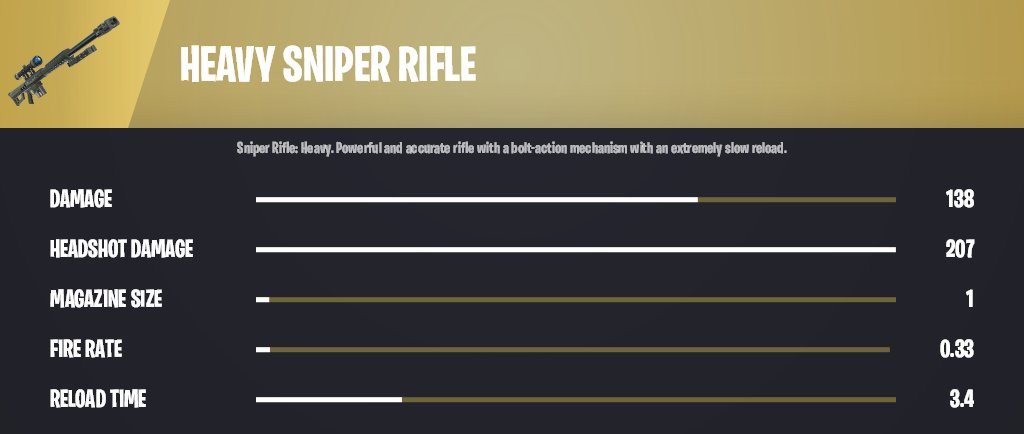 Here are the complete stats of the upcoming Fortnite Chapter 3 weapon:
Damage: 138
Headshot damage: 207
Magazine size: 1
Fire rate: 0.33
Reload time: 3.4 seconds