Fortnite Battle Royale is a free-to-play video game, and its developer Epic Games makes profit by selling cosmetic items. Even though these items don't give any competitive advantage, many players have spent hundreds of dollars on fancy outfits, gliders, pickaxes, and more.
A week ago, it was revealed that everyone who buys a Samsung Galaxy Note 9 or a Tab S4 will get an exclusive skin during a special promotion. However, it turns out that the skin may become available to everyone after the promotion ends.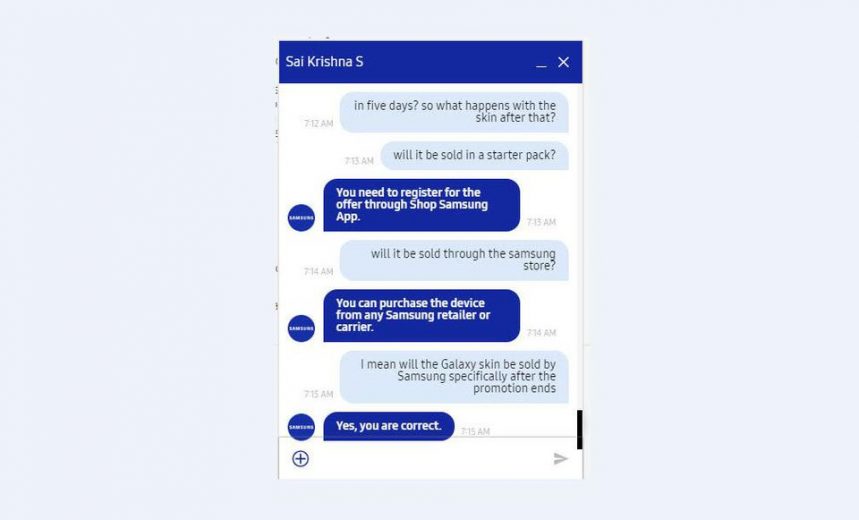 The screenshot above shows the conversation of Forbes contributor Paul Tassi with a Samsung representative. This is just one of many screenshots with Samsung customer support, and each agent has claimed that the exclusive skin would be available to everyone after the promotion ends.
Samsung claims that the skin will be available until December 31, and that only those who own the two newest models will get it. However, the phone manufacturer also added that the exclusive skin "will be permanent for any owners who receive it prior to 12/31/18," which could indicate that it will lose its exclusivity. This either means that the skin will be gone forever, or that it will become available to every Fortnite Battle Royale player.
If this skin stays exclusive, there is no doubt it will be one of the rarest skins in Fortnite Battle Royale. However, we will most likely have to wait until 2019 to find out whether the skin will be released for a wider audience as it is very unlikely that either Samsung or Epic Games will release an official statement regarding the exclusive skin.
If the exclusive Galaxy skin is your primary motive for buying one of the latest Samsung devices, you may want to think twice before spending money on it. There are some theories that the skin could be offered in a special starter pack next year, and considering that starter packs cost only $5, it would be wise to wait for a few more weeks and hope that we get more info regarding this.