Following the slow wind-down of Season 1 in both Call of Duty: Black Ops Cold War and Warzone, Treyarch has released the official gameplay trailer for the upcoming Season 2, showcasing some of the content which players can look forward to. This includes new Operators, new weapons, new maps, and plenty more.
Call of Duty: Black Ops Cold War Season 2
Season 2 is due to launch in both Call of Duty: Black Ops Cold War and Call of Duty: Warzone on the 25th of February; in exactly one week's time. By far the biggest feature of the season, at least as revealed so far, is without a doubt the upcoming Zombies experience. Entitled 'Outbreak,' this will be the third chapter of the Dark Aether story, set in the heart of Russia. Unlike the previous chapters, however, Outbreak will be significantly larger-scale, providing players with access to vehicles.
Alongside Outbreak, players will also be getting four new Operators; Maxis, Naga, Rivas, and Wolf. They will also be getting no less than six new weapons, some of which were shown off in the trailer. These will be the Fara 83, LC10, R1 Shadowhunter crossbow, ZRG 20mm, E-Tool, and Machete. A new 6v6 multiplayer map – Apocalypse – will be available at launch. Three more will be coming in-season; Golova, Mansion (Gunfight), and Miami Strike. Coming in launch week for Season 2 is the classic Gun Game mode, playable for the first time in Black Ops Cold War. Both the 6v6 Stockpile and Multi-Team Hardpoint modes will be coming later in the season.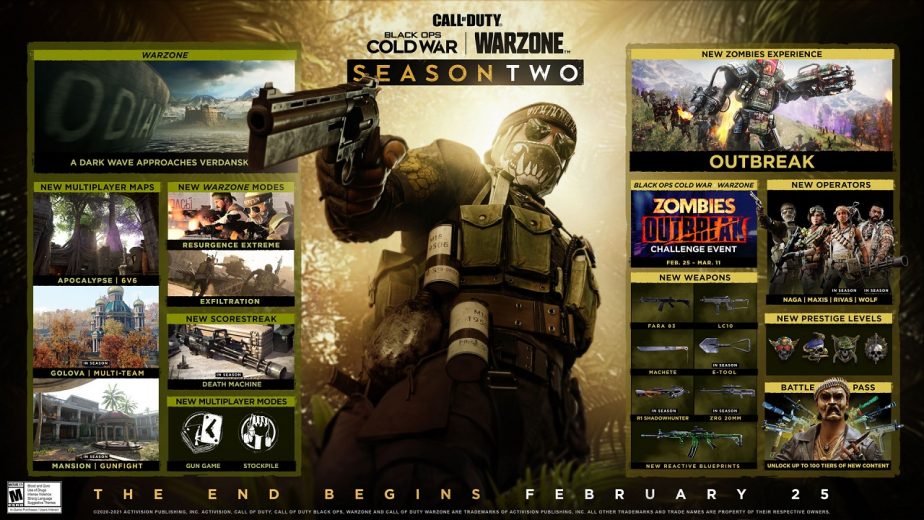 Warzone, meanwhile, is getting an expansion of its own. "In addition to the new weapons and Operators from Black Ops Cold War within Season Two," writes Treyarch; "and a fresh loot pool, Warzone receives new and shocking points of interest to explore and two modes that shake up the traditional Battle Royale formula."
The biggest of these is the Cargo Tanker Vodianoy, which appears to be heading for Verdansk. Treyarch states, mysteriously, that the ship is carrying "unknown cargo" and that Operators should exercise "extreme caution".