The latest God of War set itself apart from the rest of the series with a stark change in scenery. Where the previous entries had been set in Ancient Greece and its mythological realms, God of War journeyed north to the realms of Norse mythology for its latest outing. However, it seems that a Norse setting was not the developers' first idea; at a recent event, Cory Barlog showcased concept art of a possible Egyptian setting.
The Original Egyptian God of War Concept Art
Cory Barlog, the director of God of War, recently made an appearance at Devcom 2018; an event for game developers and other industry professionals. At the event, Barlog hosted a talk on the creative process behind game development. It was during this talk that he revealed the early concept art, which showed Kratos and Atreus in a setting clearly inspired by Ancient Egyptian mythology. According to Barlog, Egypt was the original setting of the latest God of War, which was changed to Scandinavia later in development.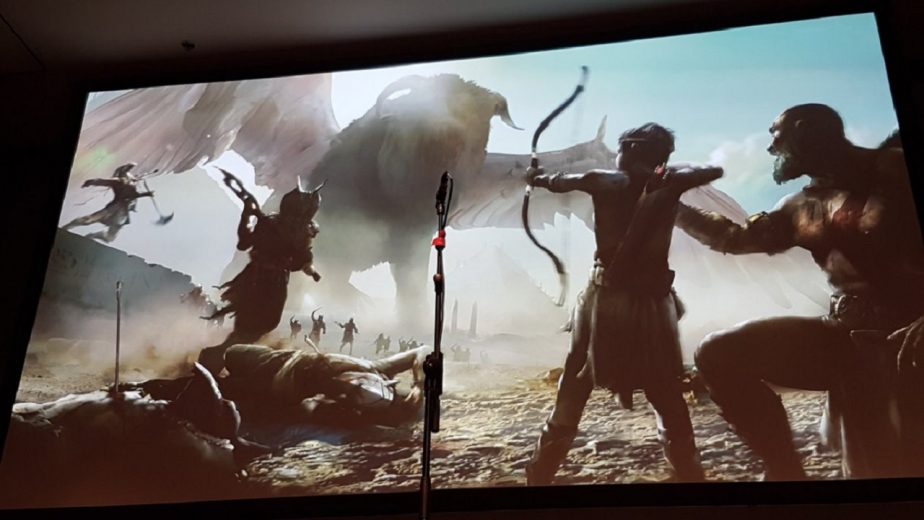 Pictures from the event were taken by GearNuke, showcasing some of the images revealed by Barlog. Early in the development of God of War, the lead developers found themselves torn between a Norse and an Egyptian setting. Apparently, Cory Barlog himself cast the tie-breaking vote in favour of Scandinavia. Of course, we have no idea how God of War would have fared with an Egyptian setting. However, the Norse setting has clearly worked extremely well. Egypt also remains a potential future setting; the contents of Tyr's Vault in the latest game teased several possible settings, including both Egypt and Japan.
Cory Barlog also spoke of facing resistance from members of his team about design decisions which he made; including the addition of Atreus. According to the director, a number of play-testers working with the team complained about the portrayal of Kratos, mainly citing his differences to the Kratos of previous titles. Barlog and his team may well have faced pushback. However, it's hard to argue now that their decisions weren't the right ones. God of War has set numerous records, including becoming the fastest-selling PlayStation exclusive in history.