This week in GTA Online, players can get their hands on a brand-new vehicle – a classic mini-style car known as the BF Weevil. Plus, you can take part in the new Motor Wars event; a weekly event offering a range of in-game bonus rewards and discounts on vehicles.
The GTA Online Motor Wars Event
"The BF Weevil was once a marvel of midcentury design and economic efficiency," writes Rockstar; "but like a venture capitalist shedding their two-piece suit for a set of prayer beads and tie-dye, the Weevil has become a symbol of free love and other high-minded ideals."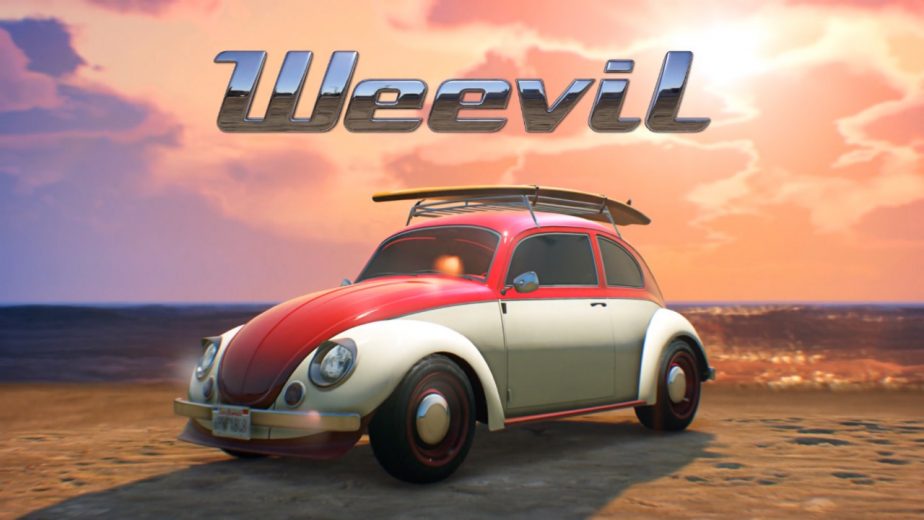 The BF Weevil is now available for players to buy in-game, but that's just the start of this week's new content. Players can currently earn triple normal rewards in the Motor Wars multiplayer mode. Triple rewards are also available in all Rockstar Created Air Races, while double rewards are available for all Smuggler Sell Missions. These bonuses will be available until the 13th of January, when the event comes to an end.
Of course, the Motor Wars event also features a selection of discounts on certain vehicles and buildings. This week, the focus is on aircraft and Hangars. All Hangars themselves are 30% off, together with all Hangar customisations and add-ons. The following vehicle discounts are also available; a 40% discount is available on the Buckingham Valkyrie, Coil Cyclone, Grotti Visione, and Nagasaki Havok. Meanwhile, a lower 25% discount is also available on the Annihilator (Stealth) and RO-86 Alkanost.
Finally, as per usual, players with Prime Gaming subscriptions can get a few extra bonuses. (As long as they connect their accounts to their Rockstar Social Club accounts, of course.) These players will get the usual GTA$200,000 bonus, and will also gain the Sonar Station aboard the Kosatka submarine for free. Plus, they can take advantage of a special 35% discount on the Kurtz 31 Patrol Boat and the Shitzu Longfin.