On a regular basis, the Madden 19 game brings gamers some unique challenges to experience. These are known as Madden 19 House Rules where touchdowns may be easier or tougher to come by. The rules might feature a unique number of downs, yards, or even two-point conversions. In this week's edition, we check out how to play the Madden 19 house rules involving "Loss of Down."
Playing Madden House Rules with unique downs
As avid football fans know, each offensive drive in a football game normally starts at 1st and 10. That's 10 yards to get another first down. Teams typically get four downs to get that 10 yards. However, Madden is flipping things a bit. In the new Madden House Rules called "Loss of Downs," you've got double the amount of yards to get another first down.
Not only are you starting at 1st and 20 in these new House Rules, but you'll also only have three downs to get to a first down. So that will require creative playmaking. Those gamers who use a scrambling quarterback might do best. However, having an accurate QB with a receiver who works well on the long route is going to succeed here too. Some gamers may opt for Cam Newton or Michael Vick, while others might prefer Brady or Mahomes.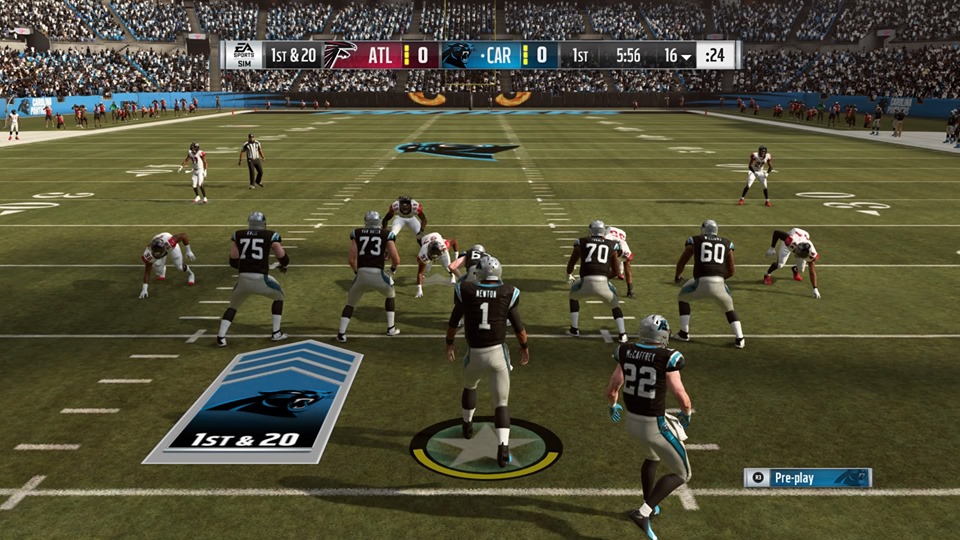 Remember, once you get to third down, you'll need to convert. Otherwise, the ball goes to your opponent. Alternately, you could choose to punt the ball away.
Playing for defensive touchdowns
In addition to the loss of down and extra yardage on first down, there's another rule in effect. That rule relates to defensive touchdowns. Score any defensive touchdown under the rules and you'll get 15 points rather than the standard six points they award in the NFL!
So that could mean having some great defensive players in the secondary. Think Deion Sanders or some of the recent MUT Legends players they released. Those included Rod Woodson and Ed Reed, both of whom are all-time interceptions leaders.
Having hard-hitting tacklers won't hurt either. That is unless you're on the opposing team. So guys like Lawrence Taylor, Khalil Mack, Aaron Donald, and other beasts up front could help force fumbles for your defense to score TDs. Or you could consider using some of the all-time best in getting TDs off fumbles if you have them.
Recent Hall of Famer Jason Taylor is the league's all-time leader when it comes to fumbles recovered for TDs with 233. However, players like Bobby Wagner and Vic Beasley are making their way up that list in today's NFL.
How to play new Madden 19 House Rules
Fire up that console and head into the Madden 19 Ultimate Team screen. From there, you'll need to choose the House Rules option. Next, you'll get to the Season Home screens including the option to play a game using these rules. From that screen, you can also see the leaderboard and adjust your active lineup.
Select "Play Game" and then press the button listed on screen to find a matchup. It's that easy to get a game going! It'll take a little bit of time for the online server to find you an opponent and then load your game. From there, it's all on you and your MUT team.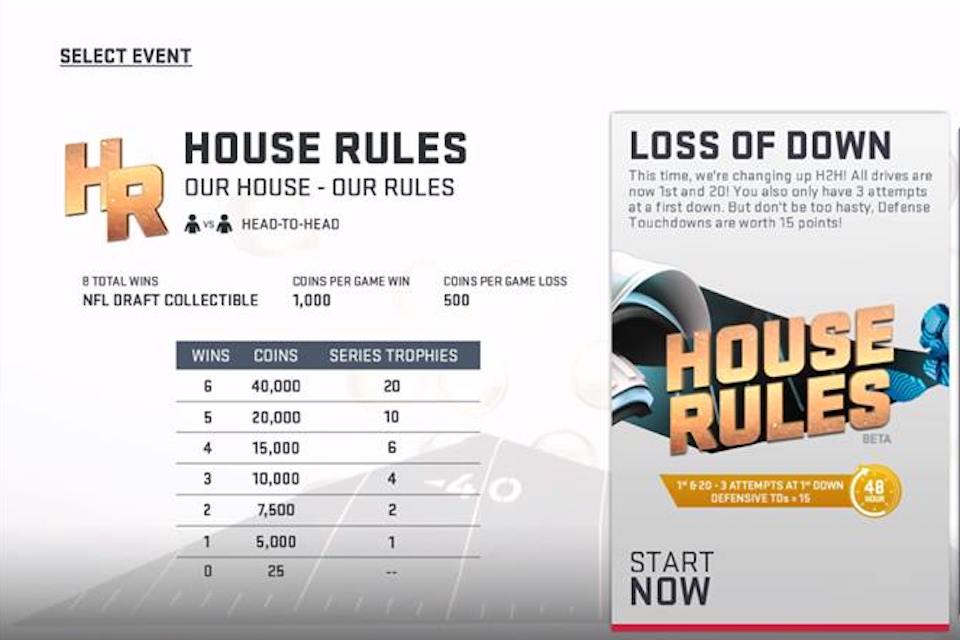 The new Head-to-Head House Rules "Loss of Down" will last until Friday at 10:30 a.m. Eastern Time. So that gives a few days to get in the game and try to win using these unique rules.
By the way, for all that hard work, comes the rewards. Each win brings more and more rewards including currency and XP. If you get eight total wins under these rules, you'll earn a No. 1 to No. 32 NFL 2019 Draft Pack.
Get more of the latest Madden 19 guides, news, and information at VGR.