Sometimes it's important to upgrade your players in the Madden 19 game. This will help to give a boost to their on-field abilities, and in some cases can be performed for an entire team. Player upgrades can only occur within the Franchise and Ultimate Team modes of the game. Here's a helpful guide for how to upgrade players in Madden 19.
How to upgrade players in Madden 19 Franchise Mode
Upgrading players is available in Franchise Mode as a coach or owner. You can also upgrade yourself as part of the Be a Player mode. In both instances, you'll need experience points (XP) to spend on upgrading the players. The best way to earn XP is to participate in the weekly training sessions or play the games that are worth XP.
Player upgrades happen when you select the Archetype for the player. A player will be upgraded, but it will be based on their main skill type. For example, a player who has a Speed Rusher will get upgrades for the skills that are part of this when you earn those XP.
As seen below, wide receiver Mike Williams has four main aspects you can upgrade: Possession, Deep Threat, Red Zone Threat, and Slot. Each of these requires spending a skill point or more to upgrade that aspect of Williams' abilities.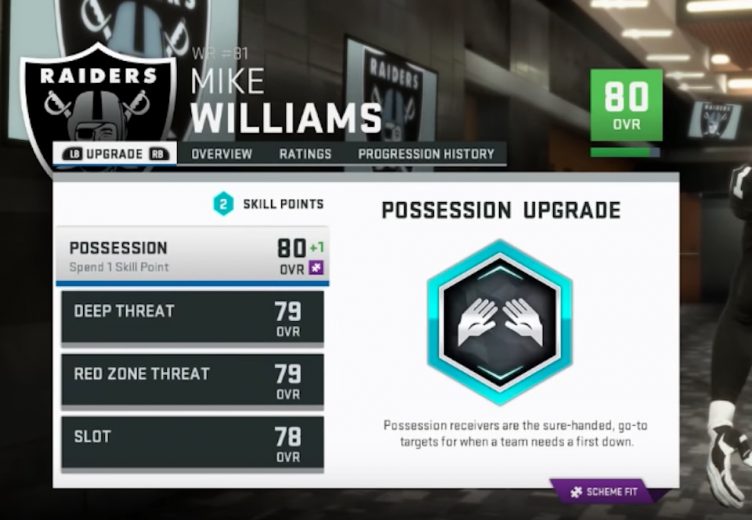 Player Archetypes can also change based on how much you train them. In addition, beating the overall for their Archetype will help to change it for that player. Keep this in mind when you're grooming your team of stars.
By the way, if you're playing in Franchise mode as an owner, check out our how to relocate a team in Madden 19 if you're looking to upgrade that aspect of your team.
How to upgrade players in Madden 19 Ultimate Team Mode
There is also the ability to upgrade players in the Madden 19 Ultimate Team mode. To do that, you'll select which of your players you want to upgrade. Choose the upgrade option, and then spend a number of training points to perform the upgrade.
It may take more than just training points, though. For example, you may need another player card found in the packs. The player cards are also obtainable by buying or trading for them in the Auction House area.
To get Training Points in Madden Ultimate Team go through solo games, challenges, or the training camp games. These are on the solo games playlist.
Another easy and fast way to get Training Points is with cards by quickselling those player cards you don't need. You should do this once you have been developing your team for a bit and are at a point where you don't need certain cards.
If you're upgrading a player that is already really good, it's going to take more points to perform an upgrade, so keep that in mind. However, upgrading players is a valuable part of the game to help you develop a team full of players capable of taking down the best of the best!
Make sure to get more of the latest Madden 19 tips and news from the VGR website.