Over the past several months, EA Sports has brought all sorts of celebrities into their NBA Live 19 Creator Challenge. Now, they've got a lyrical legend, as hip-hop star Jadakiss is amongst the in-game hoops stars to battle. It's only fitting that the artist from Yonkers, New York is in a challenge on one of the NYC street courts. Here are the latest details on "Kiss" joining the NBA Live 19 game and how to challenge him to get bragging rights.
NBA Live 19 Creator Challenge: Jadakiss steps to the court
Just yesterday, we got a look at two of the newest Creator Challenge stars with The Professor and Bone Collector. Those two players bring an array of trick moves to the court that they are famous for. On Saturday, NBA Live 19 revealed a new clip to show Jadakiss' arrival to Creator Challenge. Check it out in the Twitter promotional video below.
Looking to challenge @Therealkiss in #NBALIVE19? Knock yourself out! pic.twitter.com/KgE3ApK4Yb

— EA SPORTS NBA LIVE (@EASPORTSNBA) February 23, 2019
Jada is known by hip-hop heads as a part of the legendary rap group The Lox. They were associated with Notorious B.I.G., Diddy, and Lil Kim, as part of the Bad Boy label. However, Jada, Styles P, and Sheek Louch have all moved on to solo careers. Some hip-hop fans feel that Jada may have the best lyrical style of all three Lox members.
He's part of the NBA 2K14 soundtrack for the competitor's game over five years ago. Jadakiss' "Can't Stop Me" song was a part of the game's music that gamers were able to hear along with 2K14. It'll be interesting to see if he pops up with any new tracks to add to this game, or possibly Madden in the future.
Jadakiss has also been an active part of promoting NBA Live 19 with a clip popping up on YouTube here.
NBA Live 19: How to play Jadakiss Creator Challenge
Meanwhile, gamers will be firing up NBA Live 19 Creator Challenge to try to defeat Jadakiss and add him to their teams. They haven't revealed all exclusive moves just yet, but they could be on the way, so stay tuned.
To get to the Creator Challenge for Jadakiss, head to the Solo Live Events screen on NBA Live 19. Towards the bottom of that screen, you'll see the latest live events including the "Creator Challenge: Jadakiss." Select that one to get to the hoops battle in New York City.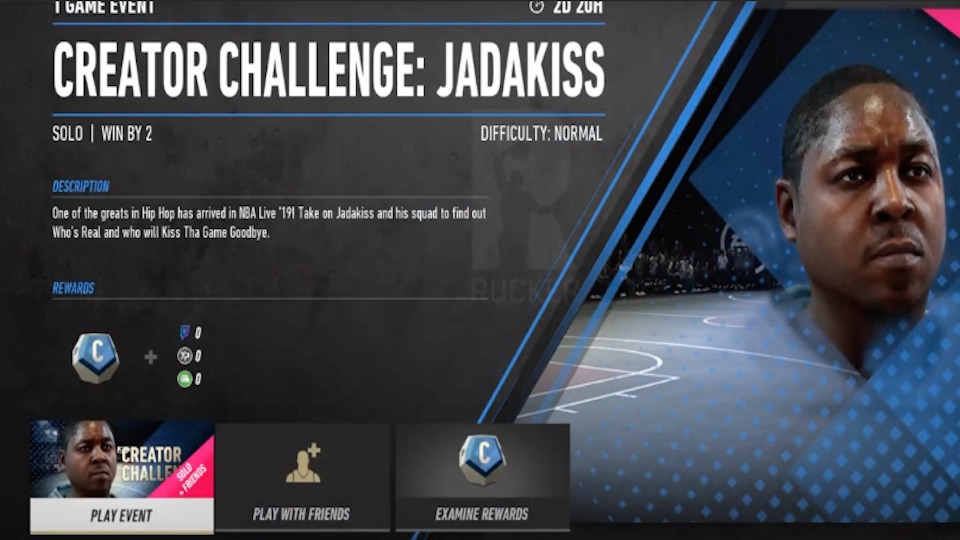 This latest Challenge is available for just a couple of days. However, it is a solo or team up with friends deal. Pay attention to the requirements on the screen which may include defeating Jadakiss' team by two points and other items.
Check out our information about Tristan Jass and other Creator Challenge stars.
Get more of the latest game information over at our NBA Live page here.