With the arrival of the recent Headliners Team 2 in FIFA 22 comes the potential for new Squad Building Challenges and Objects. One of the first SBCs to arrive is the Jonathan Clauss FIFA 22 Headliners SBC. The RC Lens right wing-back can also get some nice attribute boosts through a specific Chemistry. In addition, it's part of the Headliners program, meaning the potential for a real-world performance from Clauss to boost his card in the future.
Jonathan Clauss FIFA 22 Headliners card
The 5-foot-10 right-back Jonathan Clauss arrived in Ultimate Team via a Squad Building Challenge (SBC). Players can now acquire his card which features an 86 overall rating along with 93 Pace, 86 Dribbling, 82 Physicality, and 91 Passing.
Looking deeper into Clauss's attributes, he's got a 92 Sprint Speed with 94 Acceleration. There's also 95 Agility, 90 Crossing, and a 99 Stamina on this card for the RC Lens RWB. Keep in mind Clauss can also receive an upgrade to this card based on the Headliners promotion details.
In addition, Clauss gets three-star Weak Foot and three-star Skill Moves. It also has High/High Workrates on the card. Check out more of the Jonathan Clauss card attributes in the screenshot below.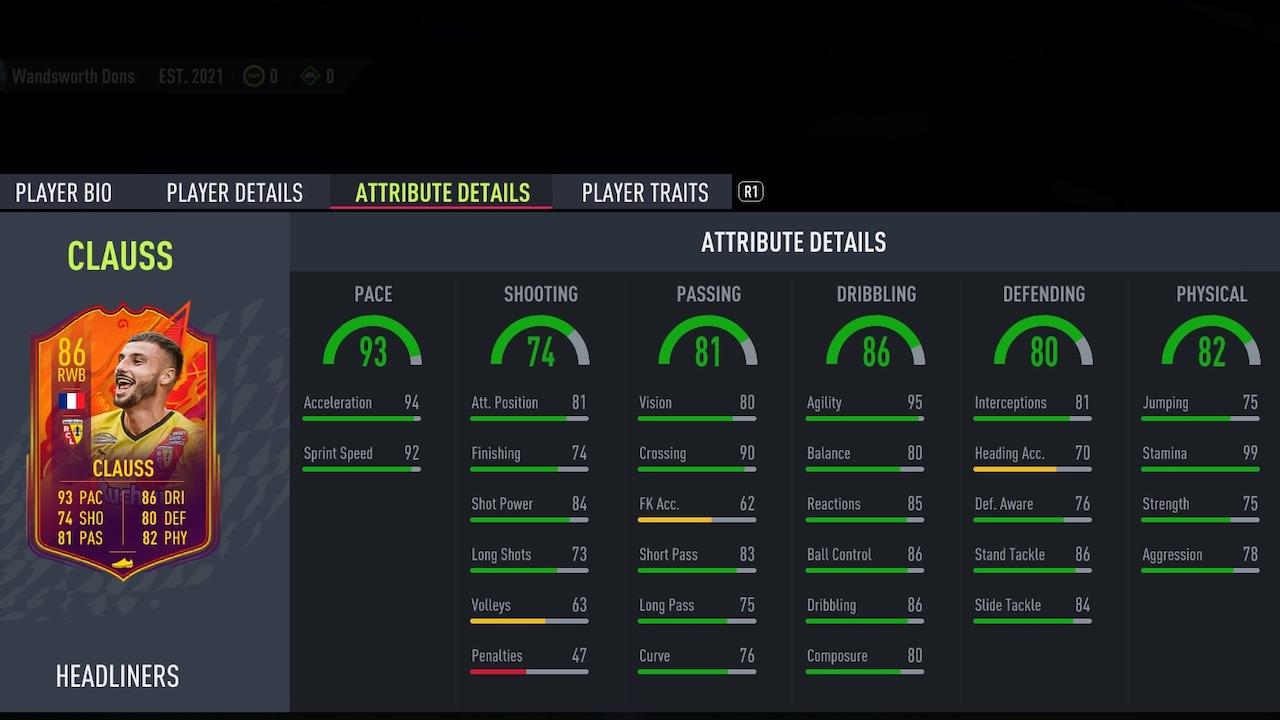 How to complete the SBC in Ultimate Team
To get Jonathan Clauss's new item in Ultimate Team, gamers need to complete his Squad Building Challenge. That'll involve putting together several different 11-player squads, each with different requirements.
You'll need two different squads to get Clauss SBC done. The first is a France squad which requires at least one player from France and at least one In Form player. It also requires a minimum Team Chemistry of 75 and a minimum Team Rating of 83. Once this squad is completed, gamers earn a Small Prime Gold Players Pack.
The second squad required for this SBC is a Ligue 1 squad. It needs just one Ligue 1 player, a minimum Squad Rating of 85, and a minimum Team Chemistry of 70.
Per FUTBIN, this SBC will cost approximately 72,000 FUT Coins on PlayStation and 75,000 Coins on Xbox. For Origin/PC gamers it'll run about 79,000 FUT Coins to complete.
Overwhelmingly, FUTBIN Community members voted for the Anchor Chemistry style as the best way to bolster the card. It currently has 77 percent of all votes making it a clear winner. It boosts his Pace to a 98, gives him 88 Physicality, and 87 Defending attributes.
Check out ZwebackHD's video review of the new Jonathan Clauss FIFA 22 Headliners item below.
Jonathan Clauss's SBC arrived along with the new FIFA Headliners Team 2 which included dynamic cards for the likes of Vinicius Jr, Joshua Kimmich, Joao Cancelo, and Mo Salah. We'd expect to maybe see a few more SBCs and Objectives on the way with this promo in the coming week or so.
Visit VGR's FIFA page to see more of our how-to guides and news updates.