Kingdom Hearts 3 is approaching its release date of January 29, 2019 rapidly. As such, many fans are gearing up for this final entry in the trilogy. Unsurprisingly, there are a lot of versions of the game that you can purchase. The one that we will be covering in this post is the Kingdom Hearts 3 Deluxe Edition. What's inside it and how much is it?
These are the questions that we aim to answer in this buyer's guide for the Kingdom Hearts 3 Deluxe Edition. There are actually several versions of the game that you can pre-order right now. There's the standard version for Xbox One and PS4 but there are a couple of special editions in addition to the PS4 Pro console bundle. Here's what we know about the Deluxe Edition, specifically.
Kingdom Hearts 3 Deluxe Edition Contents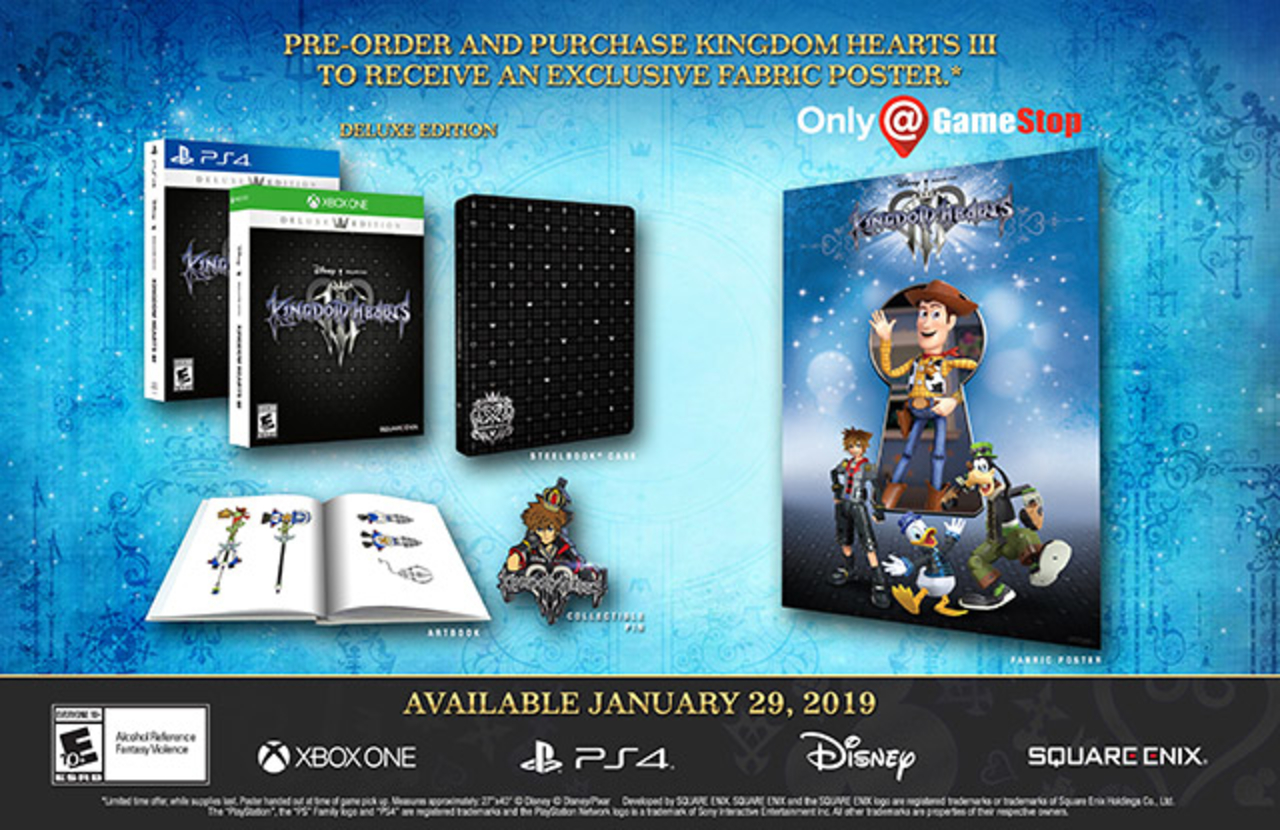 You can see the Deluxe Edition in its entirety in the screenshot above. There are quite a few goodies that come with this version that make it more appealing to fans of the series. The Deluxe Edition comes with the physical copy of the standard version of the game as you would expect. In addition, it has three unique extras.
The Kingdom Hearts 3 Deluxe Edition is all bound up together in one single package with a SteelBook case. There is also a nice collectible pin with Sora and the Kingdom Hearts 3 logo on it for players to enjoy. Lastly, there is an official artbook that comes with this Deluxe Edition.
The price for the Kingdom Hearts 3 Deluxe Edition is $79.99 USD. That's just about $20 more than the normal version. It is currently available for pre-order from a variety of retailers like GameStop where you also get a free fabric poster as a pre-order bonus. It is still in-stock at the time of publishing so act fast before it does potentially sell out.