The second iteration of the Borderlands 3 Broken Hearts Day event is currently live, offering players a chance to earn special event rewards, and even out-of-season Halloween rewards. However, the event will only be live for another few days. As such, players should act quickly if they haven't yet gotten what they want from the event.
The Borderlands 3 Broken Hearts Day Event
During the Borderlands 3 Broken Hearts Day event, which began on the 11th of February, players can find hearts floating around certain enemies throughout the game. Killing these enemies causes their heart to break, resulting in one of a variety of effects. A heart might cause your health to regenerate, or drop loot, or it might simply explode. Some might even turn enemies into allies for a short time.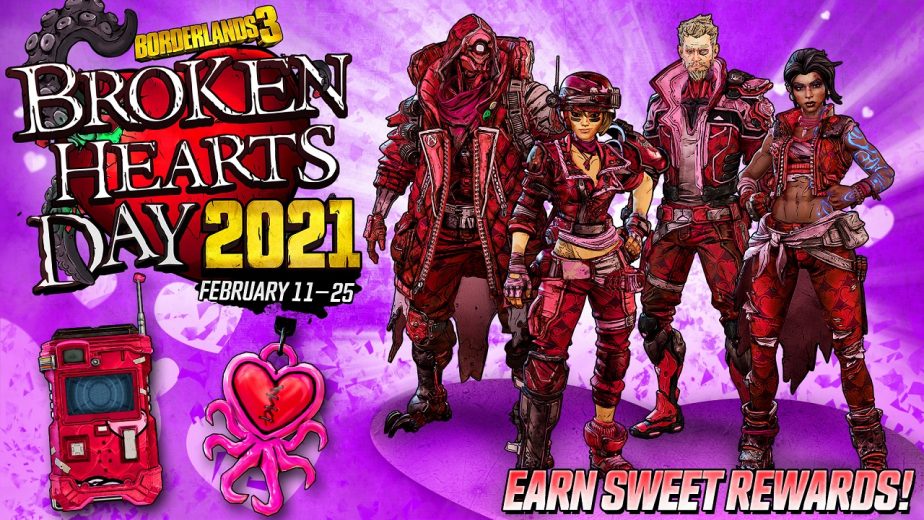 Collecting these hearts is the goal of the event, and each one counts towards unlocking the event rewards. Whenever you collect enough to hit a new milestone, Maurice will mail you the corresponding reward. The rewards on offer are technically the same as when the first Broken Hearts Day was live last year. However, the three cosmetics have been recoloured, while the two Legendary weapons have had their level adjusted to the current level cap of 65. To unlock all five, you'll need to collect 100 hearts, with rewards unlocking at 10, 25, 50, 75, and 100.
The Borderlands 3 Broken Hearts Day event is due to end on the 25th of February, later this week. As such, if you're still collecting hearts, you should aim to finish relatively soon. It should be noted that one of the rarer events that occurs when you break a heart can cause ghost enemies to spawn. These enemies are from the Bloody Harvest Halloween event, and give you the chance to earn Halloween loot out-of-season. As such, if you missed out on Bloody Harvest last year, you may wish to farm hearts while you still can.