To mark the second anniversary of the launch of Apex Legends, Respawn has been holding the "Apex Legends Anniversary Celebration Event". However, after almost two weeks of the event, players now only have a few days left to take part.
The Apex Legends Anniversary Collection Event
The Apex Legends Anniversary Celebration Collection event is due to come to an end on the 23rd of February. (This coming Tuesday.) As such, this is the last weekend for players to participate. Those players who have been working on their event prize track should take note; this will be their last chance to unlock the special event rewards, after all.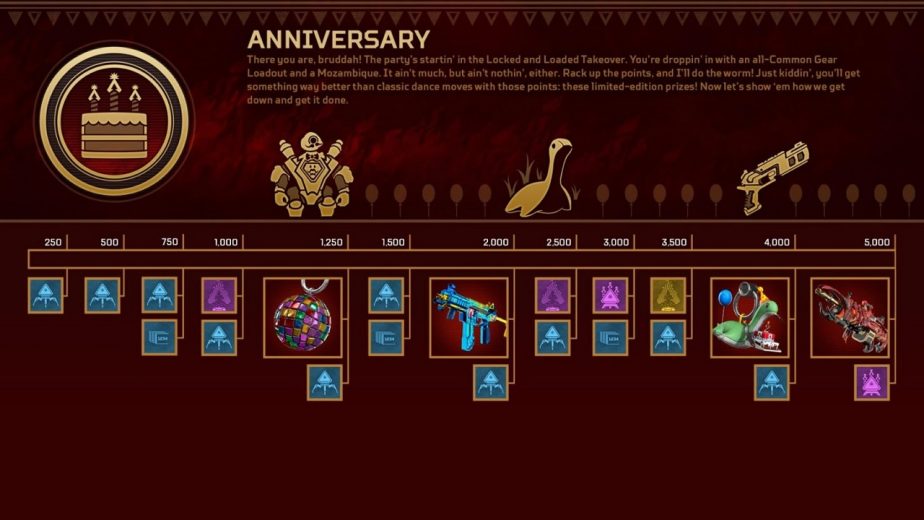 In the past, Collection events have included 24 event cosmetics for players to unlock. Unlocking all 24 will then reward players with a bonus Heirloom. However, in this Anniversary Celebration Collection event, there is no special Heirloom. The 24 cosmetics aren't new per se, as they're all pre-existing cosmetics which have been redesigned with a crimson and gold aesthetic. Players who unlock all 24 will earn 150 heirloom shards, rather than an actual Heirloom. This is enough for you to unlock any one of the game's Heirlooms. In fact, players who unlock this reward should spend it before the end of the event though! This is because the cost of crafting heirlooms has been reduced by 50% during the event.
The other big feature of the Anniversary Collection event which will be ending in three days is the Locked & Loaded Takeover. This variant mode has taken over the Play Apex playlist throughout the event, but will only be available until the 23rd. In this mode, players start with a set of automatic equipment; a Mozambique, White Shotgun Bolt, HCOG Classic Scope, White Evo Shield, White Helmet, White Backpack, and White Knockdown Shield, together with 2 Shield Cells, 2 Syringes, and a stack of shotgun ammo. All white attachments and equipment are also absent from the loot pools.