As Thursday night's NFL Draft 2019 unfolded, most of the first round picks officially joined the Madden 19 game. That included the No. 1 overall pick Kyler Murray out of the University of Oklahoma. It also included other first-rounders such as Josh Allen, Daniel Jones, and Quinnen Williams. Now, Madden Ultimate Team players are looking to add these exciting new MUT cards for their favorite teams or players of choice.
Madden 19 NFL Draft 2019 rookies: Kyler Murray goes No. 1
The excitement of the NFL Draft was part of a special live draft event taking place in Ultimate Team Thursday night. As picks were announced, gamers who had assembled 2019 NFL Draft sets could trade them in for the picks they wanted. The first overall pick Kyler Murray went to the Arizona Cardinals. He now has quite the card in Madden 19 for gamers to acquire.
He may not have the height of other QBs in Ultimate Team, but he's got a 99 OVR card now. It includes ratings in the 90s across the Key Attributes such as 98 Throw on the Run or Under Pressure, 97 Throw Accuracy, and 94 Speed. Check out Murray's card below compared to a Tom Brady Power Up card.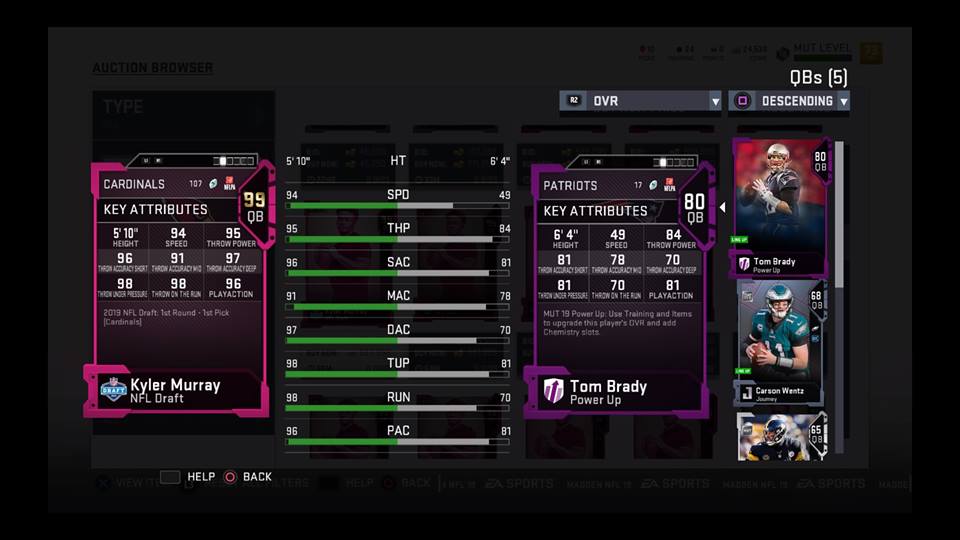 As one might expect, Kyler Murray's new MUT card is fetching some serious coin at the Auction House. Prices were way up after Murray was announced as the first pick and his card arrived in the game.
Bids were starting as low as 529,550 as seen below. However, we saw some auctions priced over the two million mark. There might be some serious gamers out there with a few million VC to spend.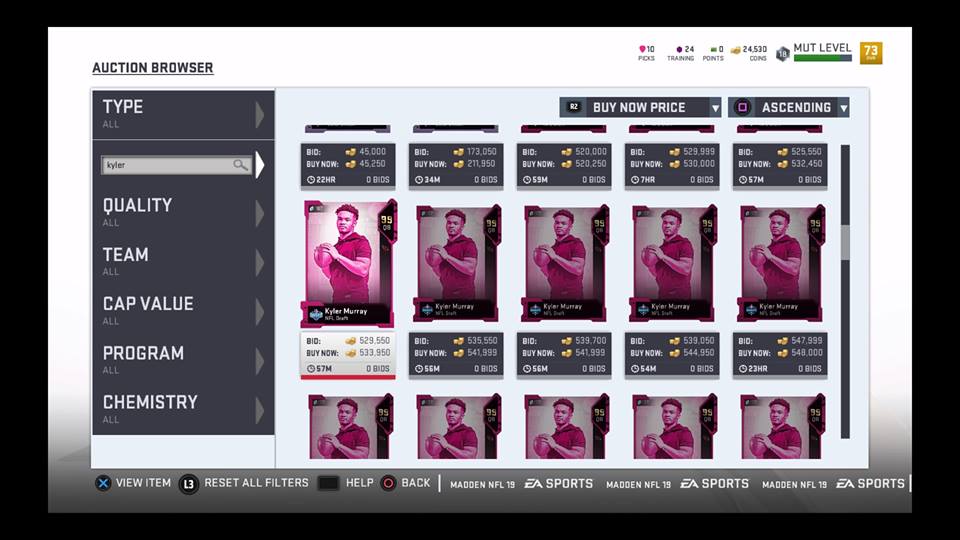 When you're the top pick, everyone wants your card. Especially those Arizona Cardinals Ultimate Team gamers who want to swap out Josh Rosen quicker than he's traded in the NFL.
Other first-round NFL Draft picks
Murray was the top card to get last night based on being the first pick. Other picks that followed were also made available as new Ultimate Team cards. That included the No. 2 pick Nick Bosa, No. 3 pick Quinnen Williams, and the New York Giants' surprising pick. They took Duke quarterback Daniel Jones at No. 6, opting for him over Ohio State prospect Dwayne Haskins.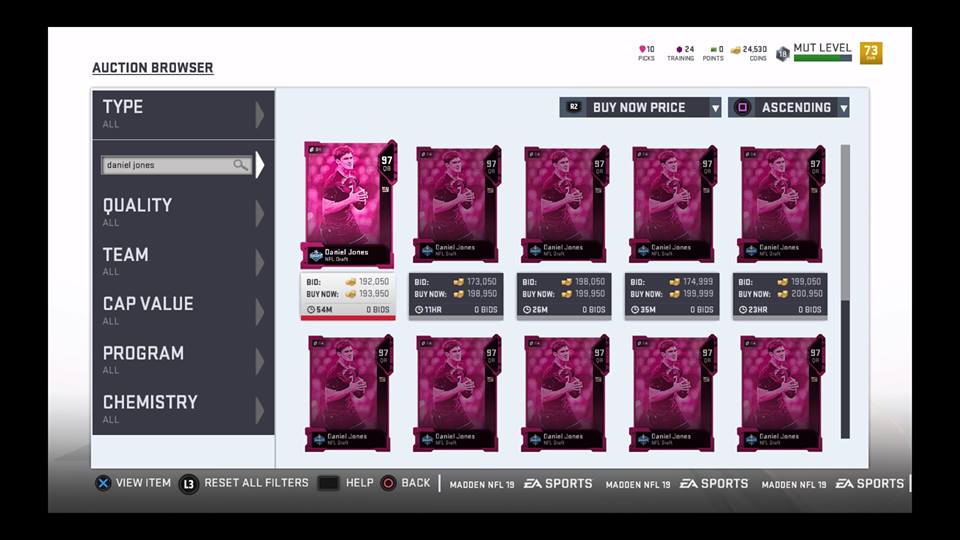 New York Giants MUT gamers may be adding Jones to their teams at a fair price right now. Meanwhile, other gamers may be going after cards they see more value in based on Key Attributes that fit with their MUT strategies. A total of 20 first-round picks arrived in Ultimate Team last night.
However, the other big news on Thursday was the Madden 20 cover reveal and news of the game's release date with pre-order details. That has gamers excited for the next installment where these new NFL Draft rookies will get their first-ever Madden player ratings and join their respective rosters.
Get more of our Madden 20 details here. Also, check out our Madden page for more of the latest news on the football game.