The Madden 19 NFL Playoffs simulation continues with the Divisional round games kicking off Saturday. That means top seeds will be in action as they host their first games of the 2019 postseason. Saturday's action brings a pair of intriguing matchups with Colts vs. Chiefs, and then the Cowboys vs. Rams. Our playoffs simulation was 2-2 last weekend, getting Sunday's games both right. Let's see if the momentum keeps going with our latest Madden 19 NFL Playoffs simulation results.
Madden 19 NFL Playoffs Simulation: Colts vs. Chiefs
In this matchup, NFL MVP favorite Patrick Mahomes hosts veteran quarterback Andrew Luck in Kansas City. Based on the simulation, this could be a great back-and-forth game between the two quarterbacks. It also appears as if Marlon Mack may go MIA in this one, as seen by the end stats.
The first quarter sees the Chiefs on the board early with Harrison Butker's field goal. However, Luck orchestrates a drive down the field and ultimately Jordan Wilkins runs it in for the one-yard touchdown. Butker adds a second Chiefs' FG before the quarter is over and it's 7-6 Colts.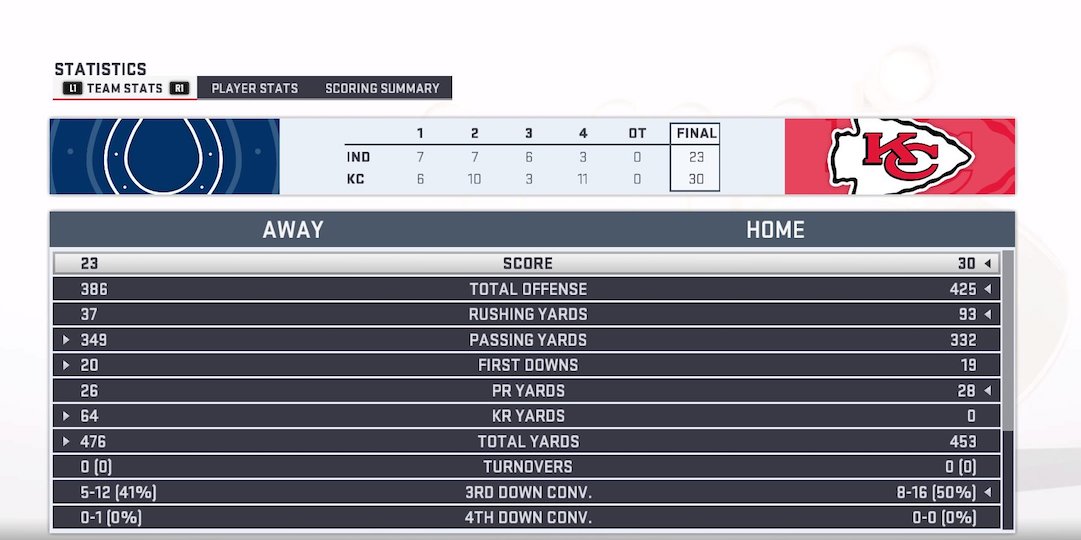 The second quarter sees Luck find Ryan Grant on a nine-yard pass early on to extend Indy's lead to 14-7. Kansas City's Butker suffers a minor injury and that forces Dustin Colquitt to come in and nail a 46-yard field goal. It's 14-9 until the Chiefs regain the ball after a defensive stop and drive down the field. Mahomes is able to connect with Chris Conley for a 24-yard score. The home team takes a 16-14 halftime lead.
In the second half, we see Butker back in to hit a 46-yard field goal and add to his team's lead. However, Luck once again leads a key drive which results in a T.Y. Hilton four-yard score. The Colts fail on the two-point attempt. That makes it a tight 20-19 game into the fourth quarter. In that final quarter, we see Butker and Vinateri trade field goals early.
The home crowd comes to life when Mahomes finds Conley on a 29-yard pass to give his team the late lead. Luck and company are unsuccessful on four downs, allowing KC to run out the clock. The Chiefs take this one 30-23 behind Mahomes' 332 yards and two touchdowns on 26-for-43 passing. Luck finishes with 349 yards and two touchdowns on 30-for-48 passing.
Madden 19 NFL Playoffs Simulation: Cowboys vs. Rams
Saturday's primetime matchup shifts to the West coast for the Dallas vs. Los Angeles matchup. This one features two teams with great running back and quarterback pairings. One side has Dak Prescott and Ezekiel Elliott, while the other brings Jared Goff and Todd Gurley.
The first quarter showcased the Rams' defensive abilities. On an early Cowboys' drive, Elliott fumbles and the Rams recover in scoring territory. Several plays later, it's Gurley bringing it in for the six points on a four-yard rushing TD. The Cowboys have the ball back briefly but are picked off by the Rams' defense.
It's 7-0 Rams into the second. In that quarter, each team adds a field goal to their total, but Goff comes up with a huge 84-yard touchdown pass to Brandin Cooks. It's 17-3 as Los Angeles commands this one at the half.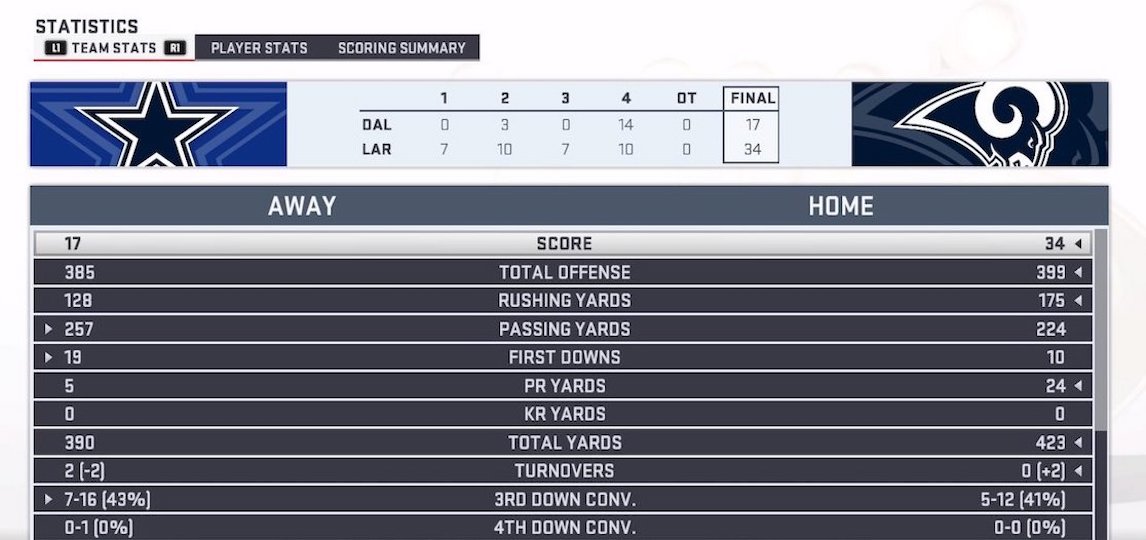 They also command the third quarter as they shut out the visitors and add a 34-yard rushing touchdown via Gurley. That's his second of the game and it's 24-3 into the fourth quarter. Dallas tries for a comeback and they are able to get an early drive which ends with Elliott getting them their first TD. However, Dallas' spirits are crushed when Gurley goes off for a 41-yard rushing touchdown.
Despite Prescott finding his receiver in the end zone to make it 31-17, the Rams add a field goal for more effect. Dallas simply runs out of time and firepower to keep up in this one. The final score is Rams 34, Cowboys 17 as the Rams head to the NFC Championship Game.
Prescott finishes 22-for-34 with 257 yards and a touchdown but also the interception. Goff comes up with 224 yards and a TD on 17-for-21 passing. Gurley has a monster game, though, with 23 carries for 164 yards and three touchdowns. Elliott gets 116 yards and a TD on his 32 carries, but also that costly fumble early on.
Check out more of our simulation results, news, and how-to guides at the VGR Madden section.