Madden Ultimate Team continues to bring gamers the goodness of fresh new player cards for rosters. The latest promotion features the Madden 19 Ultimate Legends which brings a few gridiron greats into the mix for MUT players. In addition, they're running a special promotion over the weekend to really boost those experience points for your MUT lineup.
Madden 19 Ultimate Legends: Johnson, Taylor lead the way
Over the past week, gamers learned of the new Madden NFL Honors cards. These players will possibly be amongst future legends that everyone talks about. The Detroit Lions' Calvin Johnson is certainly a legend of the game after his Pro Bowl career. Johnson played in Detroit for eight seasons, tallying 11,619 receiving yards and 83 touchdowns over his time there. He now joins the video game as one of the Madden 19 Ultimate Legends that dropped this weekend.
EA's Madden Ultimate Team posted several bits of content including a quick video to let fans know the legends are live. In addition, Johnson's player card is below as seen in a recent tweet. The EA Madden Ultimate Team crew is allowing fans a chance to win one by liking and retweeting their post.
Johnson brings a 98 overall and includes high skill ratings such as 98 Jumping, 98 Spectacular Catching, and 97 Deep Route running, among others. He'll make a great addition to rosters in need of that big playmaker down the field as fans familiar with his work know how his catches have been highlight-worthy. Imagine pairing him up with NFL Honors OPOTY Patrick Mahomes, or Super Bowl winner Tom Brady on a team?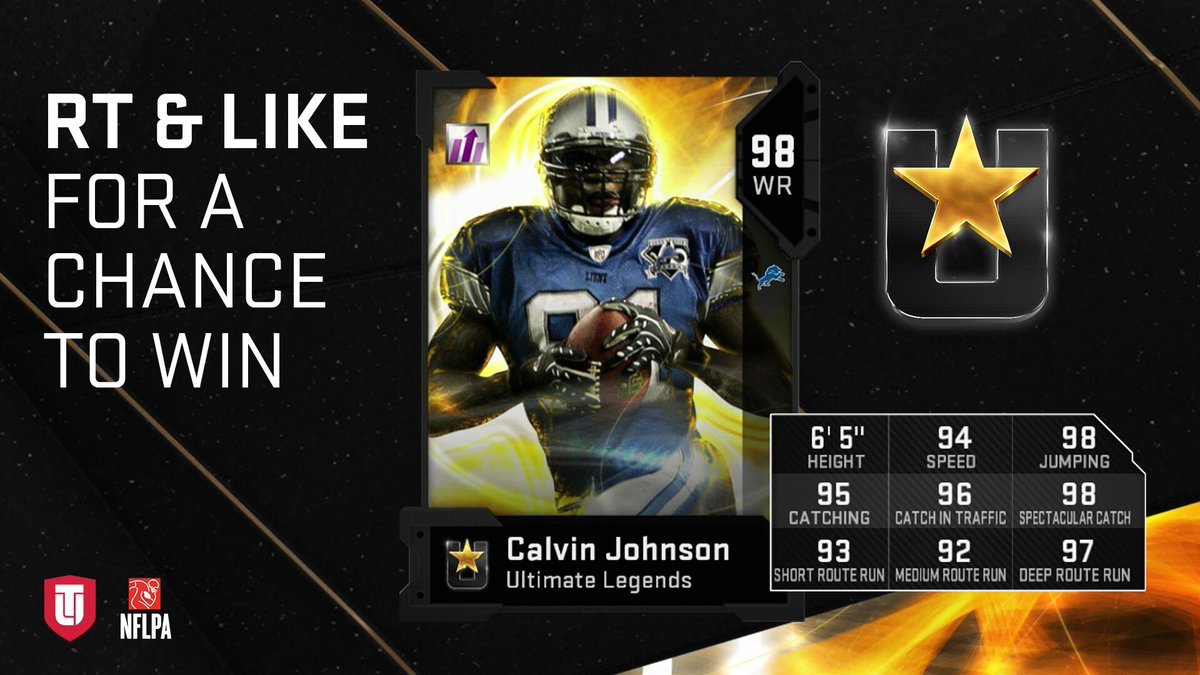 Washington Redskins free safety Sean Taylor also brings a high 98 rating into MUT. In addition to Johnson and Taylor, there are a number of other Madden Ultimate Legends to look for in the game this weekend. A total of eight legends dropped for MUT, with the other six boasting 97 ratings. They include former Denver Broncos linebacker Bill Romanowski, Tennessee Titans defensive end Jevon Kearse, and Minnesota Vikings left guard Randall McDaniel.
FS Sean Taylor – Redskins (98)
WR Calvin Johnson – Lions (98)
LE Jevon Kearse – Titans (97)
LB Bill Romanowski – Broncos (97)
P Ray Guy – Raiders (97)
LT Anthony Munoz – Bengals (97)
K Morten Andersen – Falcons (97)
LG Randall McDaniel – Vikings (97)
Check out EA Madden Ultimate Team's video below for a quick look at all eight cards.
Ultimate Legends are LIVE! #UltimateLegends #Madden19 pic.twitter.com/mPSAV8vowo

— Madden Ultimate Team (@EASPORTS_MUT) February 9, 2019
Madden 19 Ultimate Team has weekend XP promotion
Don't forget that in addition to all the new fun with Ultimate Team Legends and Madden NFL Honors cards, there's also a special promotion going on. Over the weekend, they are giving gamers double the XP within the game. That's a good way to boost a roster and worth taking advantage of over the next few days. Also, see our guide for how to upgrade MUT or Franchise players.
2XP Weekend! #Madden19 pic.twitter.com/84nSp9QTcK

— Madden Ultimate Team (@EASPORTS_MUT) February 8, 2019
This Madden Ultimate Team promotion is only scheduled for the weekend, per Madden's tweet above. However, it applies to all play modes within the Ultimate Team feature. Even with the real NFL season finished, gamers will want to get in the game and start leveling up those squads!
See more of our news and information about the game at the VGR Madden page.