As the Color Smash program continues in Madden 20 Ultimate Team, new content is arriving through the week. On Tuesday, gamers got a new pair of Tie-Dye limited-availability players in Darius Slay and Trent Williams. In addition, there's new Madden 20 Color Smash House Rules, also available for a limited time. Here are the details on all of the new content in MUT.
Madden 20 Color Smash House Rules: Played Out
The new Madden 20 Color Smash House Rules involves using a variety of plays from the playbook rather than the same ones over and over. It's called Played Out and refers to the fact that once you run a play, it goes on "cool down" for five plays. You won't be able to call it during that time. Once you've used a play twice in the game, you can't use it again.
The rewards for the new Madden 20 Color Smash House Rules include player cards from the program. For five wins, you get two 87-95 OVR Color Smash Players. It's the same reward for 10 wins and 15 wins. At 20 wins you'll get three of them and at 25 wins you'll get two 91-95 OVR Color Smash players.
There are also Trophies and Coins as rewards beyond that. At 30 and 35 wins, you'll get 100 Trophies and 10,000 Coins. At 40, 45, and 50 wins you'll get 100 Trophies and 15,000 Coins.
New Tie-Dye LTD Players Darius Slay Jr, Trent Williams
Detroit Lions cornerback Darius Slay Jr. gets a newly upgraded card as part of the Madden 20 Color Smash players. His Tie-Dye LTD card is a 96 overall complete with 97 Zone Coverage, 95 Speed, 95 Play Recognition, 94 Acceleration, 94 Agility, 92 Press, 91 Man Coverage, and 90 Jumping. There are also the Power Up and Ability options to make him even better on your MUT roster.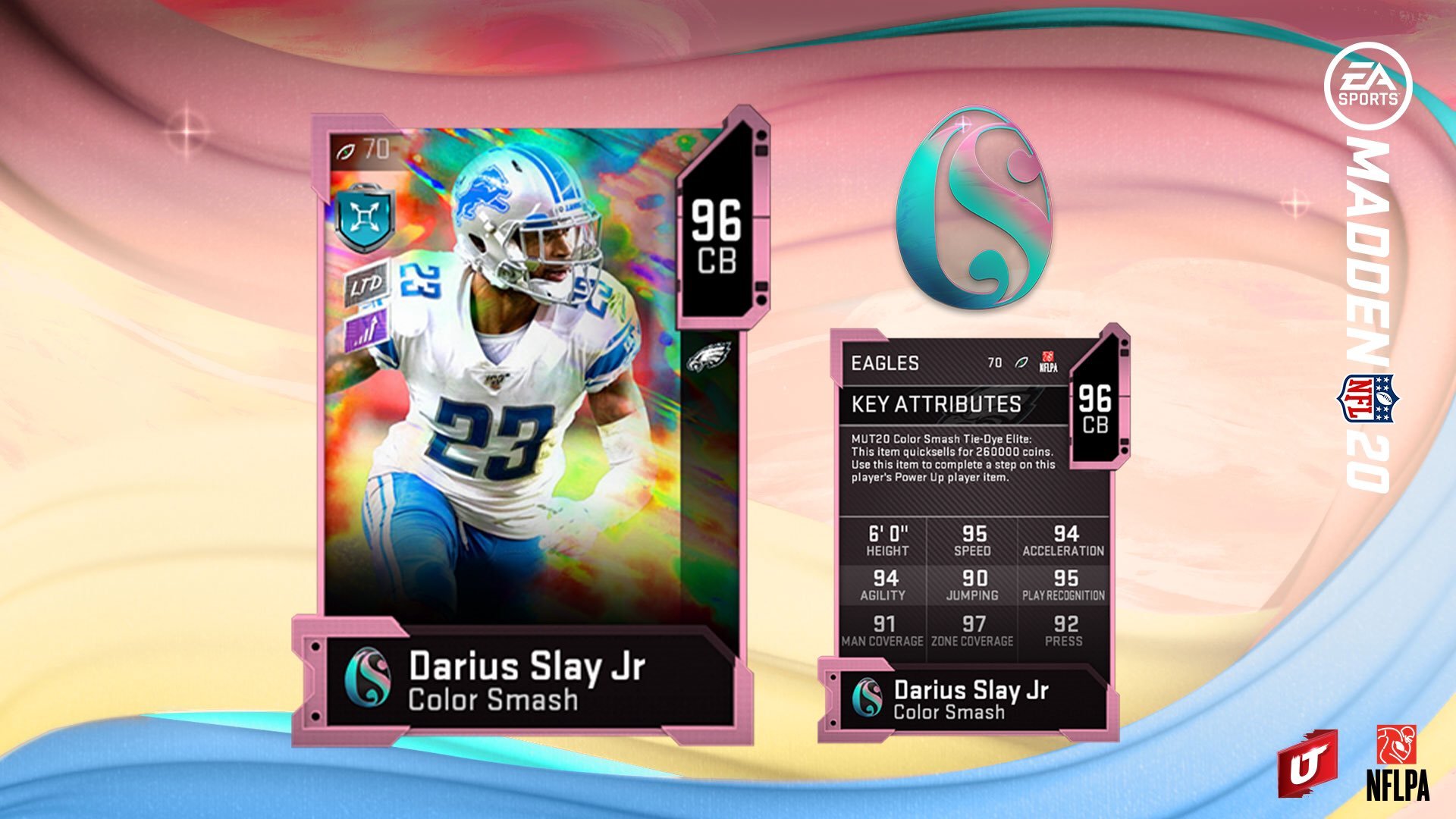 The other Tie-Dye LTD player is Washington Redskins left tackle Trent Williams. His card is just a 93 overall but includes 94 Strength, 93 Pass Block Power, 92 Awareness, and 91 for Run Block Finesse. Just like Slay's card, Williams' card includes the Power Up and various Ability options.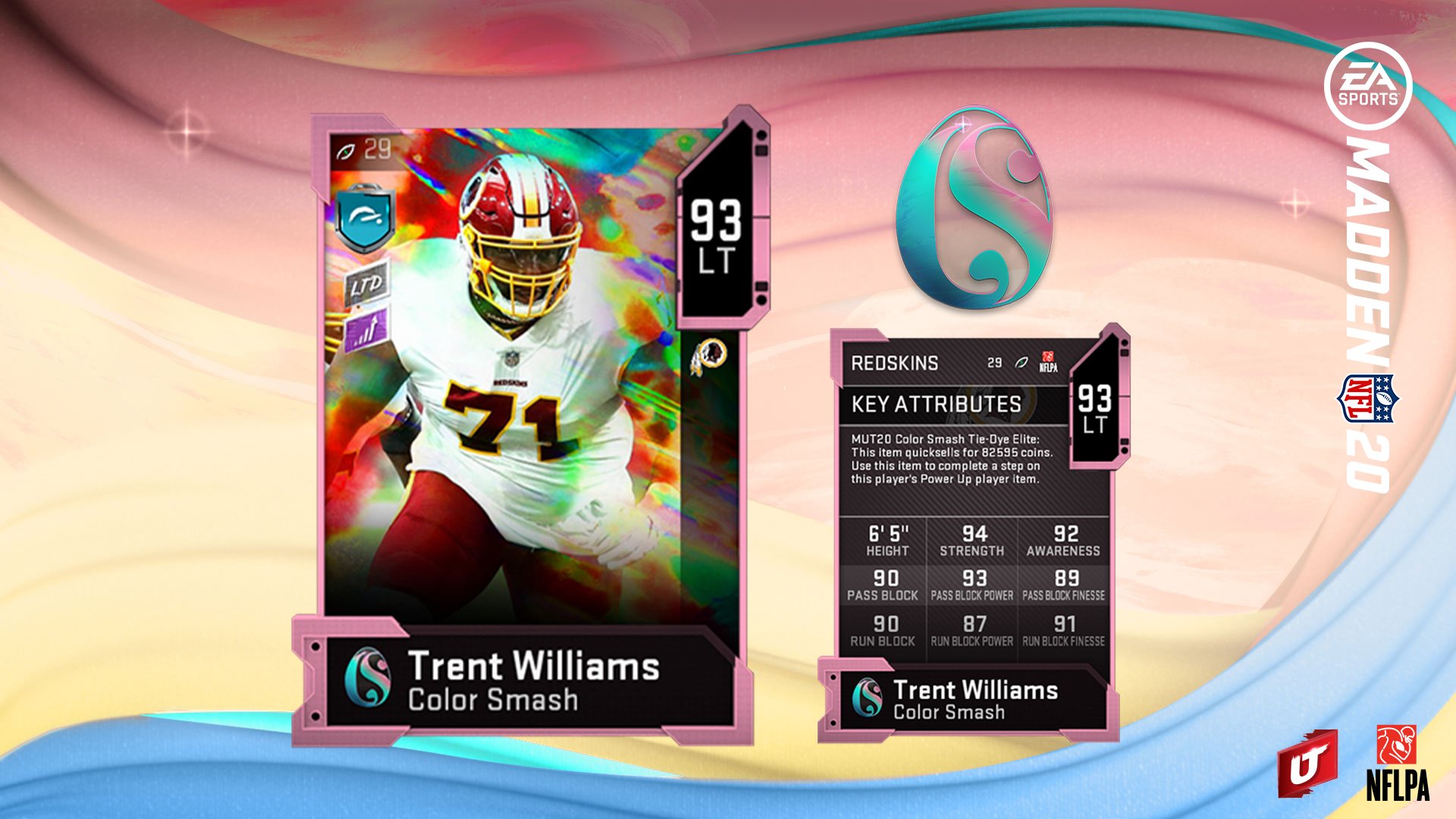 Both Darius Slay Jr. and Trent Williams' Tie-Dye cards are available for a limited-time in packs or Store Offers. They'll be there until Thursday, April 9 at 10 a.m. Eastern Time.
They'll be available from now until after that end date at the Auction House. Right now, you can generally get Trent Williams for 93,000 to 99,500 Coins on the PS4 Auction House. Darius Slay is going for about 307,000 to 330,000 Coins.
In case you missed it, check out our guide to Color Smash Candy so you can rack that up to use for various items in the promotion.
For more of the latest game updates, visit our Madden page here.