On December 27, the NFL 100 All-Time team's 10 quarterbacks were officially revealed. In conjunction with that news, four Madden 20 NFL 100 quarterbacks are now available in the game. These stars are led by the man many people consider football's G.O.A.T. Tom Brady. He's joined by fellow legends Joe Montana, John Elway, and Peyton Manning. Here's a look at their new items for Ultimate Team.
Madden 20 NFL 100 quarterbacks: Brady, Montana, Elway, and Manning
With six Super Bowl rings to his name, Tom Brady is truly one of the all-time best quarterbacks in the game, if not the best ever. As part of the NFL 100 team, he gets a brand new Madden 20 NFL Centennial card in the game with a 95 overall rating. It includes key attributes such as 97 Throw Accuracy Short, 94 Throw Accuracy, 94 Play Action, and 90 Throw Under Pressure.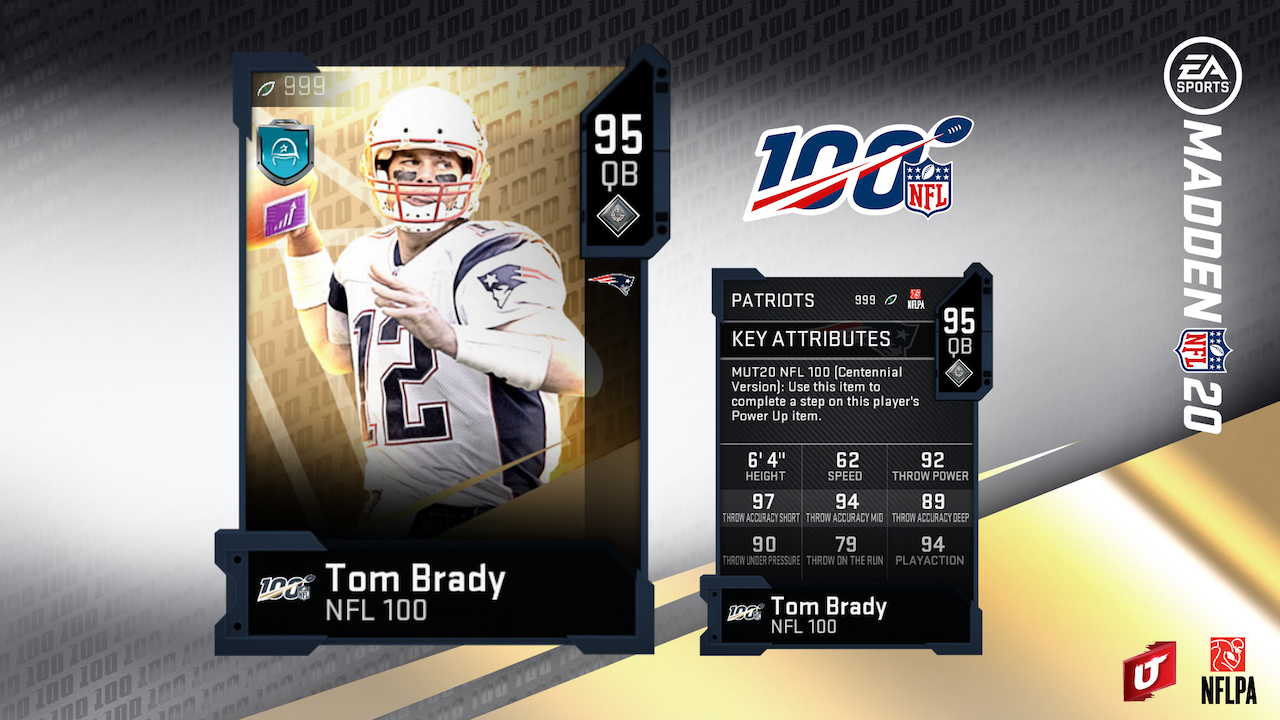 As mentioned, he is joined by Joe Montana, Peyton Manning, and John Elway for the NFL 100 program in Ultimate Team. Each of these players also receives a 95 OVR Centennial card with some great key attributes.
For example, Montana has 96 Throw Under Pressure and 94s for his Throw Accuracy Short/Medium. Elway has 95 Throw Power, 94 Throw on the Run, and 93 Play Action. Manning's card includes 96 Play Action, 95 Throw Accuracy Short, and 91s for Throw Power/Throw Accuracy Deep.
How to get the NFL 100 items in MUT
To get any of the new Madden 20 NFL 100 quarterbacks' Centennial cards will require exchanging a set of any 25 Week 6 Base cards. Base cards are available through packs, and one can be earned through the new NFL 100 Challenges.
There are four new Madden 20 NFL 100 quarterbacks challenges available for each of the players above. Completing each one will earn that quarterback's Power Up item. Completing all four challenges will earn a NAT Fantasy Pack reward that allows for the choice of any of the four quarterback's 85 OVR Base cards.
All of the above items are also available for purchase at the Auction Browser. We took a look at some of the listings on Friday for the PS4 version of the game. So far, only the Base cards were up for bids or sale with Montana and Brady each getting over 21,000 Madden Coins for their items.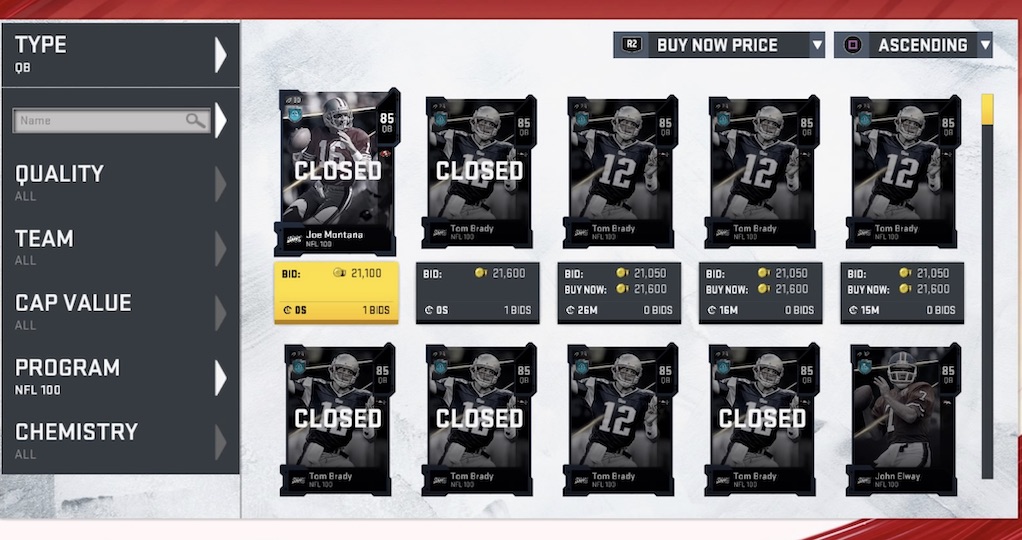 Check out last week's NFL 100 wide receivers including greats Randy Moss and Jerry Rice. Also, see some of the previous offensive threats with running backs including Barry Sanders and Eric Dickerson.
Visit our Madden 20 news page for more of the latest updates.